Ah Kriti is an Indian inspired, hand crafted, jewellery shop on Etsy owned by Reshma Sandell. 
As of lately, I have been appreciating jewelery a lot more. Don't get me me wrong, I have always been a diamonds and gemstone kind of girl but up until a couple months ago I never realized how beautiful handcrafted or costume jewelery has become (they are no longer what you would see in your grandmother's trinkets).
Ah Kriti has some desirable ethnic jewelry in all forms: necklaces, bracelets, earrings, etc. 
I was sent a beautiful hand made bracelet to review from Ah Kriti. My bracelet has so many details, the picture does not do it justice (again, it's an iPhone photo, I'm hoping to have my new camera on Friday). The turquoise beads have marbling throughout to give them a textured affect and the red beads catch light and sparkle at the right angles.

The beading is nice and all but my favorite part of this bracelet would be the metal work. On each side of this bracelet are rectangular metal plates that have swirls in them to create (what I think of as) a fancy "S". That small detail really pulls the whole piece together. Something, I would have never of thought of doing if I was making jewelry.
You can tell that Reshma puts a lot of thought into each piece from her Etsy shop, she's a natural at this.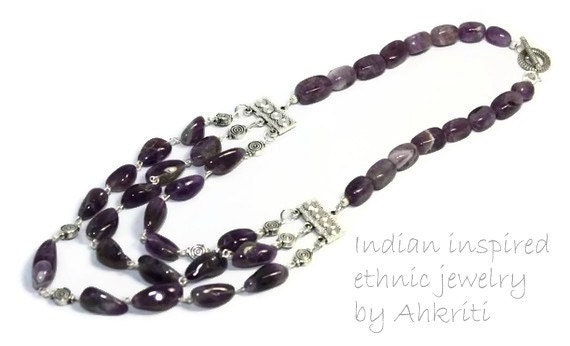 Another one of my favorite pieces is the Multi Strand Amethyst necklace (as seen above). It's a great gift for that special born in February (as amethyst is this month's birthstone).
For more information, visit Ah Kriti's Etsy Shop.
One of my readers will receive 25% off an item from Ah Kriti.