Creamy Cauliflower Dill Soup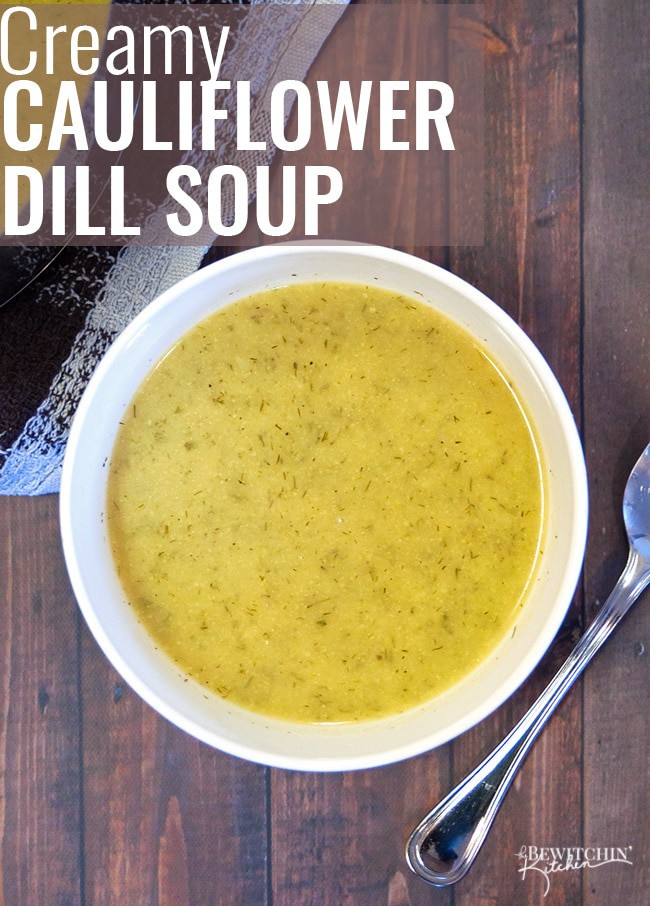 I have a slight obsession with cauliflower. I use it as rice, as a pizza crust, and I love it pureed in soups. I was actually creating a different soup when I came up with this recipe for Creamy Cauliflower Dill Soup.
I was prepping to make roasted cauliflower soup, when I realized I forgot to roast the cauliflower. I had the cauliflower and onion in the pot when I remembered the recipe I made for Paleo Buffalo Chicken Soup (found on my Paleo Meal Plan post). I wanted to experiment more with dill and started playing around with the recipe.
Towards the end, I still felt that something was missing. Lemon didn't add the zing I wanted, and that was where the apple cider vinegar came in. It was a risk adding the vinegar, but I feel that it really gave this creamy cauliflower dill soup the "pizzaz" it needed. I was craving a "zing" and that's just what the vinegar did.
There is a slight heat to the recipe, and I'm assuming it's from the curry. You can leave that out if you want.
Creamy Cauliflower Dill Soup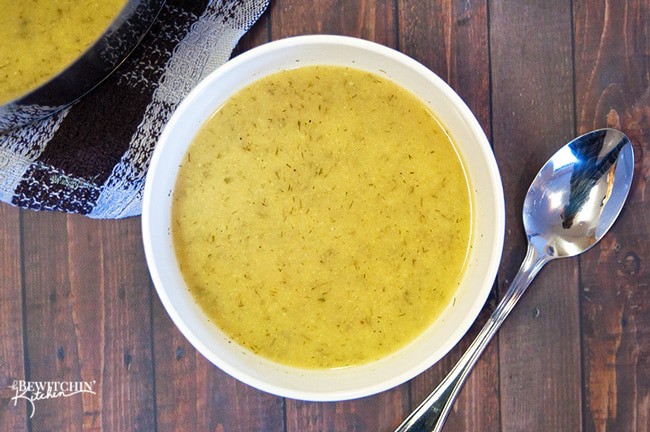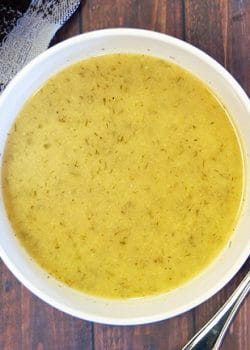 Creamy Cauliflower Dill Soup
Ingredients:
1 head cauliflower, broken up into florets
6 cups chicken broth
1 onion, roughly chopped
1 tsp pepper
1 tsp sea salt
1 tbsp dried dill
1/2 cup coconut milk
1/2 tsp curry powder
2 tsps lemon juice
2 tsps parsley
2 tsps garlic powder
2 tbsps apple cider vinegar
Directions:
In a large stock pot, add the cauliflower florets, chicken broth (I usually just add water and a spoonful of Better Than Boullion) and onion. Bring to a boil over medium-high, turn to medium and let simmer until the cauliflower is soft.
Take an immersion blender (or transfer to a blender) and puree.
Add the rest of the ingredients, simmer for at least twenty minutes. Finish with the tablespoon of ACV. (I'm aware that's odd, but trust me.)
Other cauliflower recipes on The Bewitchin' Kitchen:
Curry Quinoa Kale Cauliflower Bowl