10 Date Night Beauty Must Haves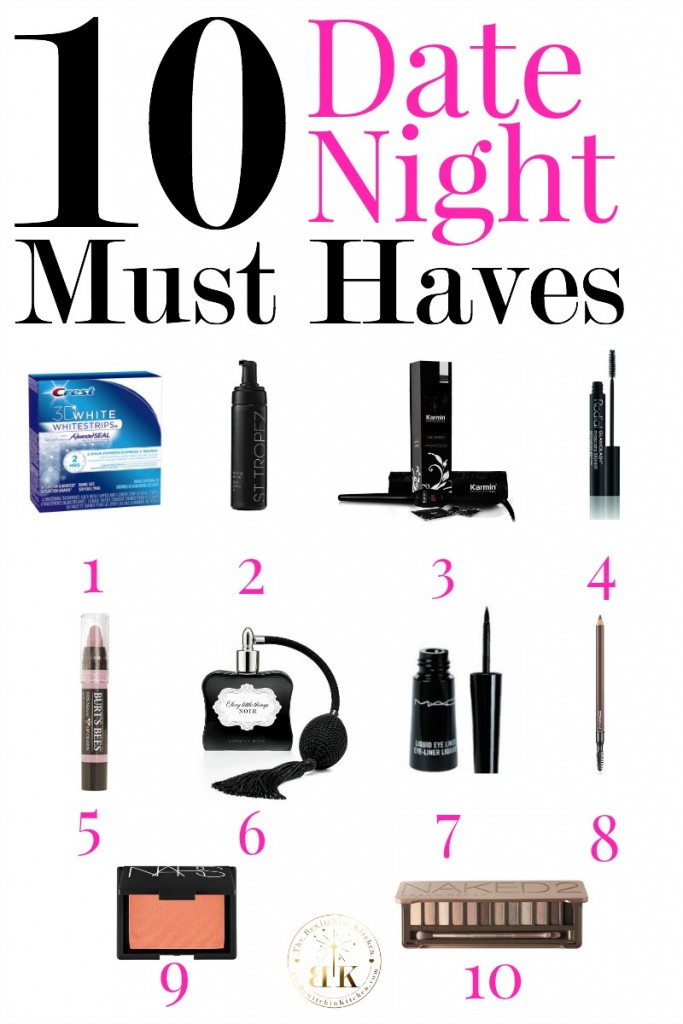 I'm a girly-girl, and I loved getting dolled up. I have always enjoyed slapping war paint on my face to a fun evening out, and now that I'm a mom I appreciate the opportunity to wear more then just a simple swipe of mascara and yoga pants.
My husband and I don't get out as often as I would like us to for a date night. Truth be told, the last time we went out for dinner "date night style" was a year and a half ago. Yikes, saying that out loud (or maybe I should say typing it) makes me want to find a babysitter -STAT.
Maybe my #1 date night must have should be a sitter?
I wanted to put together a list for those of you who do have sitters (or no kids) of my favorite beauty products that are perfect for date night.
10 Date Night Beauty Must Haves:
In no particular order.
Crest 3D White Whitestrips 2-Hour Express: These white strips get the job done, but they do make my teeth a little sensitive so I like to use them a couple days before.
St.Tropez Self Tanner: The best self tanner I have ever used. If you haven't used it before, apply it a day or two before (just in case). I like the Dark Bronzing Mouse and I use the mitt (it goes on a little green [to offset the orange a lot of tanners have], put it on before bed and shower the next morning – the green will be gone). Available on Amazon.com and Amazon.ca. Bonus: I also LOVE the St.Tropez Gold Illuminator for highlighting.

Karmin G3 Clipless Curling Wand: I've been using this wand for a little over a year now, and it gives me beautiful curls. Read my Karmin G3 review here.
Burts Bees Lip Crayon: I have tonnes of lipsticks, but they all dry out my lips and I end up flaky and gross. Burts Bees Lip Crayon look like a lipstick but moisturize the way I expect from Burts Bees. It keeps my lips soft, yet fashionable all evening long.
Rodial Glamolash Mascara: Soft black pigment for defined and lengthened lashes with long-lasting hold. Eyes look wider and enhanced with a weightless feel for a natural flutter. I like to layer other mascaras for a "fake lash look".
Nars Blush in Orgasm: I finally bought this two years ago after hearing non stop how awesome it is. It's my by far my favorite blush.
Urban Decay Naked 2 Palette: It's a fan favorite, and I completely understand why. It suits everyone and there are so many looks to create!
Victoria's Secret Sexy Little Things Noir: What started out as a sample has turned into the only perfume I have bought for the past few years (between Noir and Noir Tease). The best part? It's so much cheaper then department store brands.
Mac Liquid Eyeliner in Boot Black: This was my first "big girl" eyeliner I ever bought and I keep going back to it. There's clearly a reason – it goes on easy, looks great and stays.
Mac Eyebrow Pencil: Eyebrows make or break a look. My favorite wax pencil was recently discontinued and the closest thing I could find is this Veluxe Brow Liner, although I really want to try the Fluidline Gelcreme.
All of these products are perfect for a glam night out on the town (or as I prefer – out for a nice dinner) and most are available on Amazon.com and Amazon.ca (affiliate).
Or you can have an unexpected round of golf sans kid (like I did last summer)! Here's a little highlight on how that went…
[instagram url=http://instagram.com/p/rQ-lYQJ2rL]
Before the kid I used to be a much better golfer…
What are your date night must haves?