13 Boozy Pumpkin Drinks
Are the leaves turning color? That means it's time to think about fall recipes! These festive pumpkin drinks will be the perfect addition to your autumn classics.
Fall is my absolute favorite season, hands down. And what's better than enjoying all the comforting, scrumptious food with friends? A delicious pumpkin cocktail, of course! These pumpkin drink recipes will add a boozy flair to your autumn gatherings.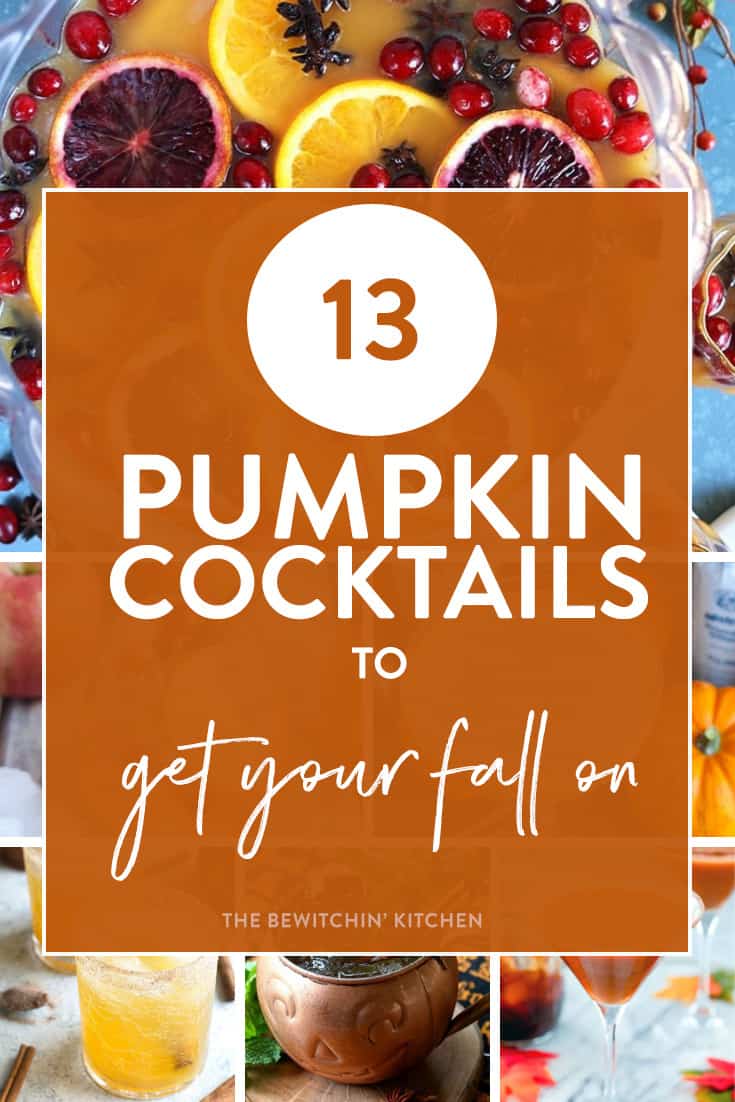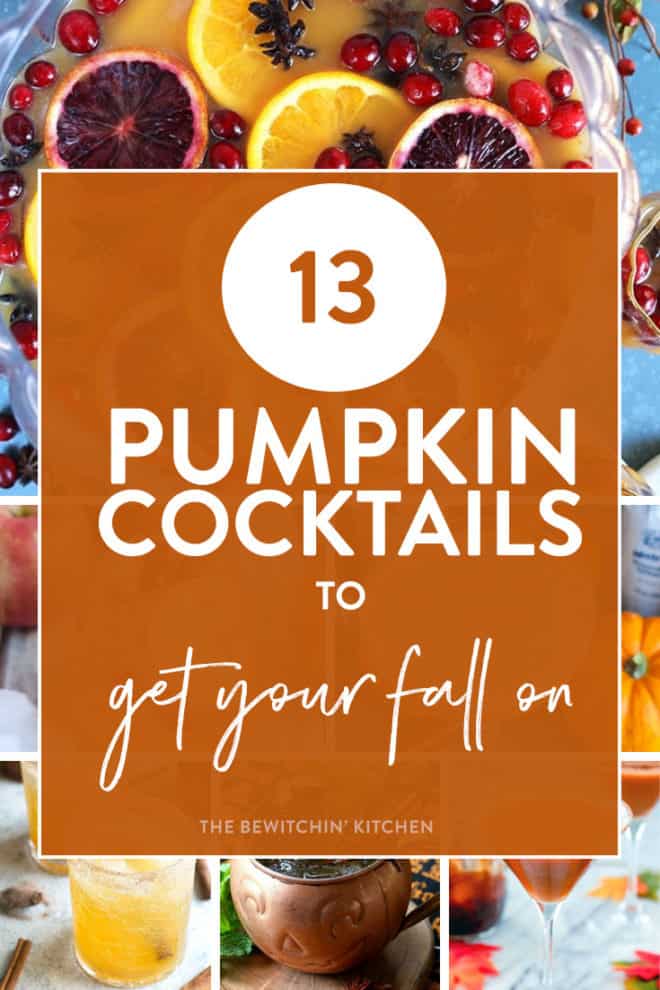 Disclosure: This post contains affiliate links for your convenience. As an Amazon Associate, I earn from qualifying purchases.
Pumpkin Cocktails
I love cooking in the fall. Roasted anything is my favorite. The more cinnamon, nutmeg, and pumpkin spice, the better. So these pumpkin drink recipes will definitely be an autumn staple for me!
Pumpkin cocktails go great with fall fare. Brunch it up with Pumpkin Pie Cinnamon Rolls or my Pumpkin French Toast Bake and your choice of boozy pumpkin drinks.
Or, make a pot of Keto Pumpkin Soup, followed by these Easy Pumpkin Cheesecake Hand Pies for dessert!
Supplies you may need to make these pumpkin cocktails:
Pumpkin Drink Recipes
All of these recipes sound delicious, but I have my eye on the Pumpkin Cheesecaketini. That sounds like complete heaven!
If you don't love cheesecake, don't worry — this list has such a variety that there's something for everyone.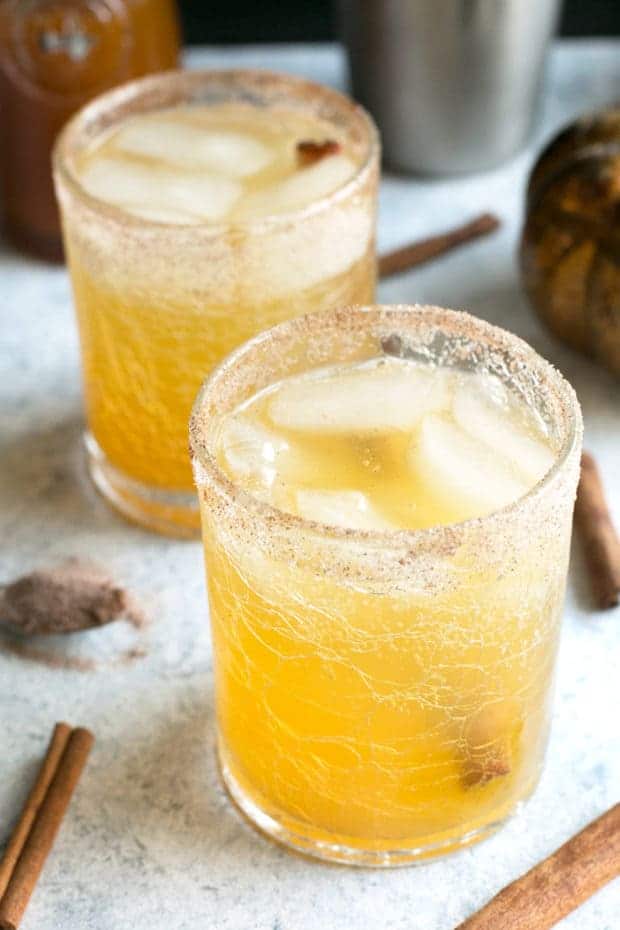 Recipe and image from Cake N Knife.
With a homemade pumpkin spice simple syrup, this rich bourbon cocktail is full of flavor and just a little bit bubbly! Making the syrup yourself takes a bit more effort than other drinks, but let me tell you, homemade syrup makes all the difference.
Take the time to enjoy the complexities of this one. It's great for intimate gatherings or a quiet evening at home.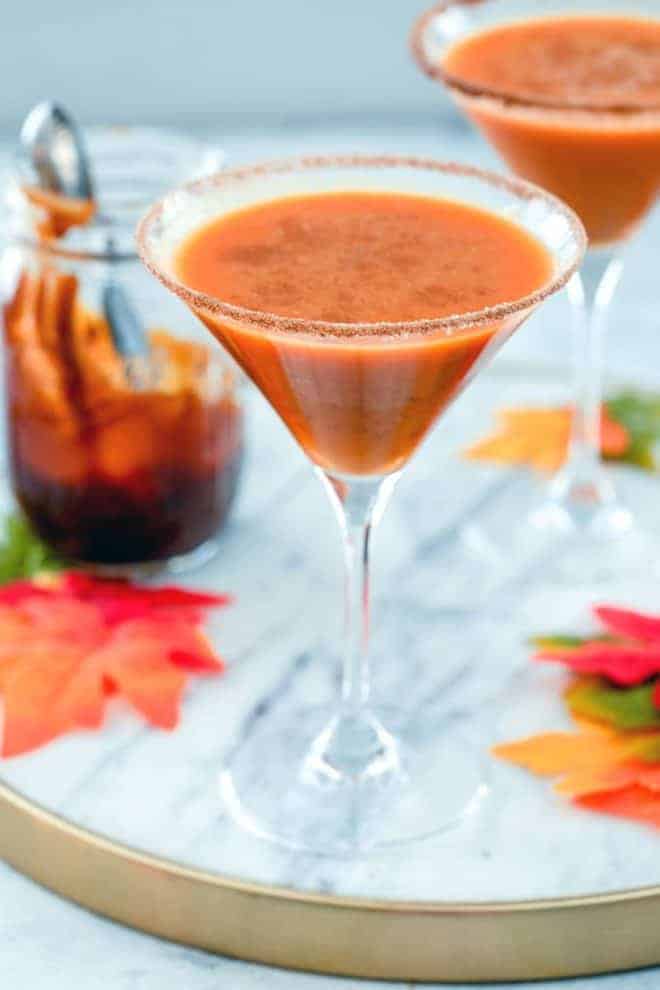 Recipe and image from We are Not Martha.
This pumpkin pie martini is basically pumpkin pie in a cocktail glass. The pumpkin puree is mixed with vodka and caramel, and it's rimmed with pumpkin spice. It's perfect as a boozy dessert, and will put you in the fall spirit in no time!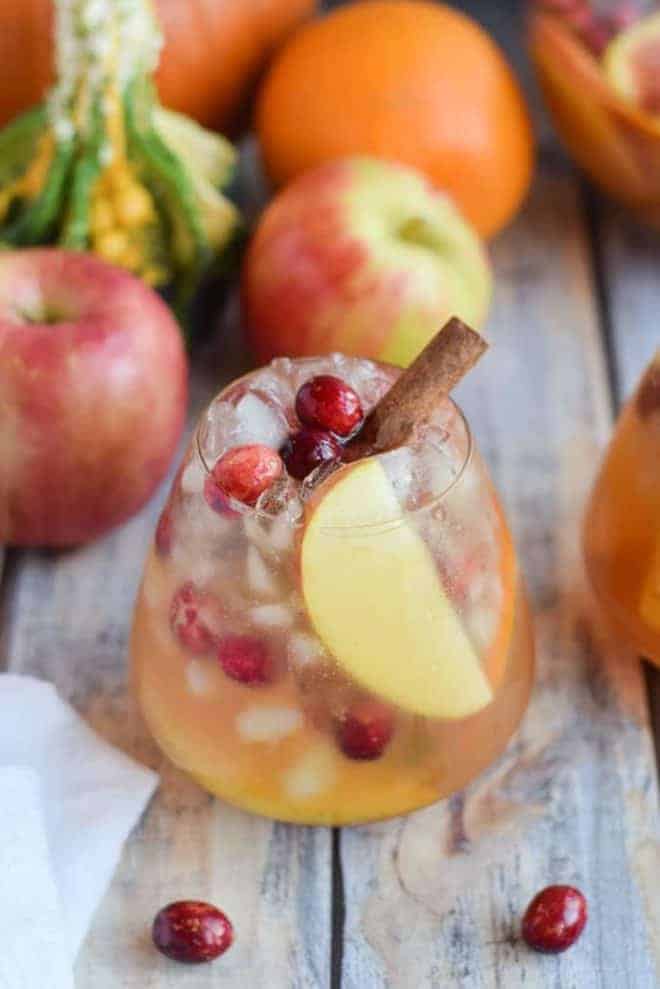 Recipe and image from Seasonal Cravings.
Love sangria? This will be a hit at all your fall celebrations. This pumpkin spice cocktail is super easy to make. Just combine pumpkin, seltzer water, and apple cider with your favorite white. It's sweet, spicy, and full of wine-soaked fruit.
Indulgent Pumpkin Drinks
I don't know about you, but I love boozy drinks for dessert. Add ice cream or whipped cream to the right cocktail, and I get excited. Make it with pumpkin, and I'll love you forever.
Get ready for pumpkin heaven with these creamy pumpkin drink recipes.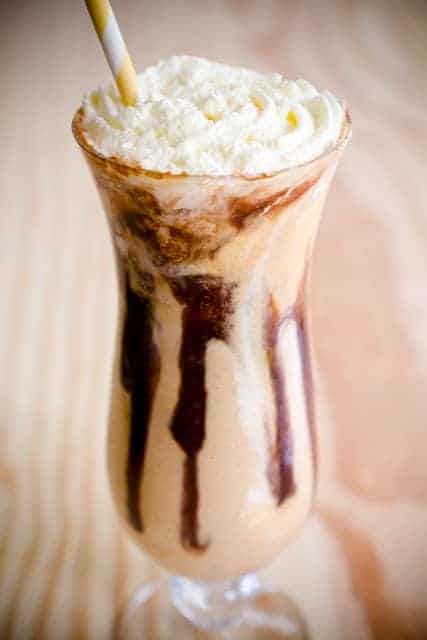 Recipe and image from The Cookin' Chicks.
Talk about total bliss in a glass! Take your typical frozen mudslide up a notch by adding pumpkin and warm spices. This drink only requires four common ingredients to send you to mudslide heaven. With a beautiful pumpkin drink like this, who needs dinner?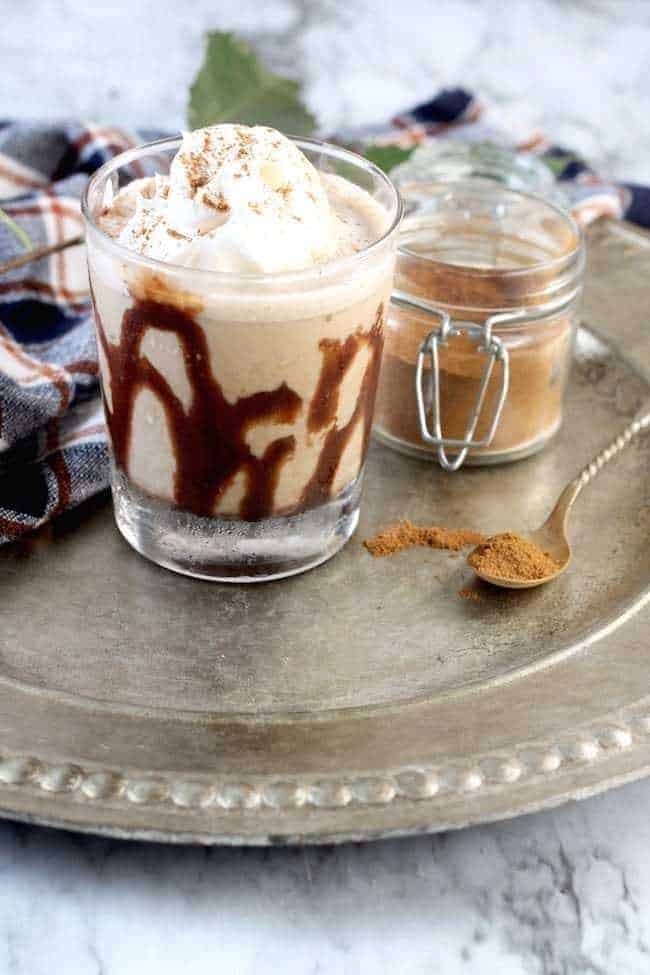 Recipe and image from Miss In The Kitchen.
For something less decadent but still sweet and creamy, try this classic White Russian with a tasty fall twist! If you like Bailey's and pumpkin spice, this is for you. It's perfect after your fall meal with a slice of pumpkin pie.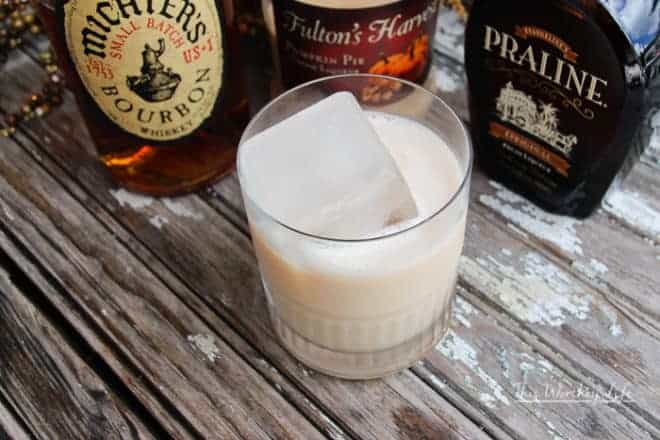 Recipe and image from The Worthey Life.
This is for the bourbon fans in the house. Simple yet sophisticated, you only need three ingredients for this pumpkin cocktail: pumpkin pie, pecan liqueur, and bourbon. Smooth, subtly sweet, and relaxing, this chilled cocktail is perfect for fall.
Pumpkin Spice Cocktail Bliss
Let me take a minute to tell you just how deliciously comforting pumpkin drinks can be. Imagine you and your loved ones winding down after a delightful autumn gathering, sitting by the fire with a cozy pumpkin spice cocktail.
Or, picture you and your friends all bundled up on a chilly fall night, sipping a pumpkin spice cocktail, sharing stories, and gearing up for the holidays.
I love the joy that little extras like pumpkin cocktails can add to autumn. Drinks like these help build memories and nostalgia that can last a lifetime!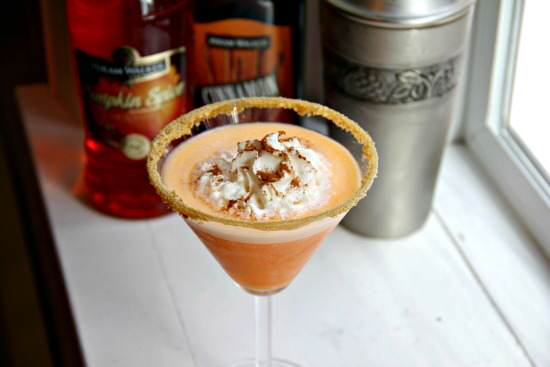 Recipe and image from Snappy Gourmet.
Delicious and easy! This fun pumpkin cocktail and martini recipe uses pumpkin liqueur, cinnamon schnapps, and cheesecake pudding mix. For the milk, you can use anything from skim to half and half – make it as skinny or as creamy as you like!
The whipped cream and graham cracker crumbs make this pumpkin drink a fun, after dinner dessert. Count me in!
Recipe and image from Flour on My Face.
Wait — we're using the CrockPot to make pumpkin spice cocktails? Yes, we are! This warm pumpkin cocktail will fill your home with lovely autumn smells.
It's also got pumpkin flavored coffee to add to the lovely mix of flavors. This is the perfect blend of sweet and spicy to warm you up.
Pumpkin Cocktail
Surprisingly, until recently I hadn't heard of pumpkin cocktails. It just wasn't on my radar. But with pumpkin fever striking us every fall, it was bound to become a thing! And, what a beautiful thing it is!
These recipes are so fun and clever. I'm impressed with the creativity of them all. They've got everything from rich, chocolatey drinks for dessert to fruity and fizzy pumpkin goodness for any meal.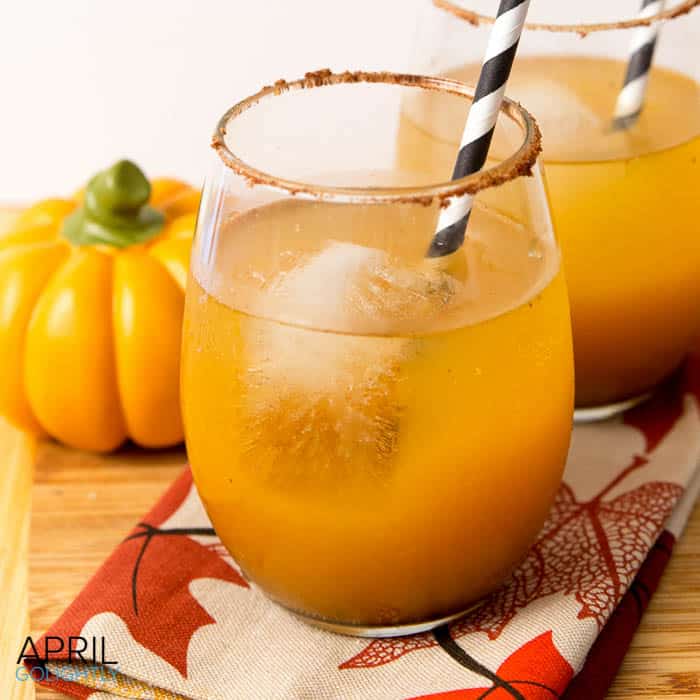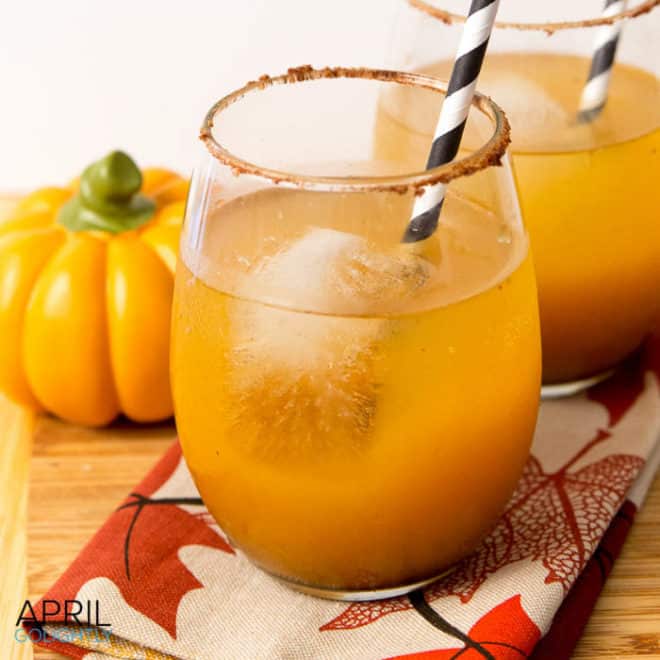 Recipe and image from April GoLightly.
This fizzy pumpkin drink is diabetic friendly! Sweet N Low is substituted for simple syrup, but you can use the sweetener of your choice in this spicy libation. It's perfect for a girl's night in, Halloween party, or Thanksgiving dinner.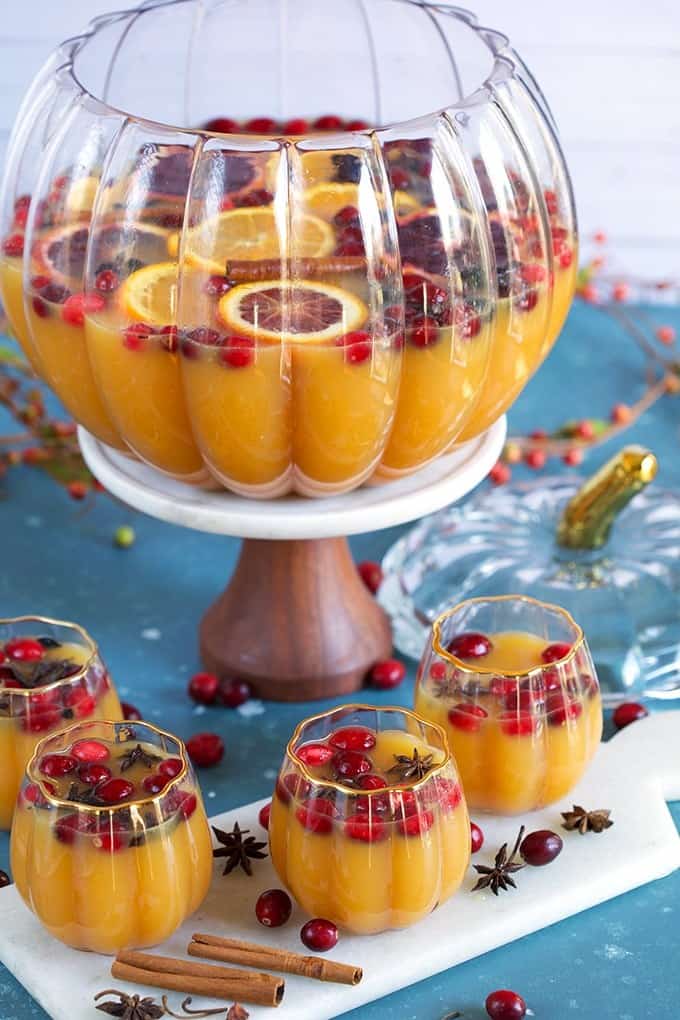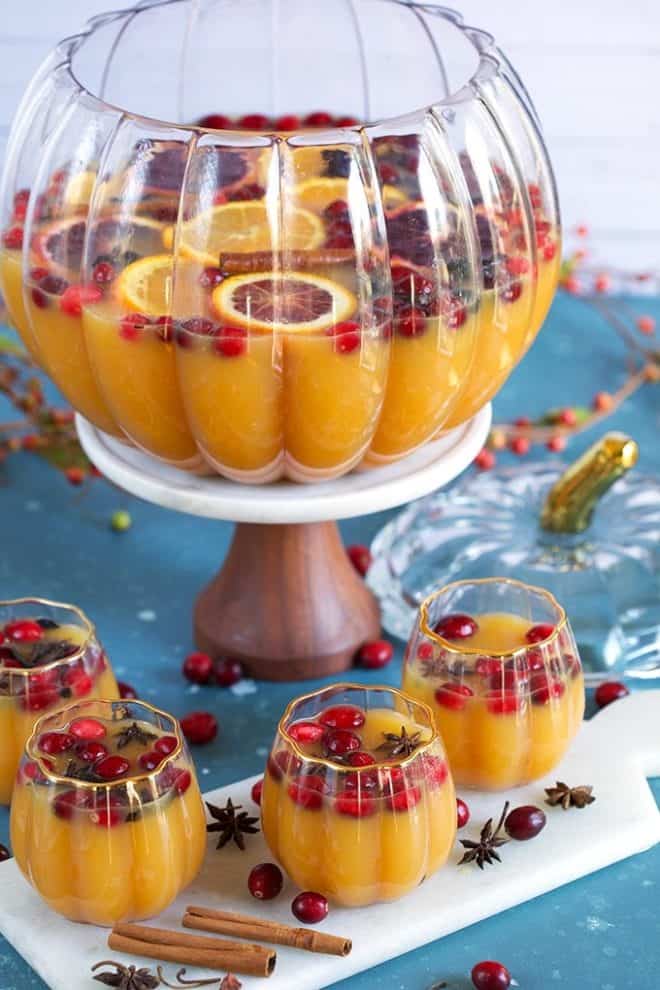 Recipe and image courtesy of The Suburban Soap Box.
Make a big batch of this sparkling punch to serve a crowd. This recipe is too easy to be so beautiful!
I love the cranberries and star anise for the garnish. It definitely brings the wow factor to your autumn gathering! It's simple, festive, and filled with all the flavors of fall.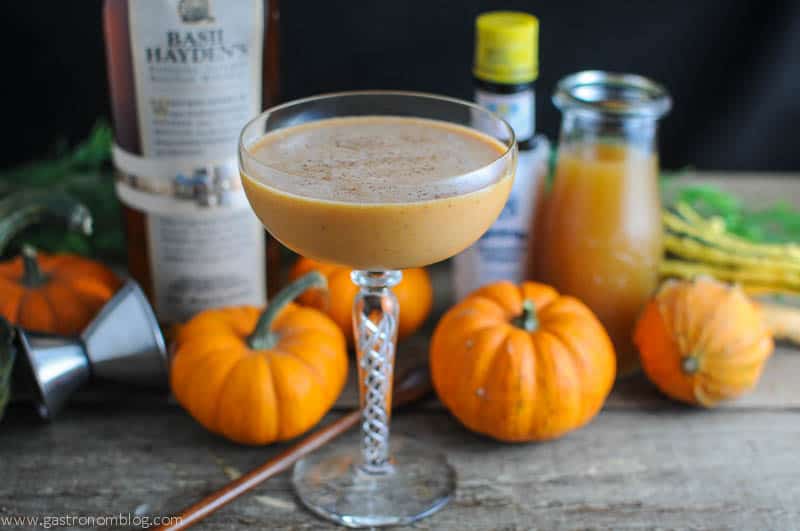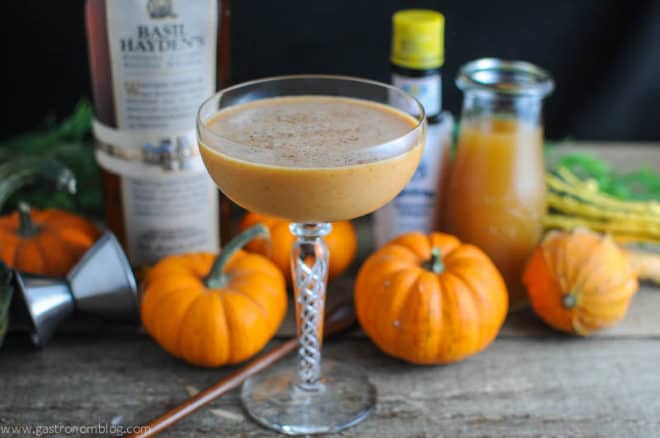 Recipe and image from Gastronom.
This pumpkin cocktail is creamy and cool. The bitters, pumpkin, and bourbon mixture creates an intriguing complexity of flavor.
This one is sure to impress the bourbon fans. You just might introduce them to their new favorite fall drink!
Festive Pumpkin Cocktails
Surprisingly, pumpkin goes well with so many ingredients we tend to use in cocktails. In my head, I've relegated pumpkin strictly to pies, lattes, and the occasional soup.
But it turns out that pumpkin is pretty versatile when it comes to cocktails. This adds a whole new category to my autumn comforts!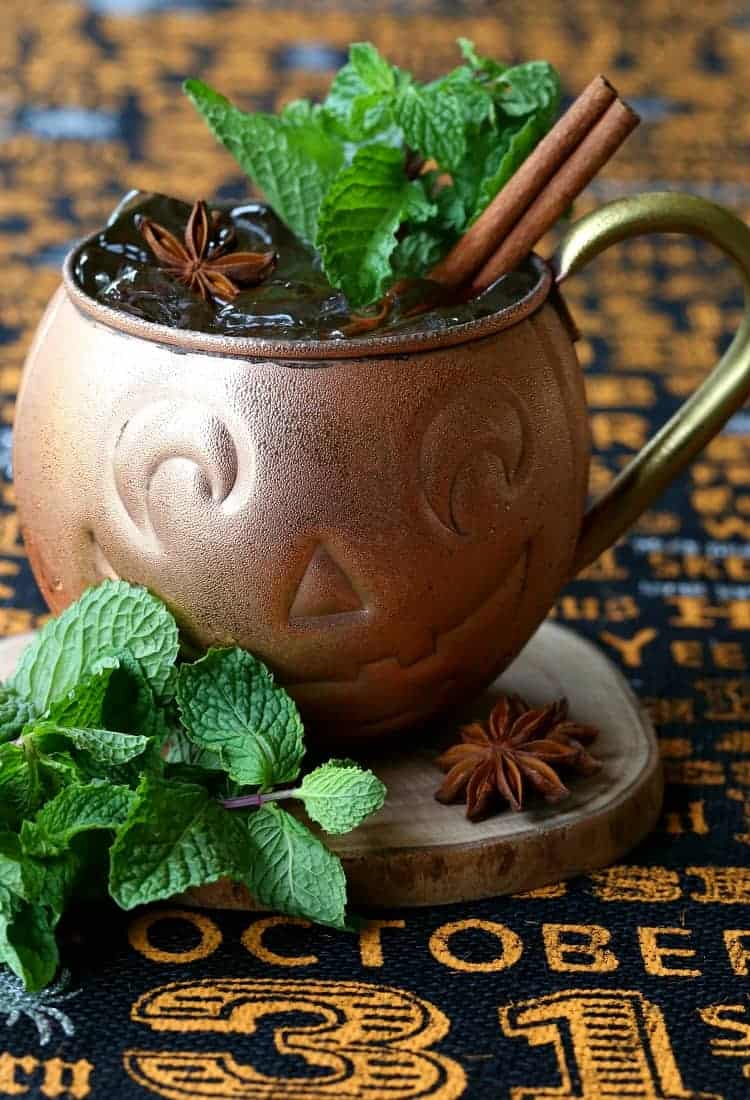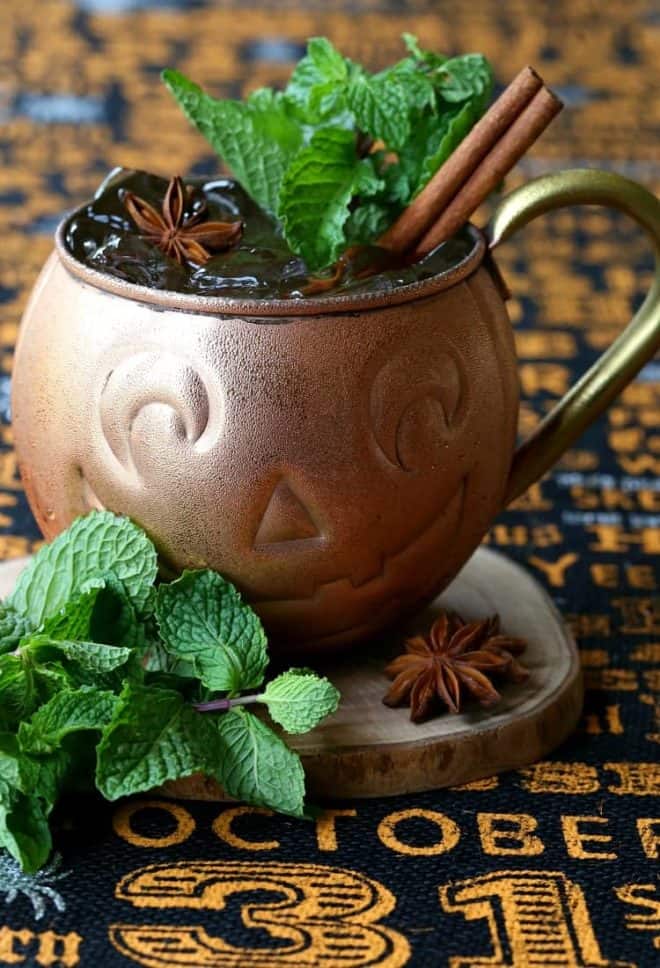 Recipe and image from ManTitlement.
Pumpkin and ginger are soulmates, and they go perfect together in this pumpkin drink recipe. Why haven't I thought of this one before?
If you love a Moscow Mule, you need to try this pumpkin spin on the classic! Grab some super cute copper mugs and enjoy by the bonfire.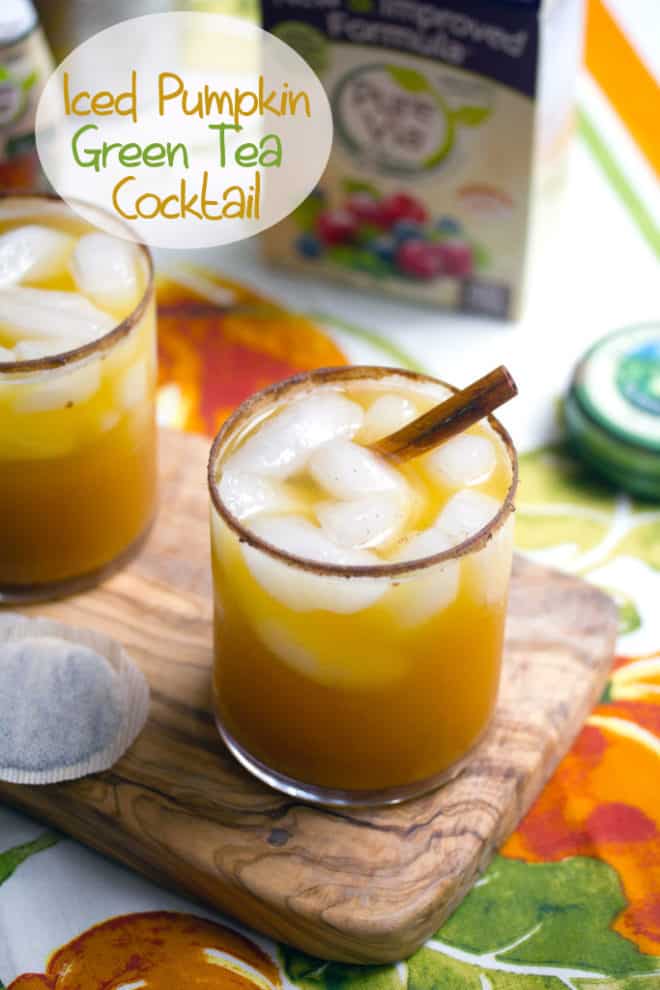 Recipe and image from We Are Not Martha.
This one's a little different, combining green tea, pumpkin, and vodka. And it's delicious! Who knew?
Served over ice, this unique drink with get you in the mood for fall. And let's face it, not everywhere experiences the autumnal chill that's typically associated with this time of year.
This one's perfect if you want the autumn ambiance but still need a cooldown. You can also make this pumpkin drink sans vodka for a sober, refreshing pick-me-up.
Beyond Pumpkin Drink Recipes
These are fantastic additions to fall. But if you want more variety in your autumn drink repertoire, here are a few recipes I've stumbled upon that are pure gold!
Pumpkin Drink FAQ's
Can I use pumpkin pie filling instead of pumpkin puree?
Many of thee recipes emphasize the need to use puree instead of pumpkin pie filling. This matters because fall spices are added to the filling, and could throw off the taste of the drink.
If pumpkin pie filling is all you've got on hand, you can still work with that. Just reduce any extra spices in the recipe if your filling is already providing them.
Should I substitute one kind of alcohol for another?
You can, but keep in mind it can radically alter the flavor. If you want to experiment, I'd recommend keeping the kind of drink consistent. For example, only use other clear alcohols (like gin or tequila) if you're substituting for vodka.
I'd use the same rule when switching out darker drinks too. So I'd avoid using vodka in place of bourbon!
Can I make these pumpkin drink recipes without the booze?
So many of these can be made dry by removing the alcohol. The mudslide, sparking spiced pumpkin punch, pumpkin apple sangria,and the iced pumpkin green tea cocktail are the best candidates for this.
Non-boozy versions are great for parties with kids and gatherings with sober friends. It's always nice to have the option available for those who simply prefer not to drink.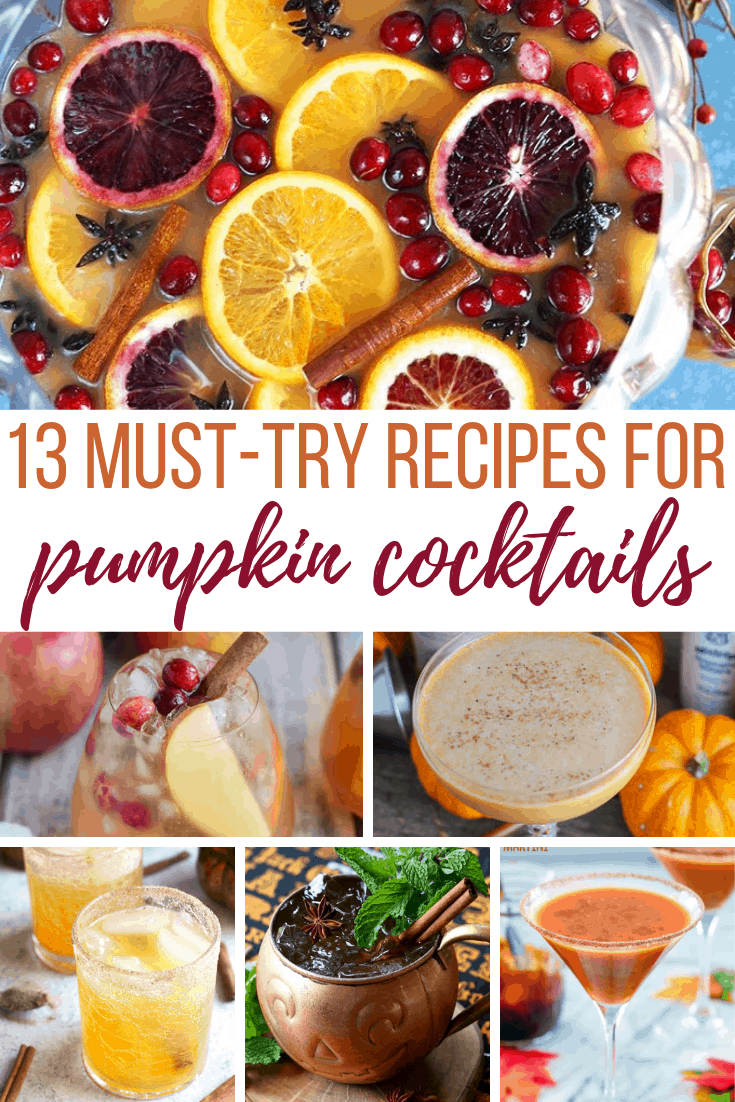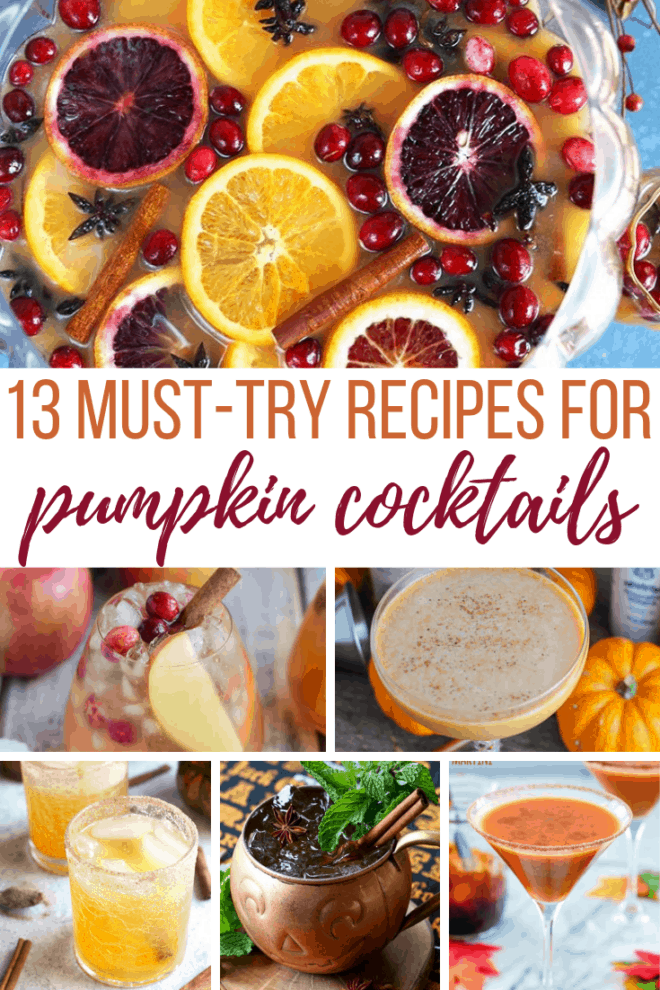 Pumpkin Cocktail Deliciousness
I was thrilled to come across these amazing pumpkin drink ideas for making fall even more fun!
What do you think? Are you as excited about these pumpkin drinks as I am? If you like these pumpkin cocktail recipes, please remember to share this post with your friends by pinning it.