2014 Blog Traffic Report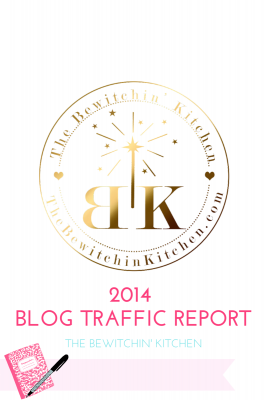 2014 was an amazing year for The Bewitchin' Kitchen. I saw a lot of growth and from what I can tell; 2015 is going to be even better.
I wanted to put together a little traffic report for myself and share it with whoever may be interested. I'm a huge stat nerd, I like to see where I'm improving and where I can improve. If you're a blogger, you can link up your year end traffic report as well (link up is at the bottom of this post).
I don't know about you, but I like checking out traffic reports. It's fun to see what posts are doing well and where traffic is coming from (yes, I seriously think it's fun). I actually have a book with a section devoted to my blog stats.
Something I have found helpful in tracking my stats was this post on How To Create a Media Kit Dashboard in Google Analytics.
2014 Blog Traffic Report:
Stats come from Google Analytics – Jan. 1 – Dec. 31. 
Pageviews – 688, 241
Unique Visitors – 407, 894
Top 10 Referring Sites:
Pinterest
Google (search)
Stumble Upon
Facebook
Twitter
Top 3 Posts:
Check out: Top 10 Blog Posts On The Bewitchin' Kitchen In 2014 and don't forget to to read My Favourite Posts Of 2014.
Most Commented Post of 2014: Vitamix S30 Review (not surprising since this was an amazing giveaway).
2014 Blog Growth:
January Pageviews: 34, 991
December Pageviews: 117, 441 (+235.63%)
January Unique Visitors: 28, 852
December Unique Visitors: 61, 754 (+114 %)

Bloggers, do you do an annual blog traffic report? If you do and you have it posted on your blog link it up below. I would love to visit and see how your hard work has paid off for you this year:
FREE Recipe Binder
Are you constantly wondering what's for dinner?
When I don't meal plan I feel behind, and we usually end up ordering take out. This recipe binder will keep you organized and make life a little bit easier.
products I used to make this happen Shop This Post
(may include affiliate links)