3D Ultrasound | An Experience Like No Other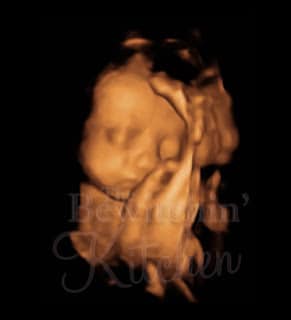 Last week I posted a photo from my 3D Ultrasound for Wordless Wednesday and I received such great feedback that I want to post more about my experience (and of course more pictures).
Living in a small town in central Alberta, my closest option was Red Deer and from the few places that offered 3D Ultrasound, we opted for the Women Imaging Center. We have gone there before for standard ultrasounds and always had the best experience. They are very daddy friendly. When I say daddy friendly, I mean the father can stay in the room the whole time (they even have a comfy recliner for him) and look at the big screen TV at your baby. 
His foot reaching to the top of his head.
It was recommended that a half hour before my appointment I had something with sugar, that way the baby will move and you can experience more at your ultrasound. So, naturally, I took advantage and hit up the drive-thru for an ice cream.
When it came time for my appointment, my tech was knowledgeable and excited to do her job (I have noticed that will all of the staff at the center, it's great to be in that environment). She explained that if the baby is not in that optimal of a position and they cannot get him to move, they will reschedule (since this is a service that I pay for). What do you know? The baby was stubborn (he has been stubborn at every ultrasound appointment). His foot was up at the top of his head and he wouldn't move it (it was hard to get a clear picture of his full face because of this) until the last ten minutes.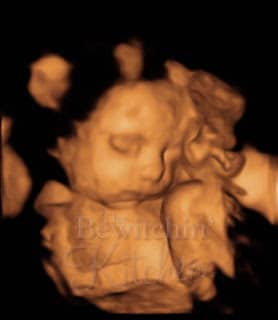 I'm so happy that I opted for the 3D Ultrasound. The reason why I did was because at my 20 week, my tech first told me it was a girl (he was 90% sure) and then when he checked again he said he was a boy. I wanted to be 100% sure, so I booked the appointment after Christmas. If it wasn't for that I would have never have done the 3D and would have missed out on so much. I never really wanted one because most of the 3D Ultrasound pictures I had seen in the past were "creepy", but it's completely different when it's your own child.
Something I never expected? He looks so much like his dad it's unreal. The tech pointed it out at first, excitedly repeating it. When I went home I immediately pulled out a baby picture of him and the resemblance is uncanny. 
I have been told (and have read many times) that it's common that your baby looks identical to its 3D ultrasound photo when it's born and I cannot wait to test out that theory. I have done many Google searches on that and it seems to be true from the photos I have looked at.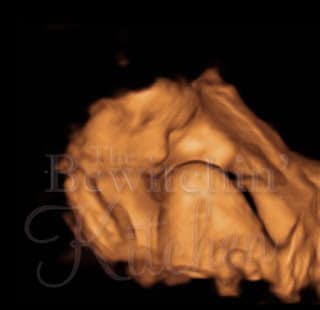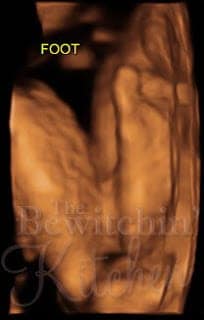 If you are contemplating on getting a 3D Ultrasound, I highly recommend it. It's a once in a lifetime experience that you will not regret. I have a disc of over 30 images to hold onto forever now and it's precious.