4 Tips That Change The Way I See Health and Fitness
Health and fitness is a journey, not a destination. It's a journey that I have been taking part in for a few years now.
On this journey there have been pregnancies, illnesses, and a lot of learning and sharing along the way. I love to help others so I compiled a few of my favourite "tips" that have not only helped me along the way, but have also changed my mindset.
Find Your Forever Workout: This one may take some time and some experimenting. Working out doesn't have to be running and lifting weights. It's about being active and enjoying what you do. I believe that if you dread your workout routine, you're not going to do it. So what do you like to do? Dance? Play sports? Try a few different things and find what works for you – just get your body moving. Me? I like working out from home like the 21 Day Fix, PiYo, Turbo Fire, and whatever else is on my Beachbody on Demand.
Replace bad habits with good ones: This is another tip that takes time, as it involves reforming your habits. Personally, I find that I mindlessly eat in the mid-afternoon. I'm not hungry, but I find myself reaching for random food. What I have been doing recently is replacing unnecessary eating with walking. I toss my son in his stroller, turn on a motivational podcast and go for 5k. Yes, it requires me to rearrange my schedule a bit but it's something that is easily adaptable.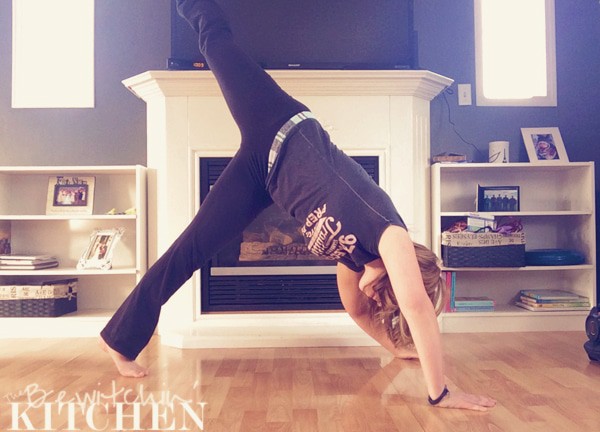 Track It: Not only is tracking what you consume an eye-opener, but it's also something that keeps me accountable when it comes to my nutrition choices. I notice that the days I don't log my food on my favourite app, MyFitnessPal, I not only over-eat but I make poor choices as well.
Don't be afraid to try new things: This is a new goal of mine for 2015 and I have been applying it to all aspects of my life, from putting myself out there and creating a YouTube Channel for my blog to adding a new food to my grocery list once a month.
One of these new food items is Silk Soymilk. I'm really liking how versatile it is; it's incredibly creamy in shakes and smoothies and works well in creamy soups as well.
Health Benefits of Soymilk:
Soymilk is the only plant-based beverage that offers consumers plant-powered protein.
Health Canada just announced that soy protein can lower cholesterol.
Soymilk is so versatile and can be swapped for almost any recipes (I have even used it in soups). 
Silk Soymilk is organic: no artificial colours, flavours or sweeteners.
It's low in saturated Fat
Something else I want to add is be kind to yourself. A healthy lifestyle is more than just physical, it's a mental as well. Be kind to your body, and it will be kind back.
Disclosure: This post was brought to you by Silk via Mode Media Canada.  The opinions expressed herein are those of the author and are not indicative of the opinions or positions of Silk.