Ameda | Baby Gift Guide
I never knew just how rewarding breastfeeding could be until I had Carter. I have to be honest, in the beginning the reasons behind my choice of breastfeeding were selfish: I was in it for the weight loss. Since I started, I would never have it any other way. However, breastfeeding can have it's trying moments and I am thankful for all the help I can get.
Mother's Choice Products
is the Canadian distributor for Ameda. Ameda is a hospital grade (and trusted) brand to give you the best products and accessories for your breastfeeding needs.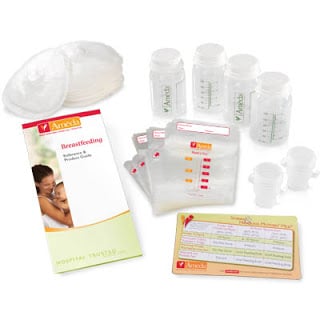 I was sent the breastfeeding accessory kit to review from Mother's Choice and Ameda. I used my Ameda kit right away and was so thankful that I had it. For those of you who don't know, I had Carter six weeks early and I had to start pumping right away.
 The hospital provided bottles, so I didn't need those right away (although I get great use out of them now) and same goes with the milk storage bags but what I did use the most was the breast pads. I found that once my milk came in, it was a little bit out of control. I was finding I had leaks in my bra and sometimes on my shirt, it drove me mad and was a little embarrassing (especially when you're walking around the hospital not aware of the "spill". My favorite feature of the disposable nursing pads? They were no show! I have some re usable pads but, they show through every nursing bra I have and it's a little annoying having disc shapes showing through my tops.
Another great feature of the breastfeeding accessory kit is the breastfeeding storage guide. This is something I still use as a reminder.
The items included in the breastfeeding accessory kit are the following:
20 Store \'N Pour™ Bags
2 Flange Adapters
10 NoShow Premium™ Disposible Nursing Pads
4 Breast Milk Storage Bottles
Breast Milk Storage Guidelines
Breastfeeding Reference GuideFor more information on Ameda products visit the Mothers Choice website.
FREE Recipe Binder
Are you constantly wondering what's for dinner?
When I don't meal plan I feel behind, and we usually end up ordering take out. This recipe binder will keep you organized and make life a little bit easier.