Apple Bran Muffins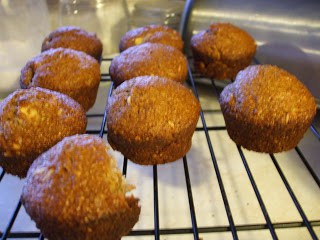 I was looking for a lower calorie bran muffin recipe last night and when I couldn't find anything. Everything was either too high in sugar, carbs or calories. I finally decided to take matter into my own hands and tossed a few things together. I'm happy to say that the muffins turned out amazing. If you don't have any natural wheat bran, you may substitute with oat bran. These muffins are very filling and incredibly tasty.. The recipe is below.
Photo From The Bewitchin' Kitchen, if you use this on your blog/site please link back to me. 
1/2 cup SPLENDA brown sugar
1 egg
1 cup skim milk
6 tbsp vegetable oil
3tbsp honey
1 1/2 cups natural wheat bran
1 cup all-purpose flour
1 tsp baking soda
1/2 tsp baking powder
dash salt
1 cup finely chopped apples
2tbsps shredded coconut
Preheat oven to 400 degrees F.
Combine first five ingredients in large mixing bowl. Mix well.
Combine bran, flour, baking soda, baking powder and salt in a separate bowl.
Slowly stir the bran mixture in the the milk mixture. Mix well.
At this point you can now fold in the apple and the coconut. Pour into greased muffin pan. Bake at 400F for 19 – 20 minutes. Or until toothpick comes out clean.
What's your favorite muffin recipe?