Batman Superhero Costume Halloween 2015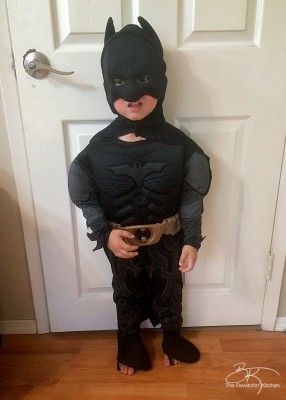 Halloween is just around the corner, and I can't wait! My son picked out a superhero costume this year, more specifically batman (and here is how you can get it for cheap).
A few weeks ago I saw a few Halloween costumes out at a store and began to pick through with my toddler. I asked him what he wanted to be and he went through the list: Minions, Jake from Jake and The Neverland Pirates (he was that last year), dinosaur but it wasn't until he found the Batman costume where he got excited. It strikes me as odd since he has never seen Batman, but when a toddler sets his mind to something I have learned to just give in and let him be happy (at least when it comes to a costume).
I wish I could say I'm a thrifty and talented mom and make my own costumes, but I'm not and I have come to grips with it. I buy them, it's easier and saves me tears and frustration. However, I am on a budget and the price tag at the store was a little much for a 3 year old's costume (which will only be worn for a whole two hours, if that). So I noted what it looked like and went to Costume SuperCenter. I have used this store a few times in the past and have liked the variety, where I currently live we only have a Walmart and usually all the kids have the same costume so I try my best to avoid it.
The costume arrived within a week, so shipping time was great (which benefited me last year when I ordered his Jake costume at the last minute from this store).
I ordered the size Toddler 2-4. My son ranges from a 3T-4T with regular clothes so I thought this would be a good fit. If I could, I would order it in the next size up (which is a child's size). It fits him but it won't if I have to put a coat or hoodie under and it is a little tight. I may just have to cut part of the back to make it fit over his coat if it's needed this year.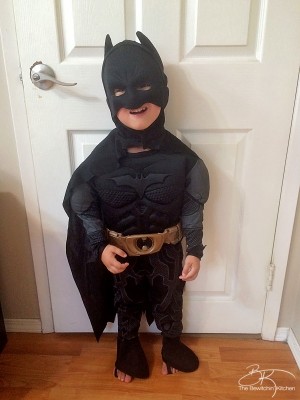 My son is really excited for his Batman superhero costume this year, I have actually had to hide it because he keeps putting it on to show all our guests and he wants to wear it for naps. Look at that smile!
What will your little one be for Halloween 2015? Check out Costume SuperCenter for a large selection and great deals.
Disclosure: I was given this costume. All opinions are my own and I have purchased from Costume SuperCenter twice in the past.