Beach Inspired Furniture Makeover #CountryChicPaint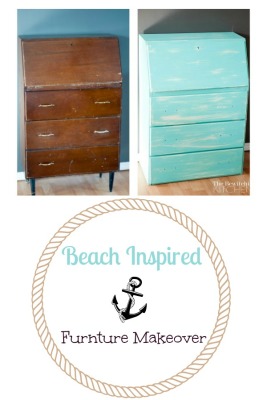 This furniture makeover project has been my Everest. Seriously, I have been working on it for months and it's gone through many transformations. So how about we just enjoy what I've done so far.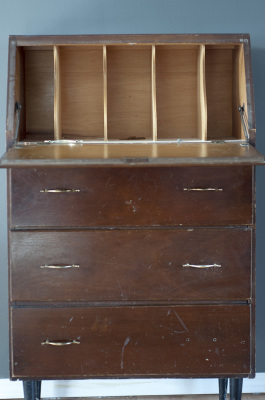 I took this desk after my Grandpa passed away. I saw so much potential in it, and a million ideas went through my mind. It was so lovely. The lock and key still worked (I lost the key on the drive home) and I found a sweet little letter from the original owners. It felt like such a charming piece.
My original thought was that I was going to transform it into a shoe rack, then I was just going to use it for storage and then it hit me…
I'm going to make a wine rack.
The plan was I was going to hang glasses upside down in the top part and remove the drawers and make "X" shelves. The idea was beautiful, and I kind of got started on the plan.
Originally I tossed on a coat of Pebble Beach by Country Chic Paint and I was going to go over it with Liquorice and distress the Pebble Beach through. Then while I was doing my Kitchen Table Makeover, my son got into some of the paint and attempted a DIY project of his own.
Sigh.
The wine rack project was just not happening. I finally gave up on that last month and decided to make a fun and colorful piece instead. With the end of summer, I thought something beach themed would be perfect.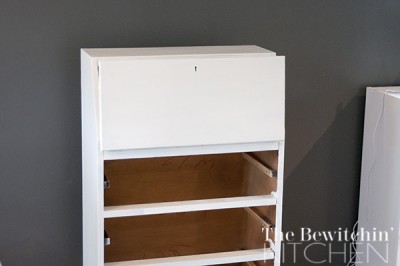 I first applied a heavy coat of Country Chic Paint's Vanilla Frosting and let it dry for two hours. It's such a beautiful and warm color, I'm also planning on redoing my stair spindles with this color. Stunning.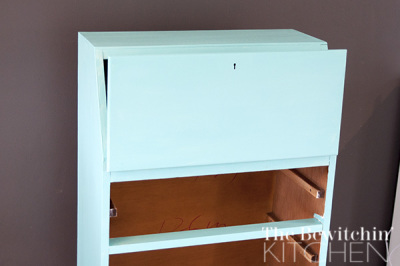 I then applied my favorite color, Tropical Cocktail. I only did one coat, and there was some white that showed through but I planned on wet distressing it anyway.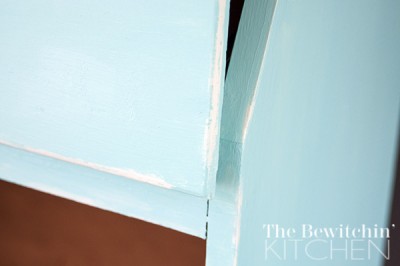 How To Wet Distress:
I'm sorry, I meant to take photos but I wanted to work fast so I didn't get anyway. It's so easy:
Do not let the paint dry. Country Chic Paint recommends doing this in under two hours – I did it within twenty minutes.
Take a damp cloth and with various pressure (start light) "wash" some of the paint away.
I used heavier pressure around the edges and the odd spot to make it look "beachy" and worn out.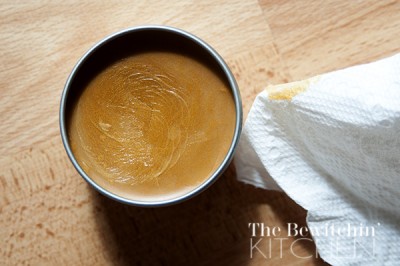 Instead of the standard wax, I wanted to age the piece a little more. Not antique it, but not have it look so fresh. Country Chic Paint's Gold Wax is perfect for that. It has some shine too (I love the pearls in it).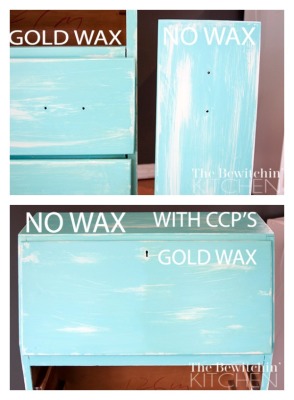 Applying the Gold Wax gave off a subtle difference. I love it.
Are you ready for the before and afters?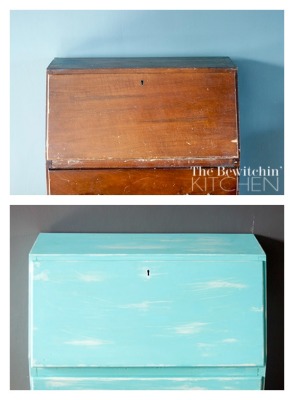 Yes, I am aware there is no hardware to complete this furniture makeover. The original ones I chose didn't work with the piece at all, then I ordered another set – they still haven't arrived (I think they're lost).

I'm kind of thinking about putting in some boat rope and using that. It goes with the theme, don't you think?
Tell me: What kind of hardware should I use?
FREE Recipe Binder
Are you constantly wondering what's for dinner?
When I don't meal plan I feel behind, and we usually end up ordering take out. This recipe binder will keep you organized and make life a little bit easier.