Beco Baby Carrier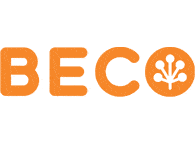 Designed by a babywearing parent, active sailor and rock climber, Gabby Caperon. Beco combines perfect ergonomics, excellent weight distribution and stylish design from top quality fabrics. Each carrier is handmade by a skilled seamstress in facilities which apply high social and economic standards. Sustainability and minimal impact of our production on the environment is important to us. We strive to provide the best quality, safe products, and friendly customer service.
I was pretty prepared for Carter's six-week early arrival, I pretty much had everything I needed, the only thing that was missing was a baby carrier. When I got home after five long weeks in the hospital I started wondering if I really needed one and figured it wasn't a necessity, then I received my
Beco Baby Carrier
.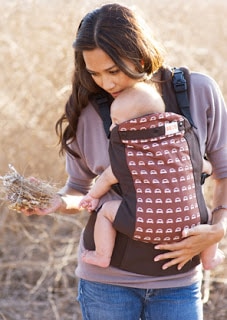 I was sent the Beco Butterfly 2 and what a convenience! Carter has bad gas and whenever I lay him down, he screams – a lot. I'm not sure if it bugs him or he just hates being on his back but it's an everyday occurrence that keeps me from cleaning my house, which in turn keeps me from blogging. So when he's having a challenging moment and I have a lot to do around that house, I strap him into the carrier and go about my chores. I love it!
I was first surprised at just how comfortable it is. I was expecting a heavy carrier with straps that dug into your shoulders but that B2 is the opposite of that with their wide shoulder straps that are cushioned and light. My favorite feature is the lumbar support. The waist belt is wide and padded, adding that support that most carriers forget about. Even though this carrier has great weight distribution, you're still putting a lot of focus on your lower back and the added support is really appreciated.
The Beco Butterfly 2 is meant for use from the weight of seven to forty-five pounds. That being said, I wasn't comfortable with placing Carter in the carrier until nine pounds. He's tall and skinny and didn't fit it that well in the earlier stages, even with the newborn insert. You have the option to carry baby in the front or back and is easy to transfer with the simple on and off feature.
This 100% organic cotton carrier is machine washable and is made of high quality (and highly tested) materials. I found that this carrier is very sturdy and secure. The material is strong and I don't feel that my child is going to randomly fall out (as I have noticed with a few recent carriers I have reviewed).
Live With Levi made an awesome video on the Beco B2 and all the ways you can utilize it, check it out.
Each B2 comes with an infant insert, head rest and instructions (read those, otherwise you will be mighty confused).