Slash Your Grocery Bill In Half With Budget Savvy Diva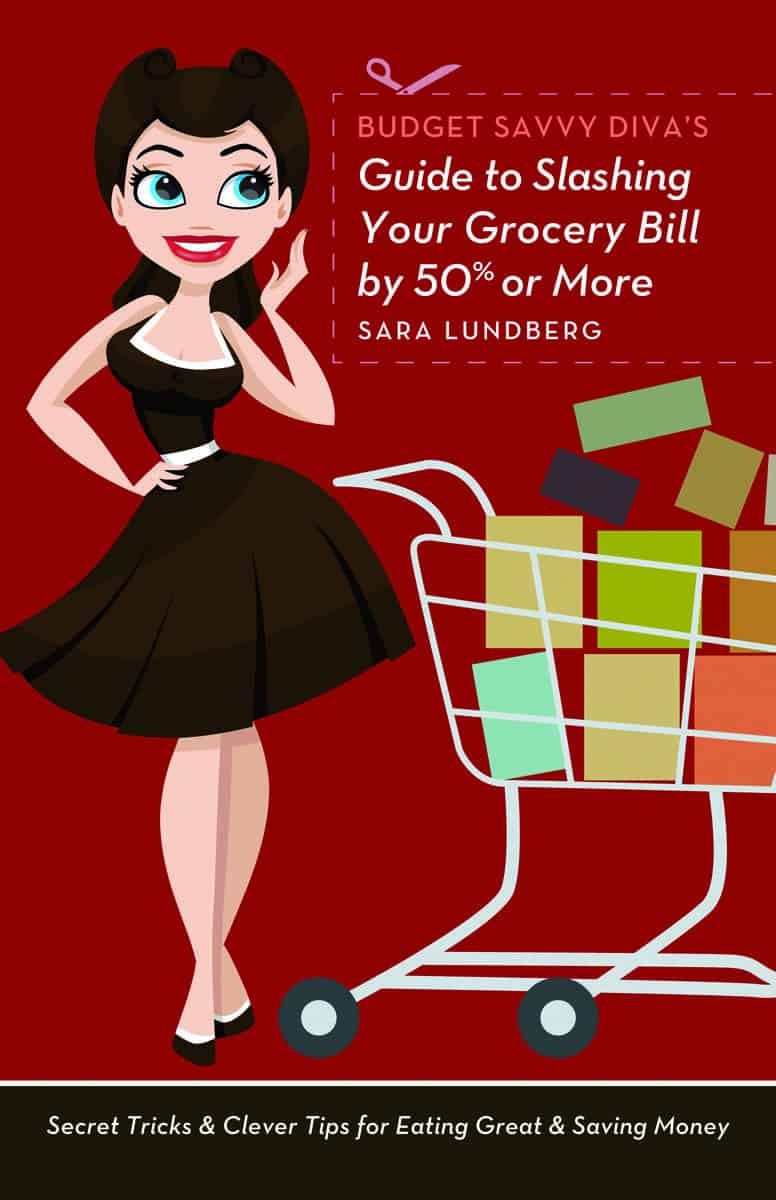 It's just the three of us here in our household and Carter is 11 months, so you would think that our grocery bill is pretty small. It's not. It's not like we buy a lot of stuff either, but it's a lot of meat and produce. So when I had the opportunity to learn how to save as much money as possible while grocery shopping I jumped at the chance to read Budget Savvy Diva's Guide To Slashing Your Grocery Bill by 50% or More.
Sara Lundberg from the ever so popular website, Budget Savvy Diva , wrote this guide for those of us who want to learn how to save as much money as possible while shopping for our everyday items. In this guide you will find:
Tips on how to maximize your coupons
Tricks for finding hidden bargains
Over 40 frugal recipes
The book starts out with one of the most important money saving skills you could master: menu planning. I do this weekly and it really helps with our bills. Shopping with a list (and not your stomach) is smart and keeps you from buying junk and wasting a lot of your food. In this chapter Sara breaks it down even further to maximize your shopping experience with your menu. Chapter two and three break down the grocery store and where to shop to save the most. Tips from buying frozen veggies to buying in bulk  and other ways to save money at the grocery store are covered in chapter two (along with my favorite tip: don't shop hungry). Where as chapter three gives you tips on how to get the most bang for your buck. The following five chapters included tips on eating healthy on a budget, stockpiling, cooking with your kids, coupons, recipes and my favorite chapter: what to do with leftovers.
Did you know that over $600 of food is thrown away every year in most American households? I'm guilty, sometimes when I menu plan I don't account for leftovers and toss them because I move on to the next day. In the Leftovers chapter you find tips on what you can do with leftovers to transform it into another meal. That way your family isn't bored of the same thing two nights in a row. You find fabulous tips like making tacos or tossing everything in the slow cooker to make a whole new dish. Sara even breaks down a few meals such as Chili and gives you examples on next day meals such as: chili cheese omelets (why have I never thought of this?), top fries or a baked potato (my favorite, add some broccoli and cheese too), top a hamburger, serve over spaghetti squash or transform it into a new chili by adding other spices and ingredients.
The tips found in Budget Savvy Diva's books are incredibly valuable and will save you money. This book retails for only $12.95 (which is a small price to pay for the 100s you will save in the months to come) and can be found at Chapters, Indigo, Amazon and more major retailers.
FREE Recipe Binder
Are you constantly wondering what's for dinner?
When I don't meal plan I feel behind, and we usually end up ordering take out. This recipe binder will keep you organized and make life a little bit easier.