Building and Encouraging a Future Athlete #RoadToRio #WannaPlayChat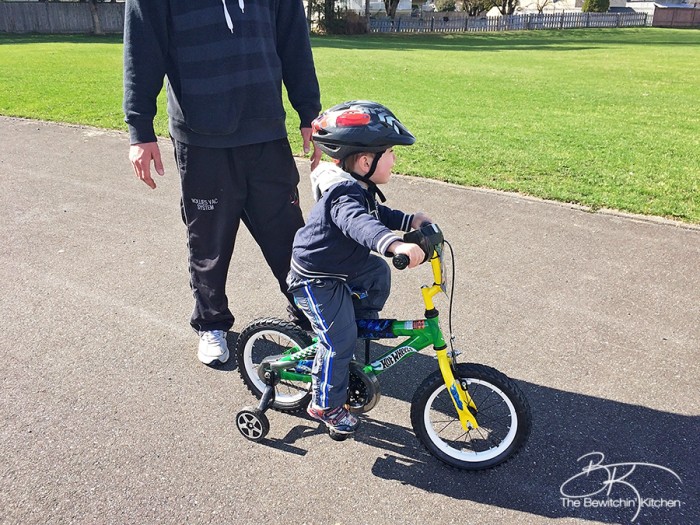 Come August 5, the 2016 Olympic Summer Games will only be a year away and I'm preparing my future athlete by keeping him active and introducing him to various forms of olympic sports.
For the past two years, my husband and I have been bringing our son to the tennis courts. It's fun to volley the tennis ball back and forth and teach our son some basic skills. Who knows, maybe we'll have a future olympian on our hands (and maybe then he can teach us the rules).
Did you know that Trampoline Gymnastics was an olympic sport? I sure didn't! It was introduced at the games in Sydney in 2000, and on our recent trip to the Okanagan we took our son to Rattlesnake Canyon and he went wild on the Bungee Tree. It was our way to introduce him to the trampoline, and as you can tell he loves it. Then again, what kid (and adult) doesn't love a good bounce on the trampoline?
My personal favorite is golf. Golf is our first real family sport that we all enjoy (and actually know the rules, unlike tennis). I've been golfing since I was 12 and it's something I'm excited to get my son into. Maybe we can enter some mother and son tournaments in our future.
Building a Future Athlete:
There is no doubt in my mind that our son will be an athlete. He loves to bike, run, swim, golf and I'm sure there will be more in our future as he gets older and explores other sports. Regardless of what he falls in love with, I'll be here to support him and encourage him in his journey.
#WannaPlayChat Information
On August 5th join me at the #WannaPlayChat for the 2015 Rio Summer Olympics where we will be starting the countdown to the Olympic games (one year)! There will be some amazing prizes from Canadian Tire, who is a proud sponsor of the Canadian Olympic Committee (COC), and has athlete relationships with a number of Canadian Summer Athletes.
Twitter Party Details
When: Wednesday, August 5th, Time – 8-9 pm
Host: @CanadianTire
Special Guests and Olympic Athletes: @RosieMacLennan @btheiseneato @markadejong
There is no RSVP
Prizes: $1000 in Prizing
What's your favorite summer Olympic sport? (Here's a list.)
FREE Recipe Binder
Are you constantly wondering what's for dinner?
When I don't meal plan I feel behind, and we usually end up ordering take out. This recipe binder will keep you organized and make life a little bit easier.