I Love Canadian Beef, Do You?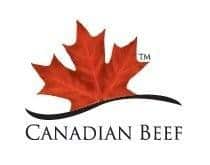 There are many myths when it comes to healthy living and losing weight. Some of the myths that irk me the most are: "beef is bad for you", "beef has bad fats", "eating beef increases coronary heart disease risk". All of these frequently heard statements are false. Not only Canadian Beef is a great way to eat healthy on a budget, but it's also very versatile – the possibilities are endless.
I live a fairly healthy life, it's something that I am passionate about and I have even made a living out it. Another passion of mine? Food. Those two passions of mine used to be an everyday battle for me. It wasn't until a few years ago that it finally clicked that with some slight modifications, you can have both. We're huge beef eaters here in my house. In the summer, every Friday we have steak dinner. There is nothing better then sitting out on the deck, enjoying some BBQ'd steak. I try to incorporate beef into our meal plan a few times a month.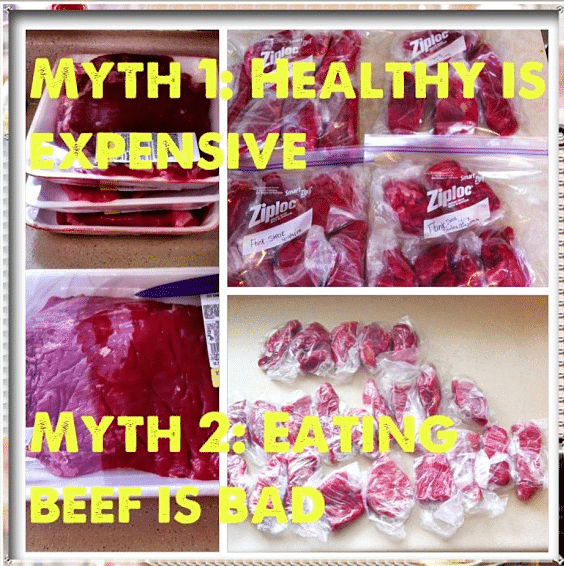 I recently took a trip to my local Safeway to learn a little more about Canadian Beef and what it has to offer. I learned the difference between AA and AAA cuts (which I thought was the way it was cut, I was wrong it's all about the marbling of fat in the meat. The more marbling the more flavor) and was surprised at how much beef a family could obtain on a small budget. I also learned important factors on why Safeway is a great place to buy Canadian Beef from. Did you know that Safeway supports over 83,000 beef farming families in Canada? The beef you buy at Safeway is local beef, and you're helping out our economy every time you buy. I'm currently educated myself about hormones and antibiotics, I'm thrilled to have learned that Safeway does sell hormone and antibiotic free beef under the label "Open Nature".
Last weekend you may have seen this post that I posted Instagram (if not, you should really follow me), I had just got back from my shopping trip at Safeway and was astounded with how much beef I had just bought. I'm currently following a new fitness/nutrition plan and noticed that there is a lot of recipes that ask for flank steak. After discussing flank steak with the manager at Safeway I learned that not only is it a budget friendly option, but also a lean alternative.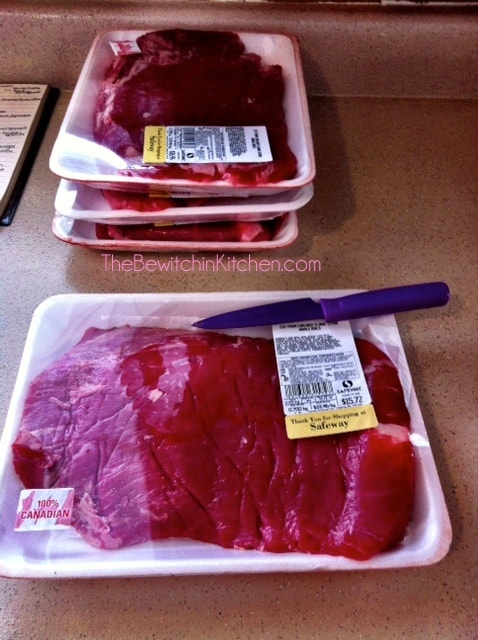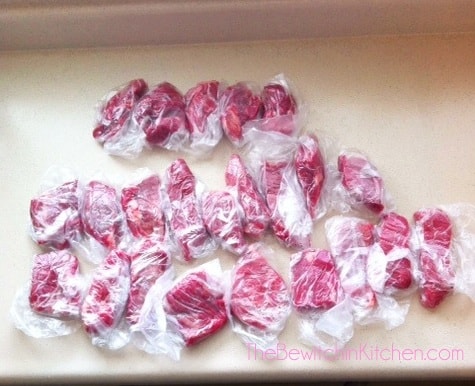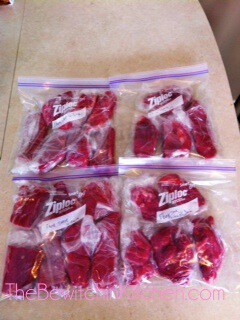 I bought four giant flank steaks, with an average value of $15 each. I then cut them up to 4-4 1/2 oz servings of steaks and strips. I got 18 steaks and 5 4oz servings of strips (for fajitas and stir frys). Naturally, my husband will be eating more then 4 – 4 1/2 ounces (and I will too once I get past month one of my new plan) when that time comes I just need to cut more off (reserving more for strips). It's a win-win and not a tough situation at all. Just from what I have with steak, I have 23 meals ready to go. So with an average cost of $15/steak X 4 = $60 spent on beef. 60/23 = $2.61. $2.61 is what this will cost for my serving at meat at each meal. That's cheap and incredibly budget friendly for eating healthy.
Steak Fajitas
This recipe is from my current workout program, ChaLEAN Extreme.
4-oz. Flank Steak, cut into strips
1/2 of red bell pepper, cut into strips
1/2 of a yellow bell pepper, cut into strips
1/4 of a white or red onion, cut into strips
1 Tsp. garlic powder
1/4 Tsp. cumin
1/4 Tsp. salt
1/4 Tsp. pepper
1/4 Cup salsa
1 6-in. whole wheat low-carb tortilla (about 60 calories)
Directions:
Heat a nonstick skillet coated with a nonstick cooking spray over medium heat and add the steak. Saute steak for about 2 minutes, allowing it to "brown,"  and season with salt, pepper, and cumin. Add peppers, onions, and garlic powder and saute' for an additional 3 to 4 minutes, until the steak is cooked through and the peppers have begun to soften. Serve with salsa and warmed tortilla.
Calories:  300
Protein:  28 g
Carbs:  39 g
Fiber:  4.5g
Fat Total:  14 g
I was compensated by Canadian Beef for this post. All opinions are my own.
FREE Recipe Binder
Are you constantly wondering what's for dinner?
When I don't meal plan I feel behind, and we usually end up ordering take out. This recipe binder will keep you organized and make life a little bit easier.