Carving Pumpkins: The Glad Gruesome Challenge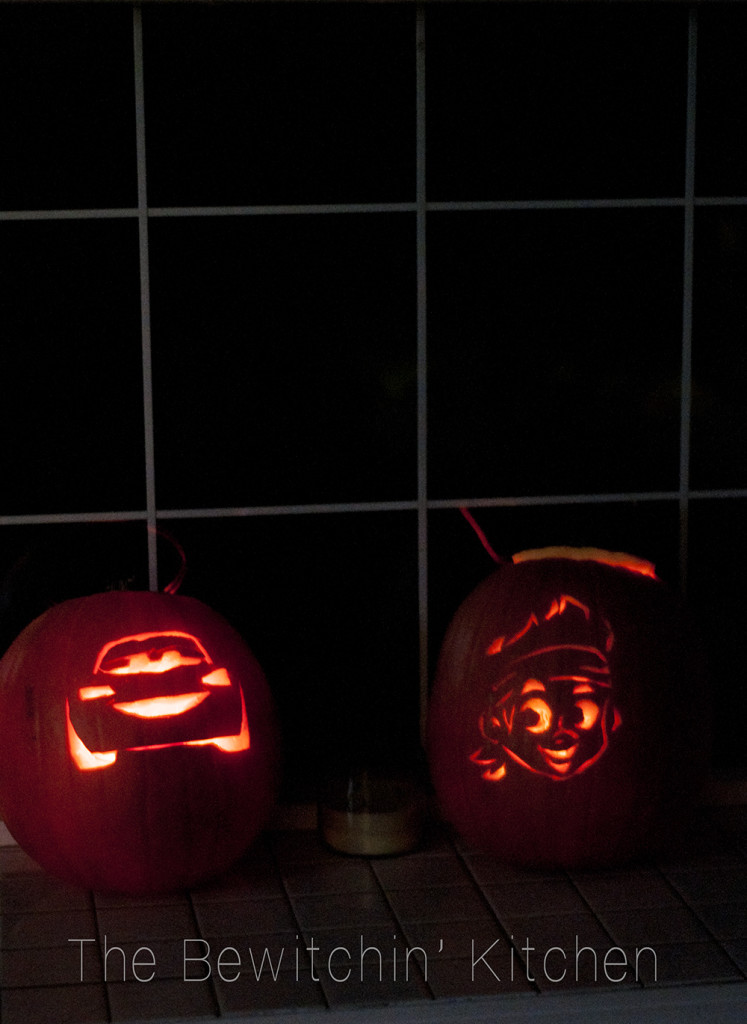 I don't like carving pumpkins, I never have. I know that sounds like an odd thing to confess to, most people love being festive this time of year. There is a lot of effort with craving pumpkins, a lot of mess and a lot of waste. So this year, I decided to take the Glad Gruesome Challenge.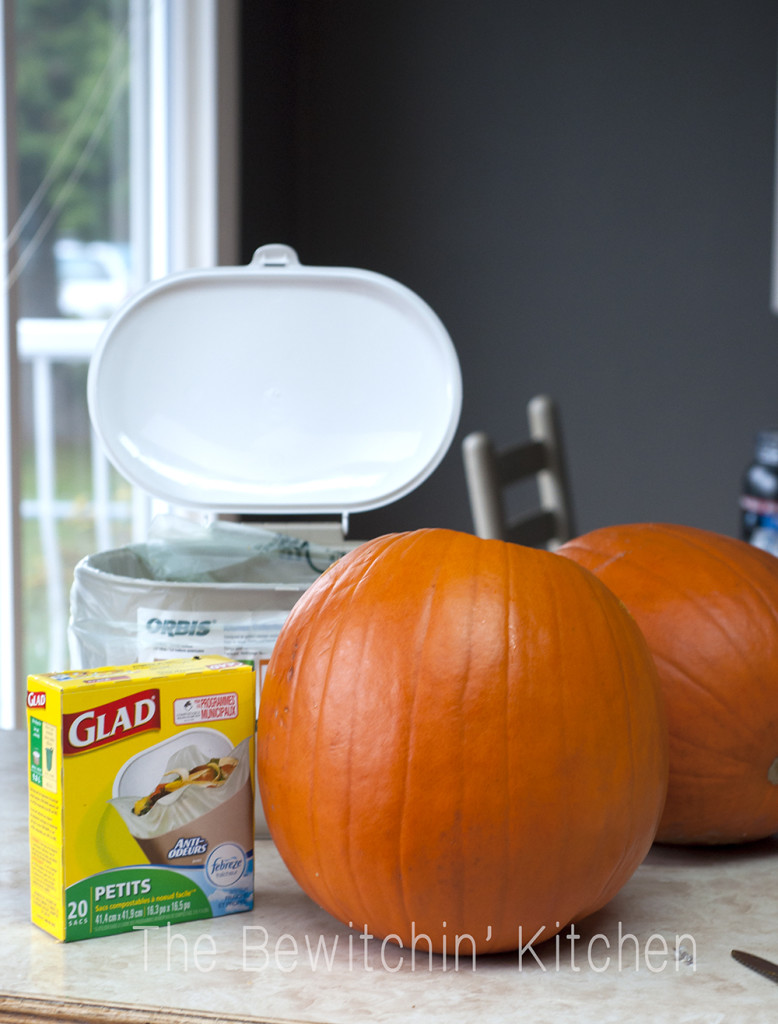 I purchased two pumpkins with the idea in mind that I was going to do an amazing job and create something beautiful. When I got home, I realized that I had no template to work with. So I quickly ran to my computer and printed something off of Pinterest. I decided on doing Jake & The Neverland Pirates and Lightning McQueen from Cars, you can find the templates I used plus a few more on this post from Chip & Co. With my supplies laid out, I was ready to go.
Step 1. Wash down the pumpkin and get all the excess dirt off.
Step 2. Realize you don't have any proper carving tools other then cheap knives.
Step 3. Dive in (and if you're like me try to keep the cursing to a minimum).
I started off with removing the top of the pumpkin and taking a spoon to scoop out the insides. Other then myself, no one in my family will eat pumpkin seeds. So this year I decided to skip all the extra effort and I put everything in the Glad® OdourGaurd® compostable bag I was sent to test out. It felt like such a waste, maybe next year my son will like them and we can enjoy a health snack together.
I then used thumb tacks and posted the template to my pumpkin. I then took another thumbtack and stabbed my pumpkin many, many times to trace alone the guidelines. I then removed the template and took the sharpest paring knife I could find and went to town. There were many mistakes but, I think they turned out alright.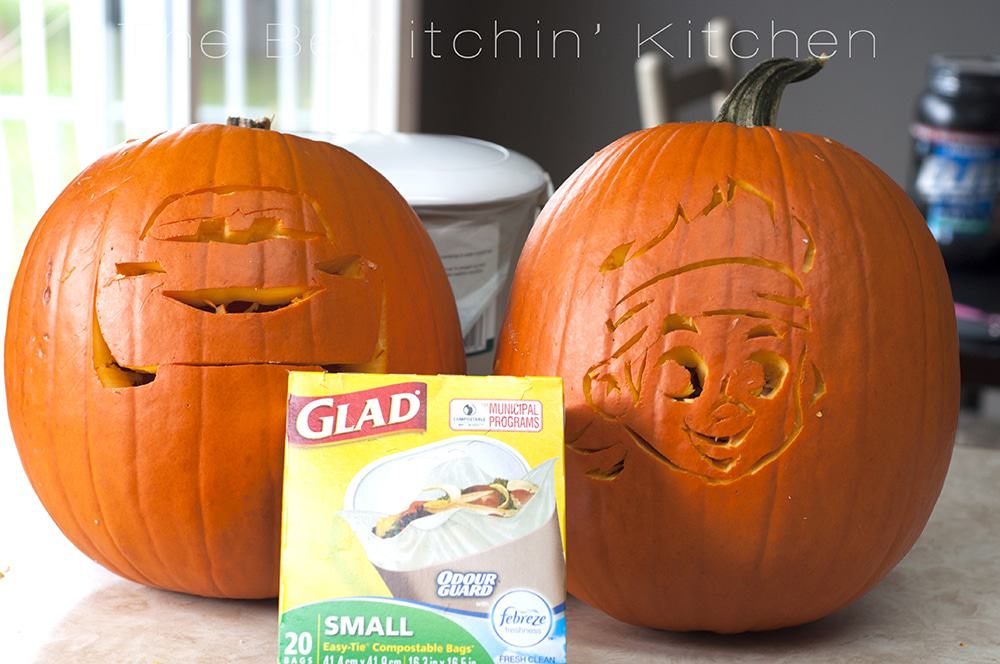 To dispose of the yucky pumpkin guts I lined a compost bun with a Glad® OdourGuard® compostable bag. These bags are available with Febreze® freshness and claim to neutralize trash odours, so I was eager to test them out since I was worried about the smell of rotting produce in my kitchen. I put the pumpkin guts, seeds and some other scraps I saved from breakfast (banana, vegetable rinds) in and shut the lid. I didn't touch it for five days. To be quite honest, even with the little pail sitting on my kitchen counter – I forgot about it.
I didn't notice any foul odours at all.
I'm really impressed with that because if I put a banana peel in the garbage, I notice it later that day. Those little fruit flies end up all over my house and it drives me crazy. Nothing like that happened in my five day Glad Gruesome Challenge.
When the fifth day came, I was a little nervous. I didn't know what to expect. How bad was the smell going to be when I lifted the lid? Is there going to be a big mess for me to clean up? I was kind of dreading it.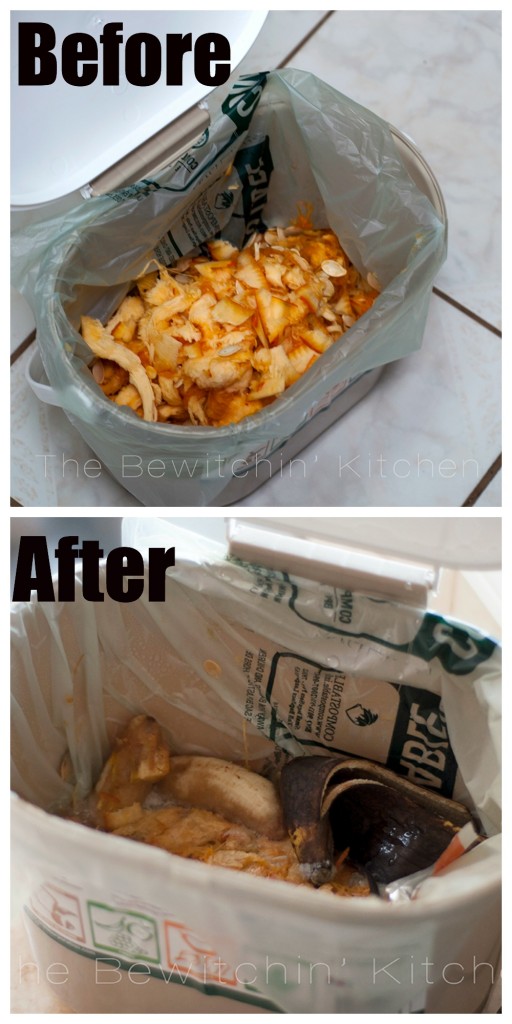 When I opened the lid, a few of those little fruit flies came out and there was an odour, but it wasn't as bad as I was expecting. It was tolerable. The lid had some condensation on it and when I lifted the bag there was a tiny bit of liquid at the bottom of the pail. As for what was in the bag? I think it was safe to say that the contents were getting broken down. I couldn't believe how much liquid was at the bottom of the bag. It was really gross. I meant to take a photo but I was too worried it would get on my floor so I quickly got rid of it.
The bags are 100% compostable, and my community has a program where the city comes by and picks up your compost on Monday moorings and takes them away to do whatever they need to do with it to make the city a greener place to live in. So I simply just placed the bag with my lawn clippings and it will be ready for pick up tomorrow.
I'm really happy I took part in The Glad Gruesome Challenge and found these bags. Not only do they contain the odour that scraps of vegetables and fruits can put off, but they make me feel better about doing the right thing. The green thing. Now that I have these bags I'm going to do my best to change my habits and start composting in the community (I would do my own garden, but I failed at that miserably this year).
These bags are perfect for the pumpkin scraps that we will all have to dispose of in the next week, so why not take the Glad Gruesome Challenge for yourself? Click here to receive a coupon to try out these bags and test them for yourself.
Disclaimer: I was compensated and receive product for this post, but all opinions are 100% mine.
FREE Recipe Binder
Are you constantly wondering what's for dinner?
When I don't meal plan I feel behind, and we usually end up ordering take out. This recipe binder will keep you organized and make life a little bit easier.