Commit To Fit With #SUBWAYFreshSwap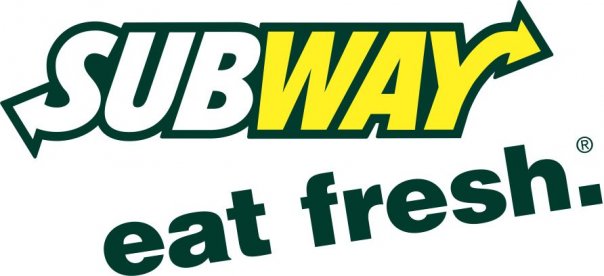 I do my best to live each day the healthiest I can. For the most part I exercise daily, I do my best to mentally live well and I watch my nutrition. With that being said, I'm not perfect: I like to watch TV while I eat, I tend to over do it with snacks, and I let my stress take over far too often. Right now, I am making fresh swaps with the Subway Commit To Fit Pledge.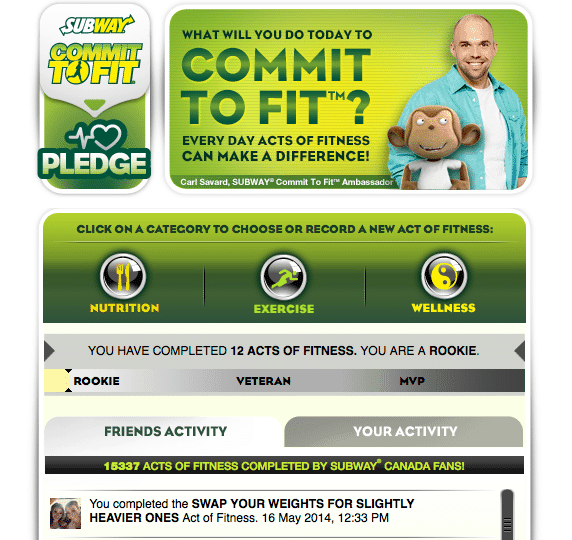 Right now if you head over to the Subway Facebook Page, you can take the Commit To Fit Pledge. Commit to living a healthy and balanced lifestyle and by doing so, you can win $10,000 cash and a $500 Subway gift card*. Just by taking the Commit To Fit Pledge you are automatically entered for the grand prize, along with a monthly draw of $250 cash cards. Once you take the pledge, you can track your progress on the Subway Canada Facebook page.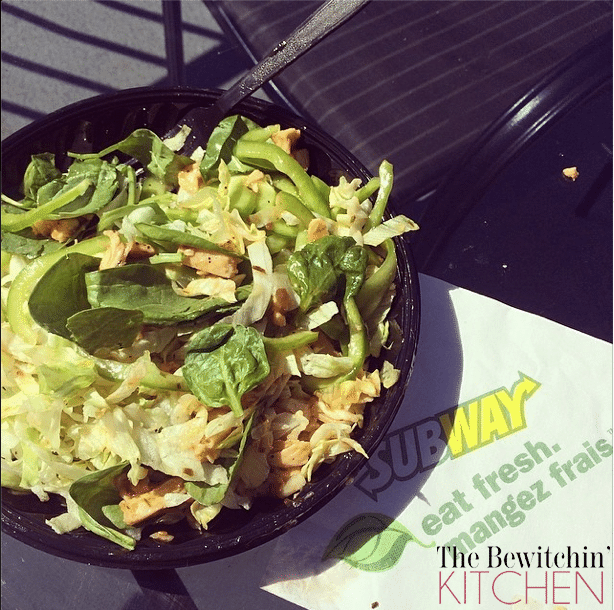 Making healthy choices, doesn't have to mean that you have to lack flavor and taste. Yesterday I had an amazing lunch with a Sweet Onion Chicken Teriyaki Salad. It tasted just like the sandwich (which is my favorite) but without the bread. It's the perfect choice for a summer lunch. With this meal I made two freshswaps:
Fresh Swap #1 I swapped hot dogs (what I was craving) for a healthy salad which was high in vegetables and protein and low in "bad fat".
Fresh Swap #2 Instead of eating lunch in front of the TV, we packed up and enjoyed a family picnic-style meal outside on the deck.
How You Can Commit To Fit With Fresh Swaps:
Fitness: Swap TV time with a family walk, after a long Canadian winter we should appreciate the sunshine and fresh air (it's only a matter of time before old man winter re appears). Take the kids to the park, maybe show them how to be a pro at the monkey bars! Or (my favorite) take a family trip to the lake: bring a frisbee, play catch, go for a swim. If you're already fairly active, make some improvements. Some suggestions from the Commit To Fit Pledge are: up your weights, go for the extra distance (maybe try to complete a 5k?), jump on the bike and do a little bit more then last time. Whatever you do, just move – and make it fun!
Nutrition: Now here are some fun swaps: use avocado instead of mayonnaise, greek yogurt instead of sour cream, club soda with lemon instead of sodas. Some changes don't even need to be all that drastic, when you order a burger opt for a salad instead of deep-fried fries or even some steamed vegetables (most restaurants are happy to oblige). Another favorite tip of mine for when it gets hot out is to brew up some berry tea, and let it steep (cold) over night in the fridge. Sweeten with a little stevia (most of the time it's not necessary as some teas have a natural sweet taste) and you have homemade iced tea!
Wellness: Take time for YOU (mom's did you hear this?). We all have moments where we want to rip our hair out, it's a feeling I know extremely well. Next time you just need a break – take it. Instead of stressing and worrying swap that with a nice hot bubble bath (bonus points for candles). Maybe try some meditation, yoga (you kill two birds with one stone with this choice) or a family game night instead of a family movie night.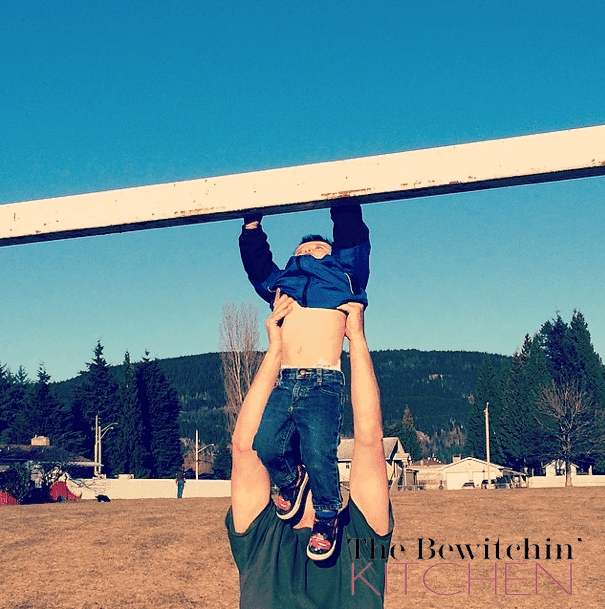 Commit To Fit is about being healthy INSIDE & OUT. It's about setting examples for our friends and family and setting goals for ourselves. Take the Commit Pledge with Subway today.
*The sweepstakes is open between May 1, 2014 and October 31, 2014. The Grand Prize Winner will be announced on or around November 17, 2014.
Disclosure: I am part of the SUBWAY® RestaurantsCommit to Fit™ Blogger Campaign and I receive special perks as part of my affiliation with this group. The opinions on this blog are my own.