Bunny Baby Hats From Cute Capes 'n' Caps
You may remember my review on the adorable Teddy Bear Hat from The Bringing Home Baby Gift Guide & Blog Event back in April. It was fantastic to work with Cute Capes 'n' Caps then and I'm thrilled to be teaming up again.
It was difficult to review the Teddy Bear Hat in the beginning because Carter was preemie and had a tiny head. That hat still fits him no problem, and I think I can get another wear or two out of it this fall/winter. That being said, it was hard to get a review out of it. Ramona from Cute Capes 'n" Caps was incredibly generous to make Carter two more hats, in a much smaller size.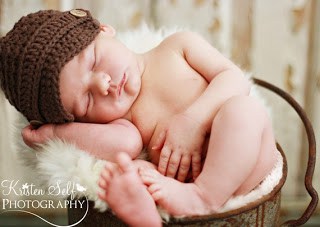 The first hat was a newsboy inspired hat. Unfortunately, this one was too tight on his head and I couldn't get a decent picture. I love how "vintage" the newsboy hat is. This photo was taken from Cute Capes 'n' Caps and I love the photographers work. Absolutely precious.
My favorite hat…ever is the Soft 'n' Fuzzy Bunny Hat. Carter wore this hat everywhere, and we received so many "awes" in the stores. I'm so sad that he won't be able to fit this anymore in the coming months. The wool is very soft and I am confident that it keeps him warm when it's a bit chilly out.
Ramona does an amazing job with her Etsy shop and I encourage everyone to visit Cute Capes 'n' Caps.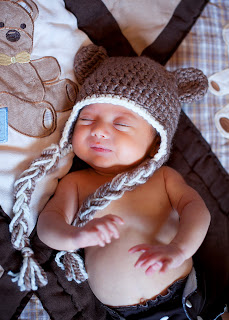 Carter's Teddy Bear Hat at 2 months