darci By DiCAPRIO Brush Cleaner | 2012 Oscar Swag Bag
The majority of us know the importance of cleaning our makeup brushes on a regular basis. I try to clean the brushes off after every use and to do a deep clean every week or two (depending on how often I wear my make up that week). Doing this keeps your brushes healthy, longer lasting and wipes away the nasty bacteria that is harboring in your bristles.
darci By DiCAPRIO's make up brush cleaner has anti bacterial properties (a must when it comes to my brush cleaning supplies). This prevents oil build up, acne and all that lovely stuff.
When I sprayed the cleaner directly onto my brush, the first thing I happily noticed was the pressure of the stream. There was a lot of powder behind the spray. I felt like this helped penetrate the synthetic and natural fibers of my brush better then the other cleaners I have. For my review example I decided to clean one my harder-to-clean brushes: my MAC 187 duo fiber. I use liquid foundation either MAC Stuido Fix or a new favorite of mine, Make Up For Ever HD liquid. Both leave heavy remnants of the product on my brushes, both thick and both a pain to clean.
After spraying my brush, I began to swirl on the paper towel and noticed a lot of the product coming off. I repeated this step until the synthetic fibers were almost white (a difficult thing to do with my brush). The instructions didn't say to rinse, but I did anyway since I felt like there was an oily reside to the cleaner. I'm happy I rinsed (and even did another soap) as the dreaded "foundation stream" came running out. Yuck.
I was a little annoyed that I had to wash my brushes a second time after using the initial product however; after thinking about it a little further there was a lot of product build up and my brush did need a deep clean.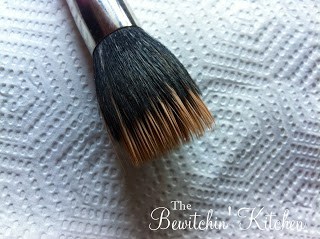 My MAC 187 Before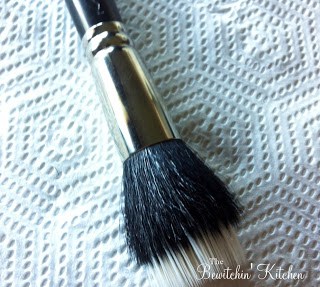 My MAC 187 After
All in all, I think this cleaner is a great option for everyday use. It's a fantastic way to keep your brushes clean and bacteria free. The product itself smells amazing (unlike a few products I have) and if your brushes are not caked in product it works well (unlike another product I have – Sephora everyday brush cleaner). In the below photo you will see a pink Sephora eyeliner brush (last brush on the top right). Since I have used this brush I have never been able to full get the eyeliner cleaned off. This product did it! I was amazed with the results.
I proceeded to go through the rest of my brushes, some I rinsed after some I didn't. On the brushes that I didn't rinse, the greasy feeling went away (like on my big MAC powder brush) leave the bristles soft and conditioned. The solution doesn't take long to try (again, a lot different then my every day Sephora cleaner) but I did rinse and re wash my brushes with heave use.
A belt full of clean brushes.
FREE Recipe Binder
Are you constantly wondering what's for dinner?
When I don't meal plan I feel behind, and we usually end up ordering take out. This recipe binder will keep you organized and make life a little bit easier.