How To Make A Designer Print Using Your Phone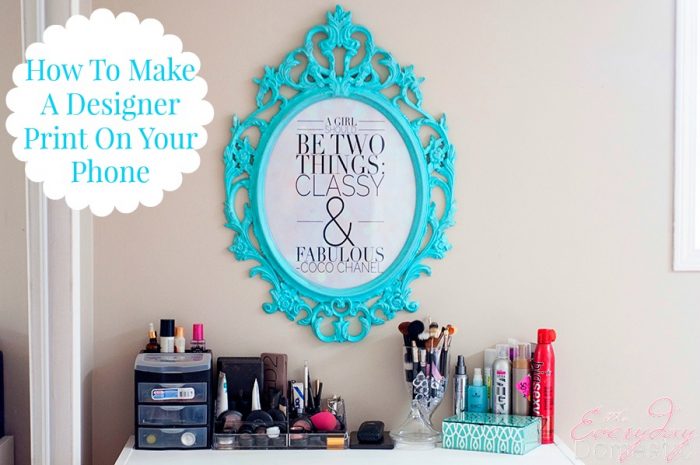 My UNG DRILL Ikea Hack that I posted two weeks ago was a hit. I received a few messages on Facebook and via email asking me where I got the designer print that featured the Coco Chanel quote. I actually made it and here's how you can too:
I used the app Word Swag, it's a fun way to dress up your Instagram posts and I'm excited that I found a new use for it.
I apologize for the broken images. I originally had this DIY on an old blog and imported the posts to TBK. Unfortunately, I lost a couple images. I will make a video soon!
Step 1:
Open up Word Swag and click the load image button.
Step 2:
Load your desired background, I chose the pink bokeh style one. I also reduced the opacity.
Step 3:
Double tap on the text and add your desired saying and at the bottom write the source, or there are some random generators to surprise you with quotes.
Step 4:
Change your font, layout and font color to what you desire and save to your phone. Note: when you are making your image in Word Swag, take into consideration the size of your frame. 
Step 5:
The image and resolution are not at the quality at this point to be printing in a large format. So I emailed it to myself and opened up Photoshop (if you don't have Photoshop try PicMonkey). I upped the resolution to 300 DPI and changed the size to 16×20, this way I knew it would fit in the frame, I would just have to cut it into an oval shape. The font was squished up a bit from the original look, but it still looked alright. I then ordered it from an online photo company (I used Shutterfly), be sure to google coupon codes because I scored an additional 40% off on this!
The finished look was this:
It was the perfect look for the vanity frame, and I'm so happy it turned out. When it showed up, I cut it to fit in the frame and my UNG DRILL IKEA HACK project was complete. In total this project cost me $14!