Disney's The Jungle Book Is Now On Blu Ray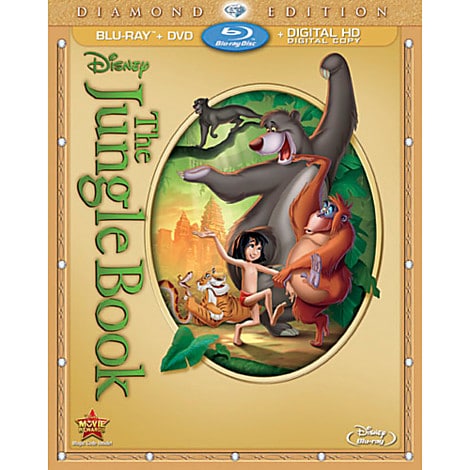 Disney's The Jungle Book has been let out of the Disney vault and (for the first time ever) is released on Blu Ray.
I haven't seen The Jungle Book since I was a little girl, and I was really excited to share the Diamond Edition with my son. I wasn't sure on how he would react, since he's not one for traditional cartoons. He's two, so his attention span is pretty short but whenever one of the classic Jungle Book songs came on he would come running into the room and start dancing. His favorite was the up beat tempo of "I Want To Be Like You". I actually never realized just how much music and songs were in the story until I watched it with my son.
Meet the most unforgettable characters and embark on a thrilling adventure with Mowgli as he journeys deep into the jungle and learns "The Bare Necessities" of life from happy-go-lucky Baloo the bear. Meet Bagheera, the wise old panther, and crazy King Louie, the orangutan. But watch out for the cunning tiger Shere Khan and Kaa, the ssssneakiest snake in the jungle!
The Jungle Book's Diamond release includes a lot of bonus features (which is my favorite part of Blu Ray's, I love the behind the scenes look at things). I really enjoyed the alternate ending storyboard to The Jungle Book. It's a completely different ending to the classic story that the most of us grew up on. It takes the movie to a different direction, which involves: the village, a new villain, Mowgli's parents and a new adventure. That being said, I believe the creators went the correct route with the original story.
Who is your favorite character from the Jungle Book?
Mine would have to be Bagheera. He's smart, practical and wise.
The Jungle Book is available to purchase now.
FREE Recipe Binder
Are you constantly wondering what's for dinner?
When I don't meal plan I feel behind, and we usually end up ordering take out. This recipe binder will keep you organized and make life a little bit easier.