Disney's The Little Mermaid Is Now On Blu-ray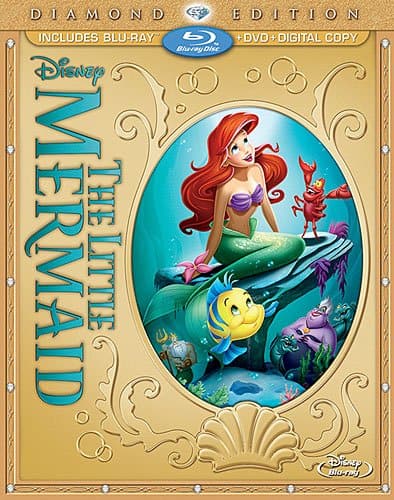 There are many classic Disney movies out there that I love. The Little Mermaid happens to be one of those movies. Now, for the first time, you can get the limited edition Diamond Edition copy of The Little Mermaid for Blu-ray.
The Little Mermaid: Diamond Edition Blu-ray Combo Pack
Ariel (voiced by Jodi Benson), is a free-spirited mermaid, who is off on the adventure of a lifetime with her best friend, the adorable Flounder (voiced by Jason Marin), and the reggae-singing Caribbean crab Sebastian (voiced by Samuel E. Wright) at her side. But it will take all of her courage and determination to make her dreams come true—and save her father's beloved kingdom from the sneaky sea witch Ursula (voiced by Pat Carroll).
The Little Mermaid first came out in 1989 and has been inspiring young girls and families ever since, I think everyone has a favorite moment in the movie. Mine is when she was using the fork to comb her hair as a human, it's innocent and and incredibly sweet. It's a cute movie that I don't think will ever go out of style. Whenever I have seen it released (or any Disney movie re-released) it gains popularity all over again.
With the fact that this beloved movie is on Blu-ray, not only can you expect an amazing picture, but you'll also receive some fun and informative bonus features that the whole family can enjoy.
Bonus Features Include:
All-New Music Video
@Disney Animation
Disney Intermission
Deleted Character
The Real Little Mermaid: Live Action Reference Model
Part of Her World: Jodi Benson's Voyage To New Fantasyland
Howard's Lecture
Classic DVD Bonus Features.
To celebrate the re-release of this Disney classic, check out this link and receive a bunch of free printables, coloring pages and games for the whole family to enjoy.
What's your favorite "The Little Mermaid" moment?