DIY Framed Chalkboard
This DIY Framed Chalkboard is an easy, cute DIY craft to use as home decor or give as a DIY gift. Use your DIY chalkboard to list out your weekly dinner menu, leave messages for your family, or flex your chalkboard art skills just for fun!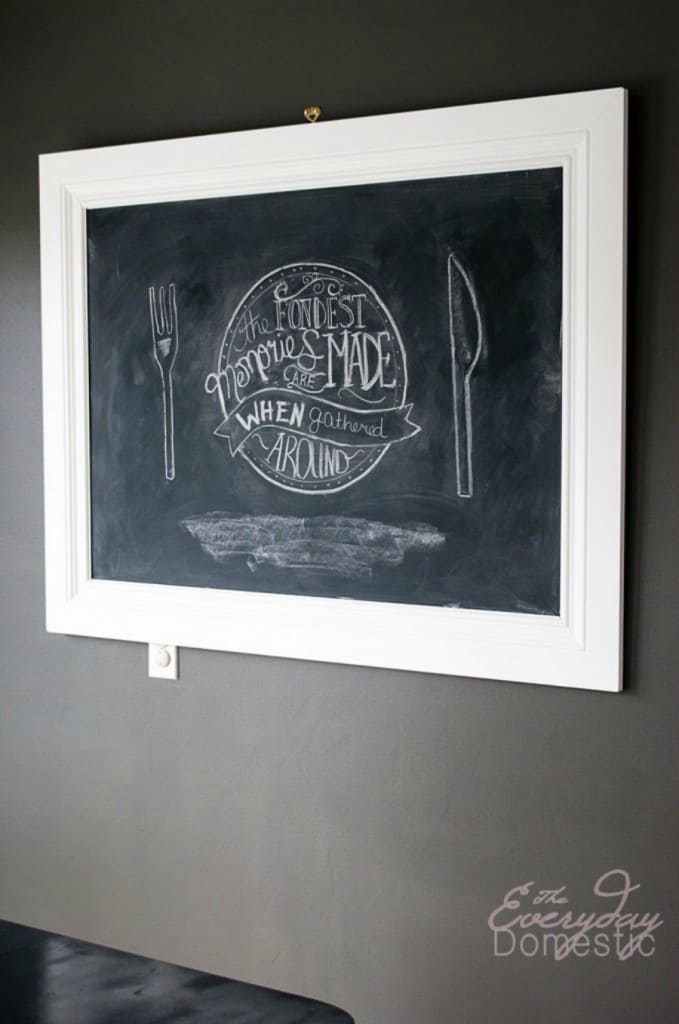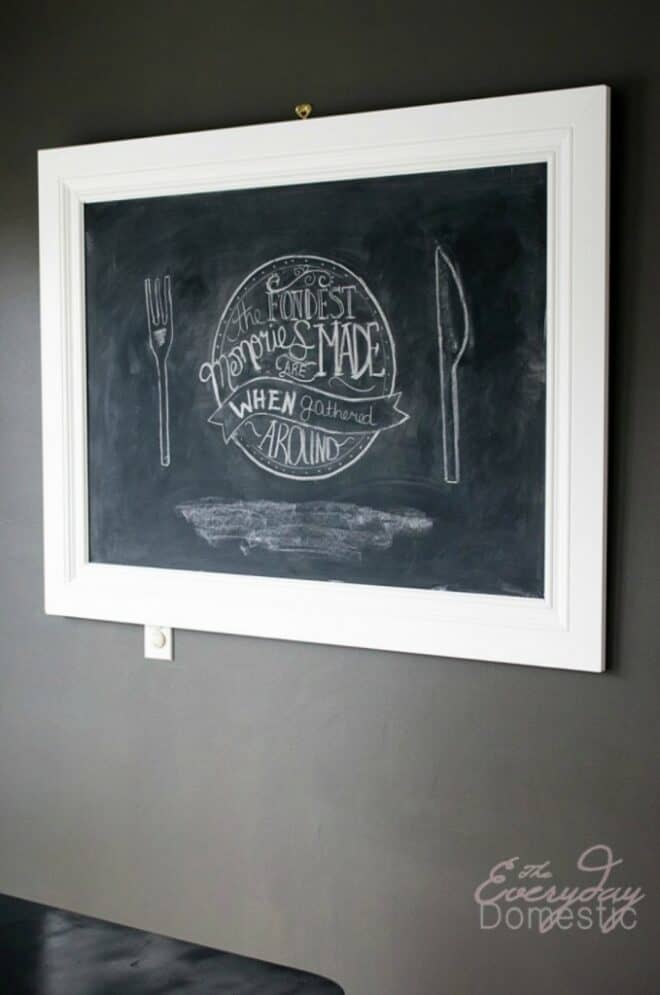 DIY Framed Chalkboard
This homemade chalk board was originally posted to The Everyday Blogger, then transferred over to The Bewitchin Kitchen as part of a project with Country Chic Paint. For this project, I used Country Chic Paint's paint in Simplicity. It's a stunning white that's soft and not at all stark. This was my first time using chalk-based paint, and I'm hooked.
You can also use chalk paint to easily and affordably makeover your staircase or remodel your bathroom.
Why You'll Love This DIY Chalkboard
Affordable – You can get most of these supplies from your local hardware store and make this framed chalkboard for less than it costs to buy one.
Easy – No nails, no screws, no power tools. This project can be made in a casual afternoon.
Customizable – Paint or decorate your chalkboard sign to suit your tastes – and erase it to start again whenever you'd like!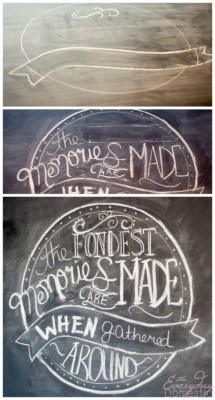 How to Make Your Chalkboard Sign
Gather Your Supplies
To make your chalk board, first gather your supplies. You will need:
Moulding (I used a pre-primed colonial style)
Backing Board — I used 1/4″ hardboard.
No More Nails, Liquid Nail, or your favorite mounting adhesive
Wood filler
100 grit sanding block
Chalkboard spray paint
Prepare Your Backing Board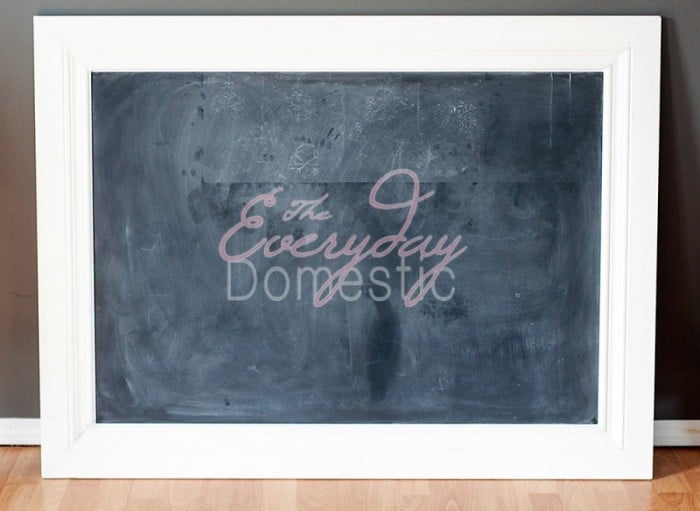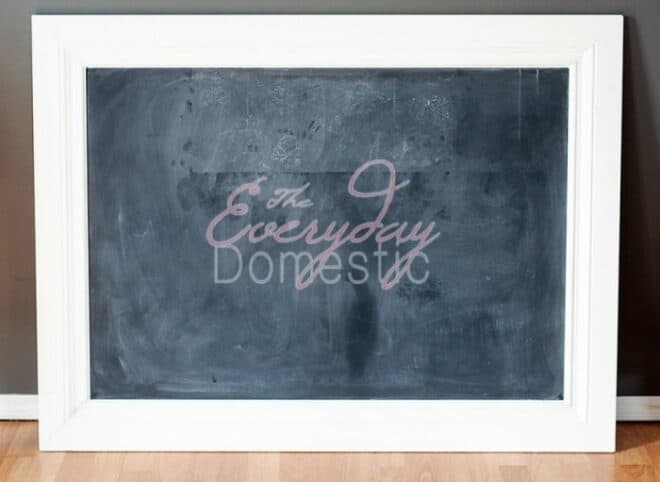 Cut your backing board to size. I had the hardboard that was recommended by the ladies at Rona pre-cut (I opted for 3'x4′).
Spray your backing board with the chalkboard spray paint and allow it to dry according to the manufacturer's instructions.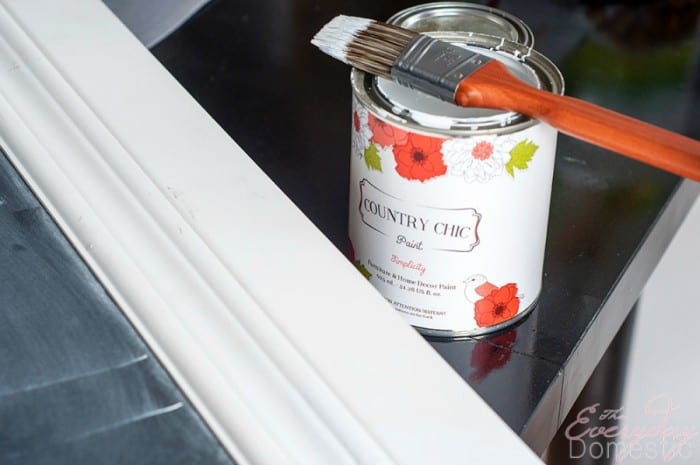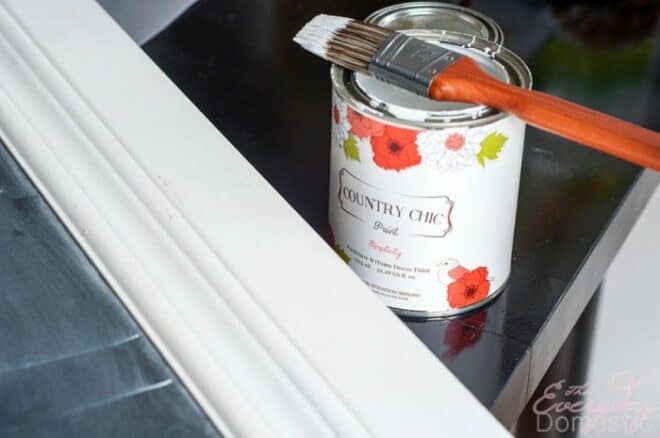 Frame Your Chalk Board
My husband cut the detailed moldings to fit. I wanted there to be some depth in the piece, so that meant mitered corners with my colonial boards. You can also use flat moulding so you don't have to cut corners. Your hardware store may also cut the moulding to size for you.
To adhere the moulding to the board, we simply used No More Nails and clamped it down for a few hours. We then filled in the corners with wood filler, let it dry, and sanded until smooth.
Prime Your Board
To prime the chalkboard, you just rub with the side of your chalk. Wipe with a dry cloth, then fully erase. You must do this before you write or create lines with chalk, otherwise, your chalk will leave a shadow when you write.

Paint the Frame
Chalk paint is foolproof. It covers up flaws so easily. The white Simplicity color looks stunning against my charcoal walls, and can easily be customized to your tastes with brighter colors, multiple colors, or even painting designs.
To finish my DIY chalkboard, I used Country Chalk Paint's natural wax. I thought about distressing or using a gold wax but I wanted to keep this frame bold against my dark grey walls. Again, this is where your individual tastes can really shine. I used a clean rag and buffed it in. The end result is beautiful. I found that after I used the wax, the detail in the mouldings had dimension.
Add Your Chalkboard Art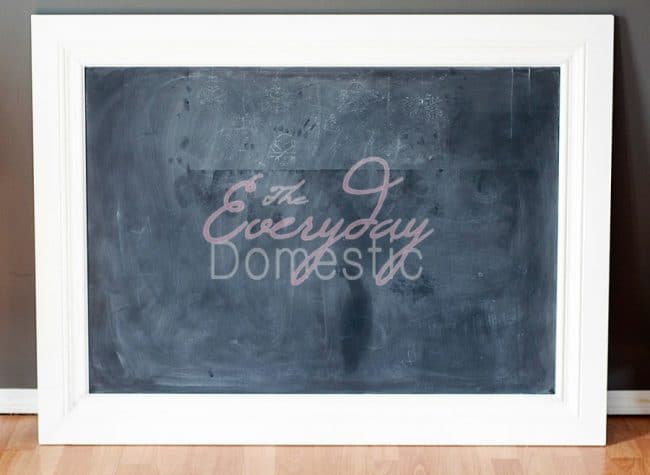 I used a stool to make the circle of my first chalkboard art piece before filling it in with a cute saying.
It's not perfect, but most chalkboard artwork isn't — that's the beauty of it!
I'm thrilled with how my chalkboard sign turned out. A little bit of "Simplicity" is just what the space needed.
DIY Chalkboard Frequently Asked Questions
Why do I need to prime my chalk board?
Chalkboards are porous, so without priming it, you run the risk of your first design becoming a permanent shadow beneath future designs.
What is hardboard?
We recommend hardboard for this product because of its smooth finish and lack of natural wood defects. It's also known as high-density fiberboard, or HDF, made from small wood fibers and wood pulp that is pressed until it is densely impacted, then baked for added stability.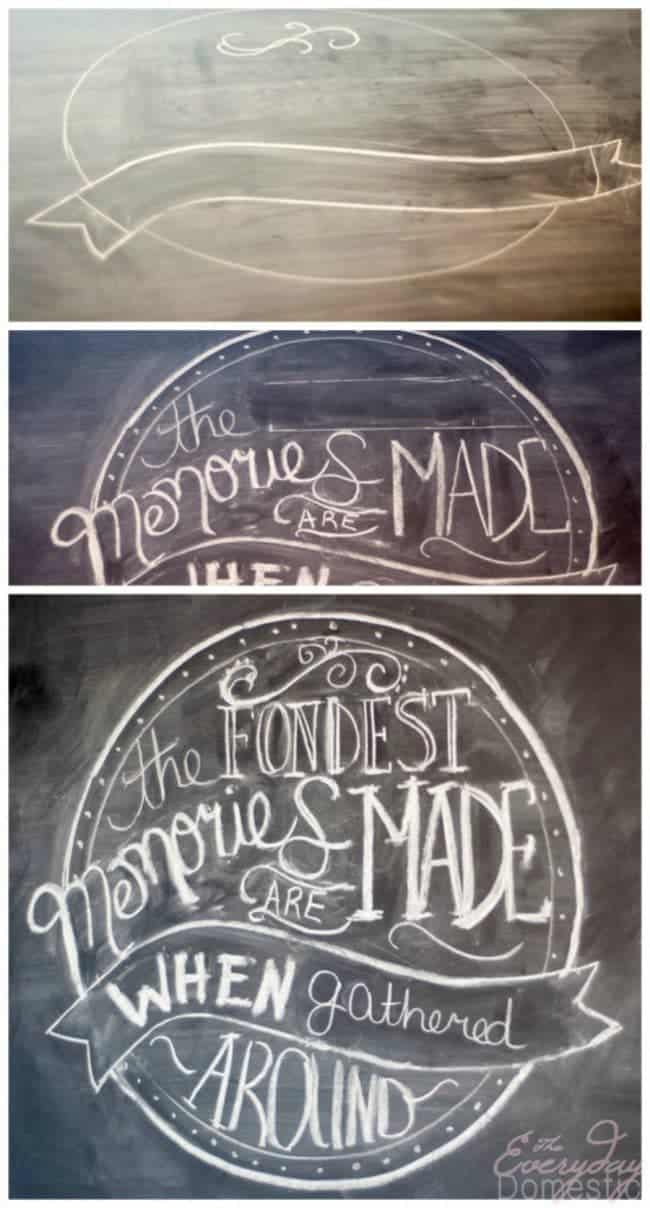 More DIY Posts
Like this post? Don't forget to "Pin It".
Looking for more great ideas? Click here to follow me on Pinterest!
Visit Randa | The Bewitchin' Kitchen's profile on Pinterest.