DIY Framed Chalkboard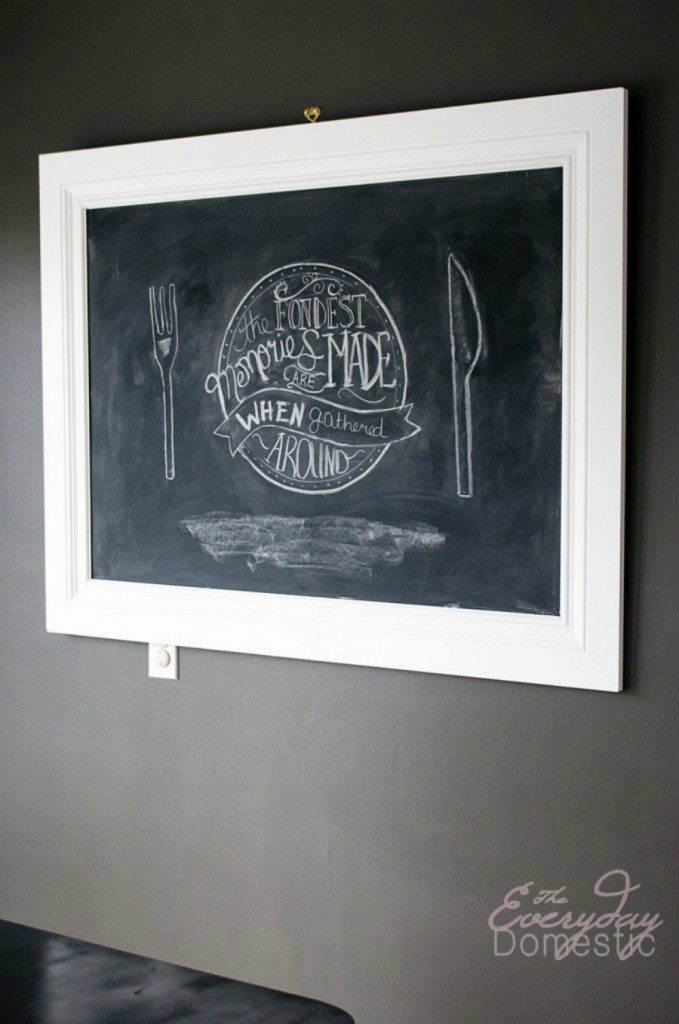 I have been working on this post for a long time now. Originally, I had built this DIY Framed Chalkboard back in August and I left it primed and unfinished (I was stuck on the finishing touches). It has sat naked on my wall for the past seven months, but last week I FINALLY got it done. I'm so happy (and excited) to share this tutorial with you.
If you didn't already know, I am on the Blogger Squad for Country Chic Paint and will be sharing some fabulous DIY projects featuring Country Chic chalk based paint. For this project I used Country Chic Paint's paint in Simplicity. It's a stunning white that's soft and not at all stark. This was my first time using chalk based paint, and I'm hooked.
DIY Framed Chalkboard
Supplies Needed
Moulding (I used a pre-primed colonial style)
Backing Board, I used 1/4″ hardboard.
Wood filler
100 grit sanding block
Chalkboard spray paint
How To: I apologize for the lack of photos for this part. I accidentally deleted them. This project is really easy, there isn't much instruction needed. I had the hardboard that was recommended to me by the ladies at Rona pre-cut (I opted for 3×4). Hardboard was a good choice because it's smooth and free from natural wood defects. I didn't want any wood grain to show through the chalkboard paint. Painting was easy. I bought a can of chalkboard spray paint and sprayed it (following the drying time instructions on the can) in the garage. My husband cut the detailed mouldings to fit. He wanted plain, flat mouldings so he could do straight cuts but I wanted as much detail as possible. I wanted there to be some depth in the piece, so that meant mitered corners (sorry hunnie).
 To adhere the moudling to the board, we simply used No More Nails and clamped it down for a few hours. We then filled in the corners with wood filler, let it dry, and sanded the until smooth. I didn't know what I wanted for paint at this stage so I simply primed the chalkboard and hung it as is. To prime the chalkboard you just rub with chalk and wipe off. You must do this before you write with chalk, otherwise your chalk will leave a shadow when you write.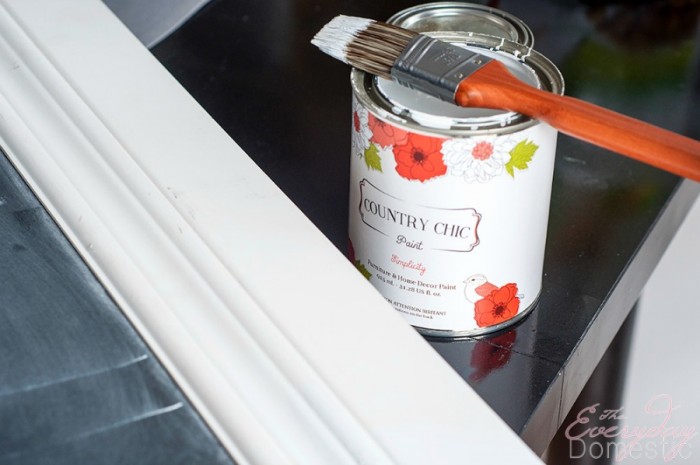 Fast forward seven months and here we are today. I finally made the decision to use Country Chic Paint's chalk based paint in the color Simplicity. I used a 2″ synthetic, angled brush and only had to use two coats.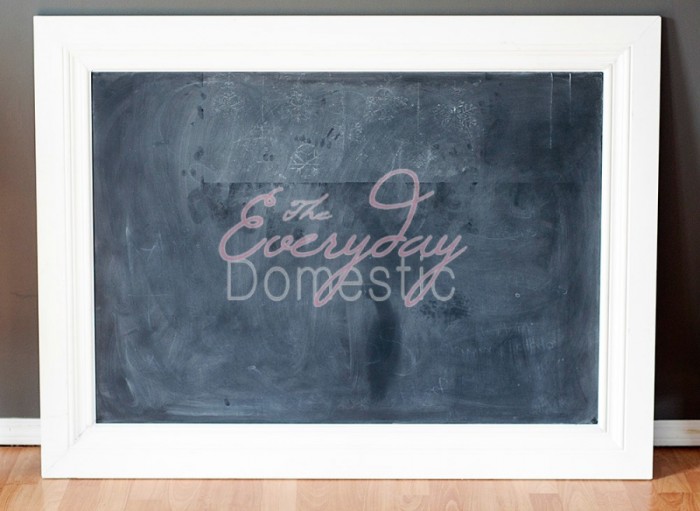 Chalk paint is fool proof, it covers up flaws so easily. I always thought my frame looked alright with just the primer, but after I painting Simplicity on I noticed that the primer was actually quite yellow. Simplicity looks stunning against my Kendall Charcoal Walls. It didn't look painted, it looked like that was how the piece was supposed to look.

To finish the piece I used CCP's natural wax, I thought about distressing or using a gold wax but I wanted to keep this frame bold against my dark grey walls. I used a clean rag and buffed it in. The end result is beautiful. I found that after I used the wax I noticed the detail in the mouldings had dimension.
The next steps were not so easy, as I'm not the most artistic person out there. I used a stool to make the first circle perfectly round and did the rest the best I could.
It's not perfect, but most chalkboard artwork isn't. That's the beauty of it.
I'm really happy with how it turned out. A little bit of "Simplicity" is just what the space needed.
Like this post? Don't forget to "Pin It".
**Update – I have transferred this post to The Bewitchin' Kitchen from The Everyday Domestic but sadly lost the majority of my photos. I will work on updating them.
Looking for more great ideas? Click here to follow me on Pinterest!
Visit Randa | The Bewitchin' Kitchen's profile on Pinterest.
FREE Recipe Binder
Are you constantly wondering what's for dinner?
When I don't meal plan I feel behind, and we usually end up ordering take out. This recipe binder will keep you organized and make life a little bit easier.