Electrolux Ergorapido Review + Giveaway (US Only)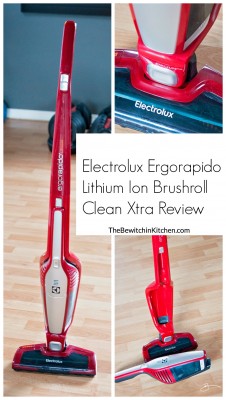 Here's a confession: I'm a clean freak. I function better in a clean environment whether it's my creativity, my mood, or just my overall sanity. I can't keep up with all the crumbs and dirt of day to day living, especially with a toddler, but during my review of the Electrolux Ergorapido Lithium Ion Brushroll Clean Xtra, it's easier.
Aside from a little patch of carpet in my basement hallway and area rugs, my whole house is either tile or hardwood. Hardwood and tile is nice, but you feel and see every crumb. I don't care for using a broom, so I find myself reaching for my big vacuum almost daily to keep up with the mess and although my vacuum is awesome – it's something I would rather use once a week.
I was really excited to try the Electrolux Ergorapido Lithium Ion Brushroll Clean Xtra. It's wireless (no cords to trip over and find a suitable plug in for), it has a lithium ion TurboPower battery that charges quick and runs fairly long. It's perfect for those quick clean ups around the kitchen when you're cooking.
I was surprised with just how good of a job the Ergorapido did. I didn't have the highest of hopes since I have tried a few cordless models in the past and they fell short of my expectations. The Electrolux Ergorapido Lithium Ion Brushroll Clean Xtra leaves no dirt behind, even in the crevices of the grout on my tiles. It has 180° EasySteer™ Maneuverability, meaning that it turns on a dime without even trying.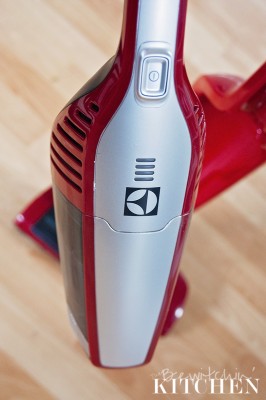 A bonus that the Electrolux Ergorapido provides is the detachable handheld unit.
Why I love the Electrolux Ergorapido Lithium Ion Brushroll Clean Xtra:
It's lightweight
It's cordless
It doesn't take long to charge
It turns on a dime
It's quick and easy
It packs a punch and gets the job done
The removable handheld, to clean more than just the floor (this is perfect for getting the crumbs out of the high chair).
The Brushroll Clean Technology® (an exclusive self-cleaning brushroll that removes tangles from underneath the vacuum with the touch of a button).
I think most households could benefit from having the Electrolux Ergorapido Lithium Ion Brushroll Clean Xtra. It's seriously heaven sent and has helped me effortlessly keep on top of my daily chores. I have even used it on my area rugs for a quick clean and it works great!
I was provided with product and compensated for my time. All opinions are my own.
FREE Recipe Binder
Are you constantly wondering what's for dinner?
When I don't meal plan I feel behind, and we usually end up ordering take out. This recipe binder will keep you organized and make life a little bit easier.