Entertaining Made Easy With The Frigidaire Gallery French Door Fridge #testdrivemoms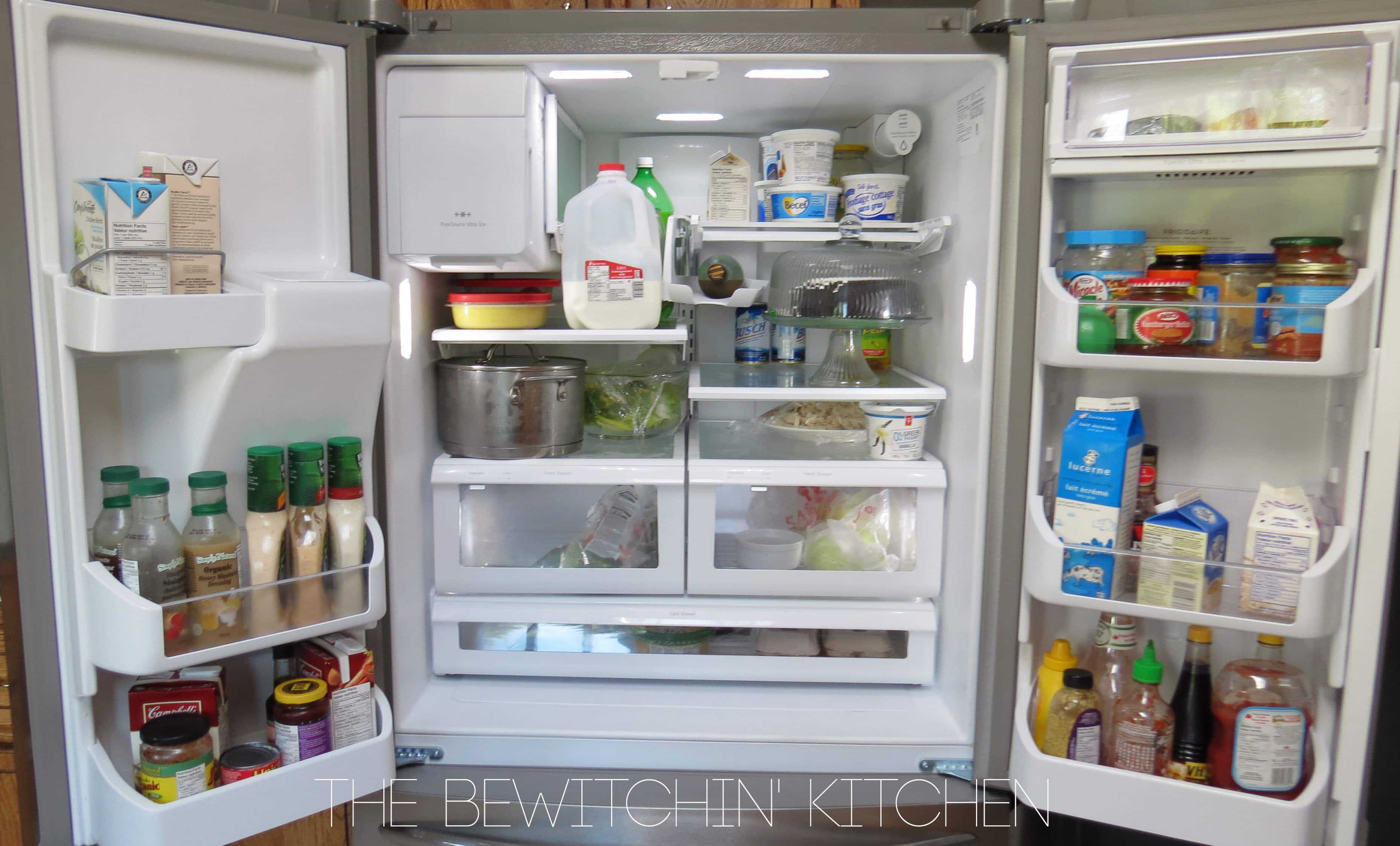 Can I get three cheers for summer? There is so much about this season I love: the sun, the company and the food. With that being said, usually all three go together (can anyone say BBQ?). I absolutely love to BBQ, and I enjoy having people over to enjoy the weather on the back deck – summer brings the two together perfectly. I couldn't do it without my Frigidaire Gallery French Door Fridge. It's the party accessory that any host would be luck to have.
I used to have a small fridge with limited space, so when it came to the summer party I was usually missing behind the scenes: prepping and cooking. I couldn't fit everything in my fridge! Now, it's like night and day. The fact that the Frigidaire Gallery French Door fridge is so organized and big gives us hosts so much more options. I can now prepare a whole meal the evening before and earlier that day where when my guests arrive guess what: I can visit with my company. Last month I hosted Father's Day dinner and invited my in-laws over. I wanted to make a turkey dinner and truly test drive my Frigidaire. I forgot to take a before photo but with a full fridge I was able to fit a whole 15 pound turkey, a decorated cake (with a cake stand), drinks and the rest of my groceries with ease. I prepped as much as I could the day before so I could visit with my guests. I love how this fridge allows me to be a present host.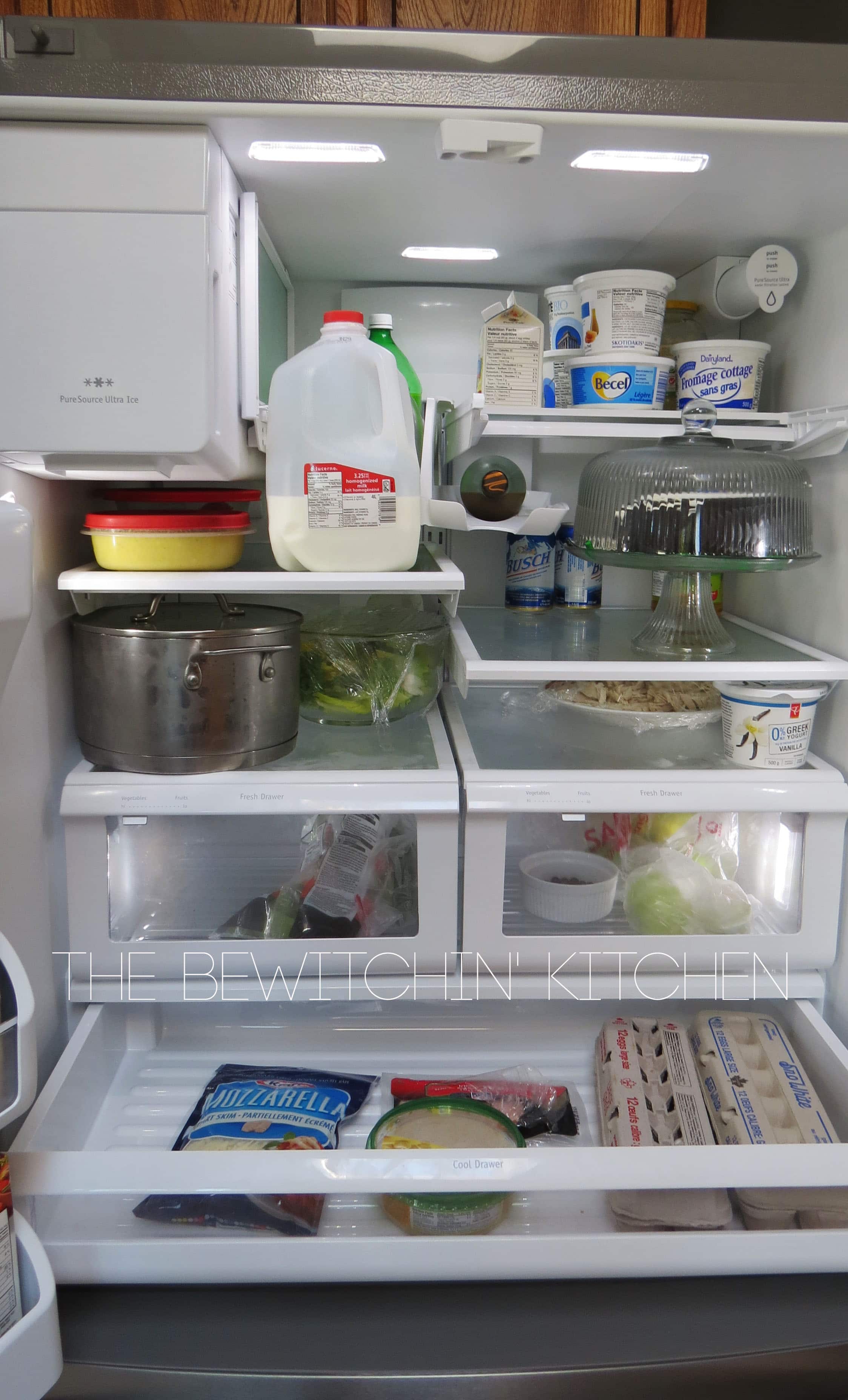 The Frigidaire Gallery French Door fridge also makes storing leftovers simple. [No more playing Tetris for this girl.] On top of my usual groceries I was able to store:
3 medium containers of gravy
Large pot of potatoes
5 pounds of leftover turkey meat
Salad
Lettuce leafs ready to go for turkey lettuce wraps in the morning
Cranberry Sauce
Wine
Soda
Beer
Large decorated cake stored in a cake stand
On top of all of that, I was able to store leftover meat, the carcass and some more drippings in the freezer – no problem what-so-ever. Actually, as you can tell in the photo I still have plenty of room to spare.
Yes the 27.8 cubic footage helps, but I couldn't have fit it all if it wasn't for the brilliant Flip-Up and Slide-Under shelving. If you look at the photo to the left you will see them both in action. The Flip-Up shelf is located above the milk and 2L bottle of soda. It would not have been possible to have those large containers in the fridge without it. I use it everyday, in fact I have yet to put it down. The Slide-Under shelf is my favorite. Most fridges only have one tall space to utilize and it's a huge pain because then you have to take out all of your groceries and move the shelving. Not with the Frigidaire Gallery! Look in the same photo, but this time above the cake. Do you see the shelf? It slides in and out! When the shelf is fully out, it's actually quite functional and tall but because my cake stand was such an odd height, I had the option to utilize it. I LOVE this feature. In all of the fridges I have had before, I have never been able to fit a cake stand in any of them.
A feature my husband really likes is the Three Tier LED Lighting. Every shelf is evenly lit, but that's not the cool part. What I love about this feature is the gradual progression of the lights when you open the fridge (freezer too). The lights start off dim and don't overwhelm your eyes and gradually get brighter for full visualization. This is perfect for those of us who enjoy the occasional late night snack, but hate getting blinded by overpowering lights.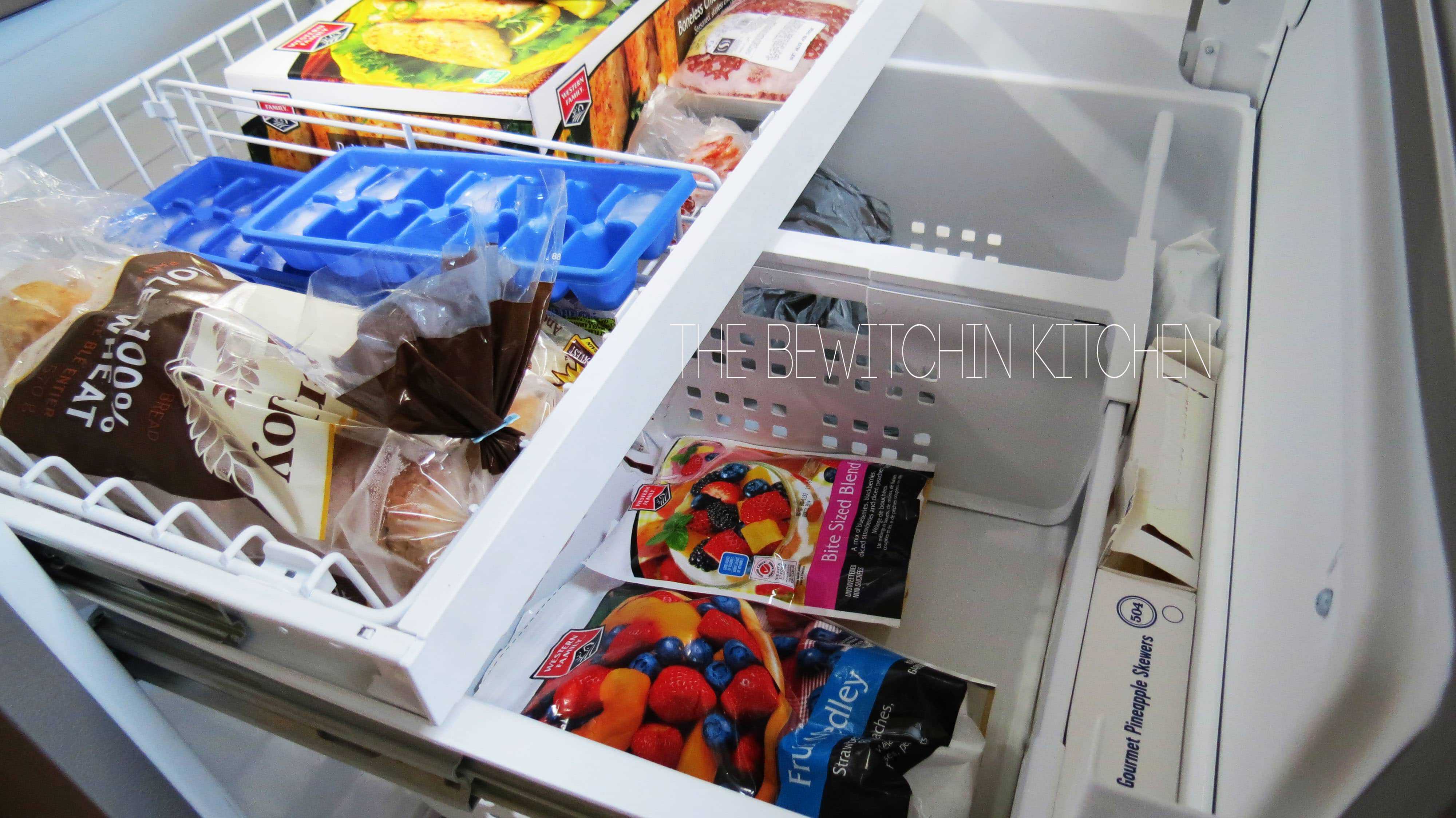 I do have one problem with the freezer though – I can never fill it! I have never had this before. In this photo I have bread, back up ice, a massive box of chicken breast, a few packages of ground beef, 6 steaks, pitas, wraps, english muffins, chicken skewers, frozen pineapple skewers, frozen fruit (including a very large bag) and a bunch of fish. Again, it doesn't look like I have even began to use all the space provided. It's incredible.
I do believe that the Frigidaire Gallery French Door Fridge has made my kitchen life easier and much more manageable. I love how I can see everything because there is so much space (nothing hiding in the back) and because of that I have yet to throw away spoiled food.
Don't forget to check out last month's post on the Frigidaire Gallery French Door Fridge.
What's  your favorite feature of The Frigidaire Gallery French Door Fridge?
Disclosure: I am part of the Frigidaire Canada Ambassador program with Mom Central Canada and I receive special perks as part of my affiliation with this group. The opinions on this blog are my own.