5 Steps to a Healthy, Germ-Free Household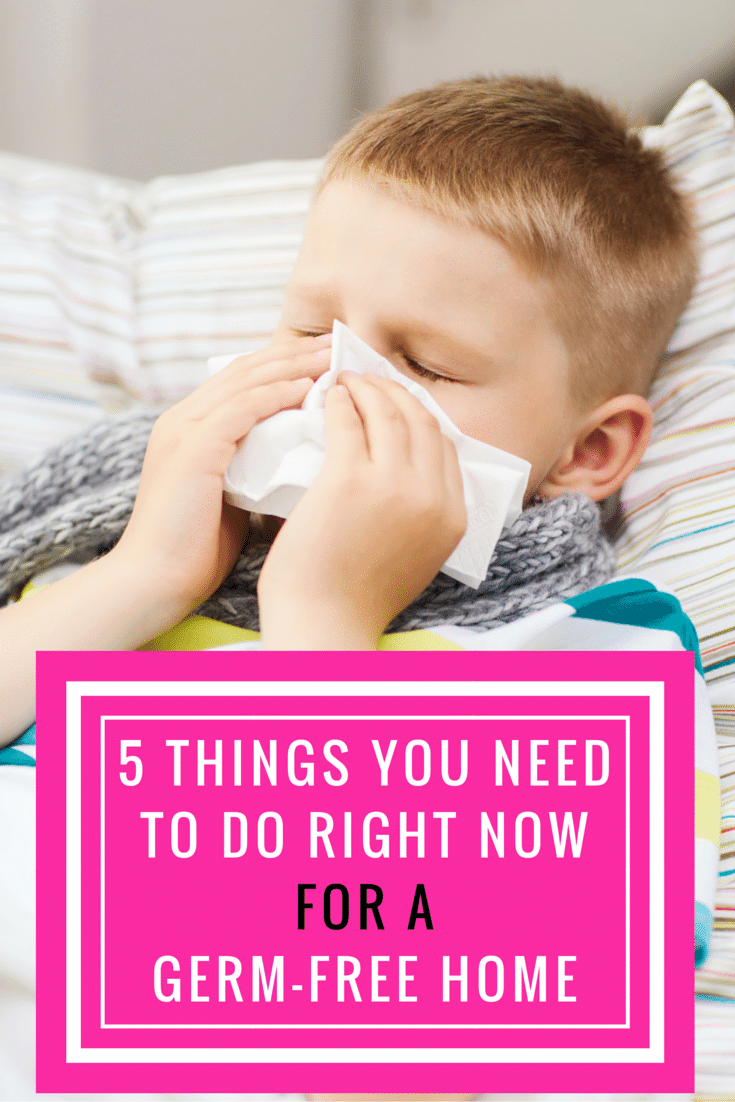 I am thrilled to announce that I am officially a mom to a pre-schooler. I'm incredibly excited for his new adventure and him picking up life-long skills and memories. What I'm not too excited about is him picking up the flu and other bugs!
5 Steps to a Healthy, Germ-Free Household:
1. Wash your hands, often. We have been told this our whole lives, we just need to remember to do it. As a mom to young boy who loves to get his hands dirty, washing his hands is important to keeping viruses away.
2. Avoid touching eyes, ears mouth. Enough said.
3. Wash your fruits and vegetables thoroughly. Did you know that most food borne illnesses are not from that chicken you were iffy about? Most food-related illnesses actually come from contaminated fruits and vegetables. So in a clean sink, let them soak and wash them well (I mentioned the method to my madness in this post about organizing the fridge). Food poisoning is awful and it's something definitely worth preventing!
4. Disinfect and Kill Germs By Everyday Cleaning. I have been using Lysol® Wipes for years, they're my favorite cleaning supply and I use them on all my surfaces from kitchen countertops to the coffee table.
5. Clean Forgettable High Traffic Areas. Think door knobs, light switches, faucet taps and toilet seats. We use these surfaces every day, but when was the last time you cleaned them? For me personally, add the fact that I'm still making strides with potty training with a very independent toddler and you can bet that we are cleaning our bathroom a lot. I won't get into all the gory bits, but let's just say his aim is not true and the fact that he's flushing every hour – the germs can easily spread.
I stop germs in their tracks with both the Lysol® Foam Bathroom Cleaner Aerosol and the Lysol® Disinfectant Toilet Bowl Cleaner. So I'm protected from toilet to tub and sink to shower. Lysol® has been a brand that I have used and trusted for years because it kills 99.9% of germs.Lysol® Foam Bathroom Cleaner is a new buy for me, and I love it! Not only does it disinfect but it also leaves my sink, tub and fixtures shiny. I sprayed it over my soap scummy bathroom window and it came out clear!
I'm confident that if you follow these tips you can help preventing the flu and preventing the spread of germs to your loved ones.
From Toilet to Tub and Sink to Shower, Lysol® has a full suite of bathroom products to help disinfect and clean your bathroom.
I'm happy to offer all of you a coupon to try the Lysol® products I mentioned, just click here to save $2. (French Canadians you can get your coupon here.)
Don't forget to like Lysol on Facebook and subscribe via YouTube.