Glow Bug Cloth Diapers | Baby Gift Guide
After sharing concerns on the available cloth diaper brands. Glow Bug Cloth Diapers founder's, Neta and Sarah, were looking for a quality diaper to diaper their little ones. Frustrated with the high cost, and being unable to find the product that would best fit their baby's bums they took matters into their own hands. That's how Glow Bug Cloth Diapers got their start, and a little fun fact: the company's name came to be after Sarah's daughters nickname and the fact that baby's fluffy bottoms look like little cute bugs.
Glow Bug understands that getting into cloth diapers can be intimidating. Not just by the fact that they're reusable but because of the costly investment. It was that reason why Glow Bug made their diapers affordable for everyone. It's hard to find a one size cloth diaper for a low cost, but Glow Bug has them. 
I received the adorable cow print design to review and although I received one diaper to review, that's not how Glow Bug works. To save parents the most money Glow Bug provides packages. For example: if you purchase a boy package you will receive twelve one size pocket diapers and two snap in inserts for each diaper. All of this is only $150! When I purchased twelve one size diapers I paid almost $300, Glow Bug is saving you huge bucks and this deal is defiantly the way to go. The best part is you get a fun variety in the package for the gender you choose.
The diaper you get is quality. I really like mine. The diapers have snap enclosures, which I love because I feel that they are more secure this way, and (my favorite feature) two separate openings to stuff (or pull out) the insert in. The double opening is beneficial for when one side is a little messier then the other and you don't want to get gross, love it. It also has waterproof flaps on each opening, it helps prevent leaks even further that way. Another way it prevents leaks is the double gusset, it "traps" the mess from going out of the leg holes. This diaper is a one size diaper, so you are able to adjust the size from seven to thirty five pounds. This ensures a great value for your dollar, it grows with your baby and your dollar goes farther.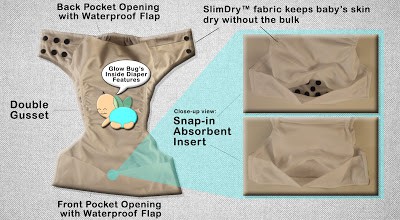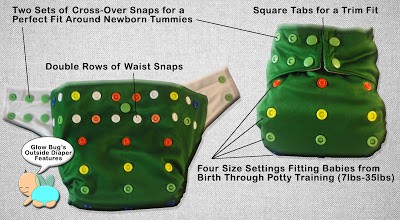 Another thing I really appreciate about this diaper is that the inserts snap into place. This way, when you're baby is mobile the insert will stay put which will, once again, prevent leaks and messes from seeping out. 
All Glow Bug Cloth Diapers are made of polyester. The outside shells are polyester laminated (keeping the wetness locked in) on the outside. The inside has an exclusive technology called Slim Dry. The Slim Dry material is also 100% polyester as well, but the difference is it keeps your baby's bum dry and dries the wetness fast. Poor Carter has an awful rash right now, so I've been trying to wash this diaper as much as possible to have him wear. I want to keep him as dry as possible. All of the inserts are 70% polyester and 30% nylon microfiber.
For more information on Glow Bug Cloth Diapers or to find out 10 reasons to cloth diaper, visit glowbugclothdiapers.com.
Pin It
FREE Recipe Binder
Are you constantly wondering what's for dinner?
When I don't meal plan I feel behind, and we usually end up ordering take out. This recipe binder will keep you organized and make life a little bit easier.