Go Fresh Baby

I've been a lot more mobile with Carter lately. Now that my husband doesn't seem to be on call as often anymore we have been able to go on shopping trips to the near by cities of Calgary and Edmonton. Shopping is fun, but it takes a lot of preparation when I bring Carter. I have to go through and make sure I have an extra change of clothes (or two), some bottles, diapers, toys and of course baby food (and at the same time I have to stuff it into a smaller diaper bag because my stroller basket doesn't hold my big one). I have been testing out the GoFreshBaby Reusable Baby Food Pouches and have noticed they help me prepare for trips a lot more efficiently.
What are Reusable Baby Food Pouches?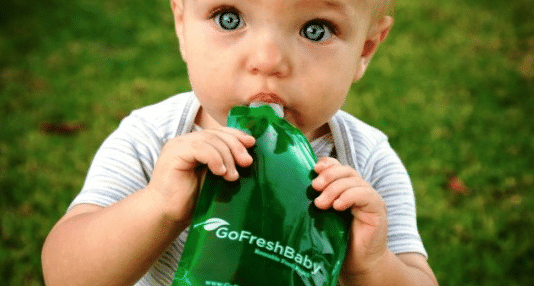 Carrying jars of baby food with you on road trips or outings is a big inconvenience. They're heavy and take up a lot of space in the diaper bag (which I have no room for) and if your child is like mine and gets distracted when eating in public, there are always left overs. The problem with jarred baby food and leftovers? They need to be refrigerated right away after and I don't know about you, but I don't carry a portable fridge with me in my stroller/vehicle. There is the option of the prepackaged baby pouches by the baby food manufactures but they're costly and add up big time.
Enter GoFreshBaby. They have designed a great option for the smart and frugal families: reusable baby food pouches. These pouches are made of a food grade plastic that are BPA and Phthalate free and freezer friendly (great for when you make batches of your own food. Simply take from the freezer and you're ready for the day). They're dishwasher friendly, and I'm sure the majority of you have heard it before from past posts: if it's not dishwasher friendly – I don't use it.
I had full intentions of making my own baby food when I was pregnant with Carter, then I had him and realized that I was tired – all the time. With chasing him around, keeping up the house, working out and blogging – I decided to cut my losses and buy jarred. I feel a little guilty about it but I read his jarred labels and make sure it's whole foods (we're a chemical and dye free household). So my experience with GoFreshBaby wasn't so much "Fresh" as it was convenient.
When my family went to Calgary for our last shopping trip I took some unsweetened applesauce and poured it in the opening of the pouch on the side (it's secured shut with a double zip enclosure). I noticed that it only held a little over half a jar – which was fine since (as I said previously) Carter gets distracted and would rather kick back with a bottle in the stroller then have a full sit down meal.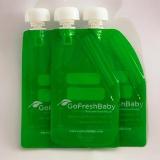 The website does state that it holds about 5oz, so maybe there was a user error on my part.
I don't measure out Carter's foods that much anymore but I did notice how the pouches have measurements on the side (in ounces and milliliters), so that is a great feature that I haven't seen on other pouches before. Using it was easy enough when you remove the cap and expose the spout it's easy to feed your little one their meal. Carter never had a problem holding the packing himself and if anything, he didn't want to let it go. After some rough play (and throwing it on the floor) it never leaked or exploded.
I'm thankful that GoFreshBaby's Reusable Baby Food Pouches can be used throughout Carter's child hood. I'm using them for baby food now, but as he grows they'll be great for quick thirst quenchers at the park, or a little yogurt pick me up after play group.
For more information on GoFreshBaby, or to order some pouches for your family visit GoFreshBaby's website.