Home Decor Finds to Obsess Over Found at The Cut @ Sears #weveCHANGED
Have you heard about the changes going on at Sears Canada? They have a new layout and offerings. I have to admit, as soon as I heard about The Cut @ Sears, I was intrigued. I did some digging and came up with these home decor finds.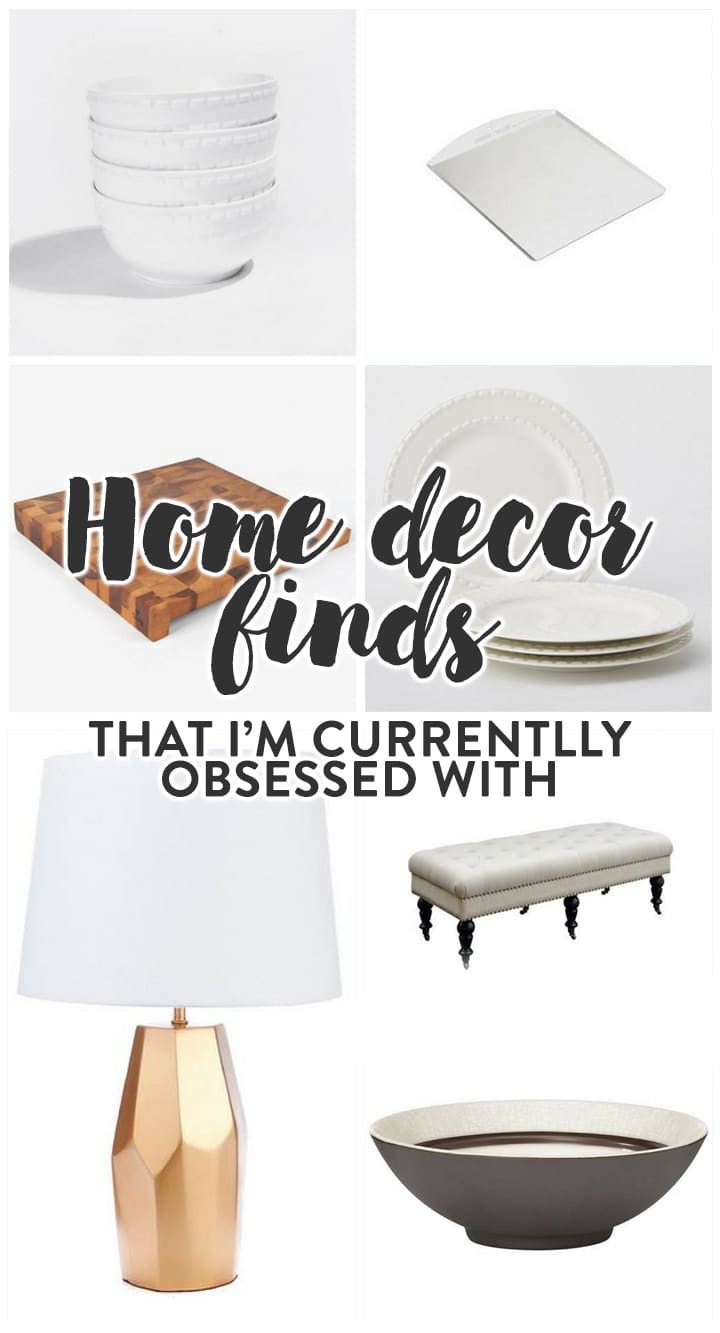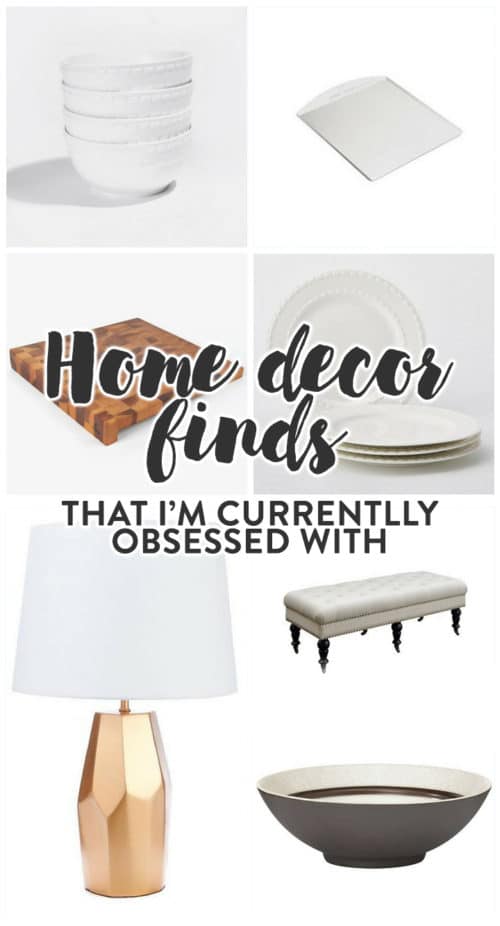 I've had home reno's on the mind for what seems like forever and I'm always on the lookout for new dishes and kitchen accessories to use as blog props so the words "designer" and "off-price" piqued my interest. The fact that The Cut @ Sears has designer names for between 30 and 60% off regular retail prices inspired me to want to go check out the offerings. When you can get great quality and amazing prices all in the same store, you can bet I'll be there frequently.
Home Decor Finds
I immediately fell in love with the Debbie Travis dishes – white goes with everything and the little dots on them are such a great detail – they'd make my recipes look amazing because white instantly brightens up everything. Plus with a kid and animals in the house, white carpets and clothes are asking for stains but white dishes are safe (or as safe as any dish can be in my house with Carter and Carl in it). In the Dash design by Debbie Travis, the set of four bowls is only $12.97 and the matching dinner plates are an even better deal at $9.97!
Since I'm in the middle of a kitchen reno, it only makes sense that there are pretty new dishes to go in the cupboards right? While I'm at it, I should probably upgrade my cookie sheet game. I'm one of those people who have used the same cookie sheets forever and they've definitely seen better days. The Nordicware large flat cookie sheet is almost too pretty to use, but that feeling wouldn't last long! At $19.97 I could buy a couple and give Carter the old ones to play with magnets on while I use the new ones to bake some toffee cookies. We're getting brand new countertops, so I need a new cutting board so that they're protected and this one has a lip so that it stays put on the edge of the counter and doesn't slide around. It's nice enough that if I leave it out, it looks like it was meant to be out and not that I just forgot to put the cutting board away. Not that I would ever do that (whoops).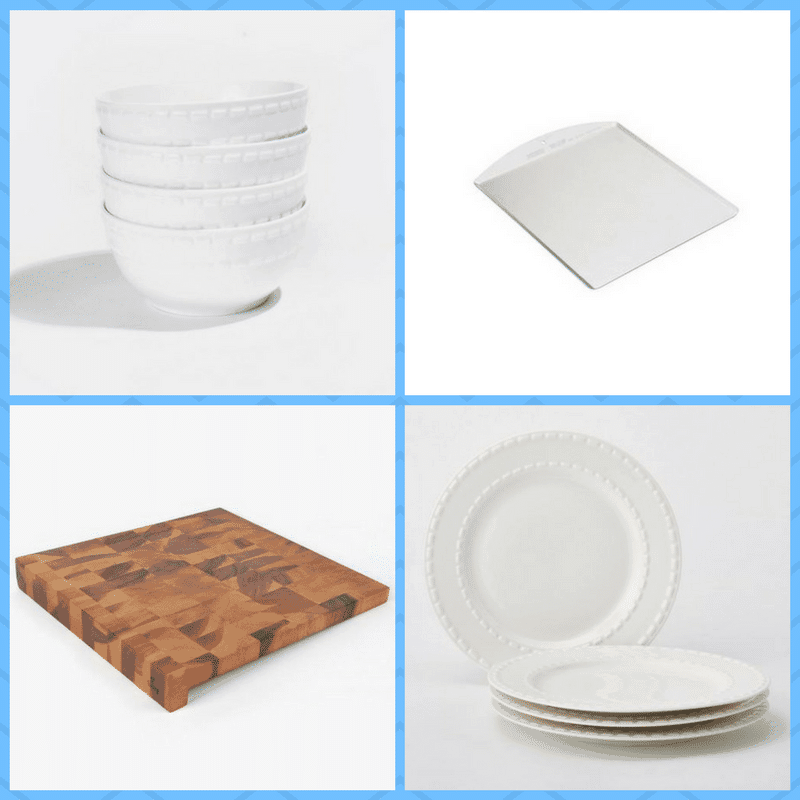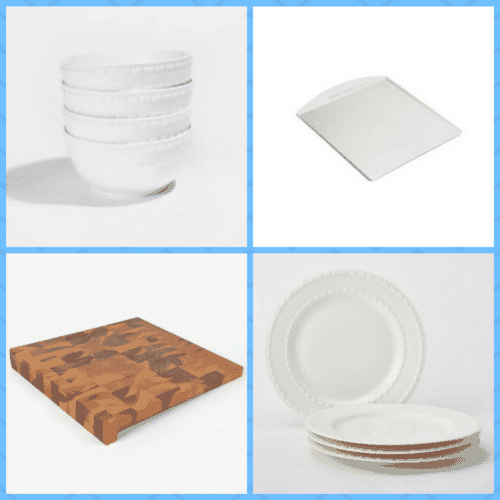 The rest of the home collection from The Cut @ Sears is equally nice – I found this accent bench that would go perfectly with my sectional if I didn't have a child and a cat that are magnetically drawn towards white fabric with their grubby hands and paws. The same goes for this rose gold lamp – I love it even though I know Carl would find it irresistible to attempt to knock over. The accent bench is a steal at $124.97 and I'm tempted to get it anyway just because it's so gorgeous. The lamp is $69.97 but it looks like it costs much more. The final thing that caught my eye at The Cut @ Sears was this all-purpose bowl. It might be yet another place for Carl to sleep in, which would equal more adorable cat photos so that's a win. If Carl wasn't interested in it though, it'd be a great serving bowl, mixing bowl, or even a catch-all bowl for all those things that end up on my counter that doesn't belong there. At $9.97 he could have his own bowl and I could have one too.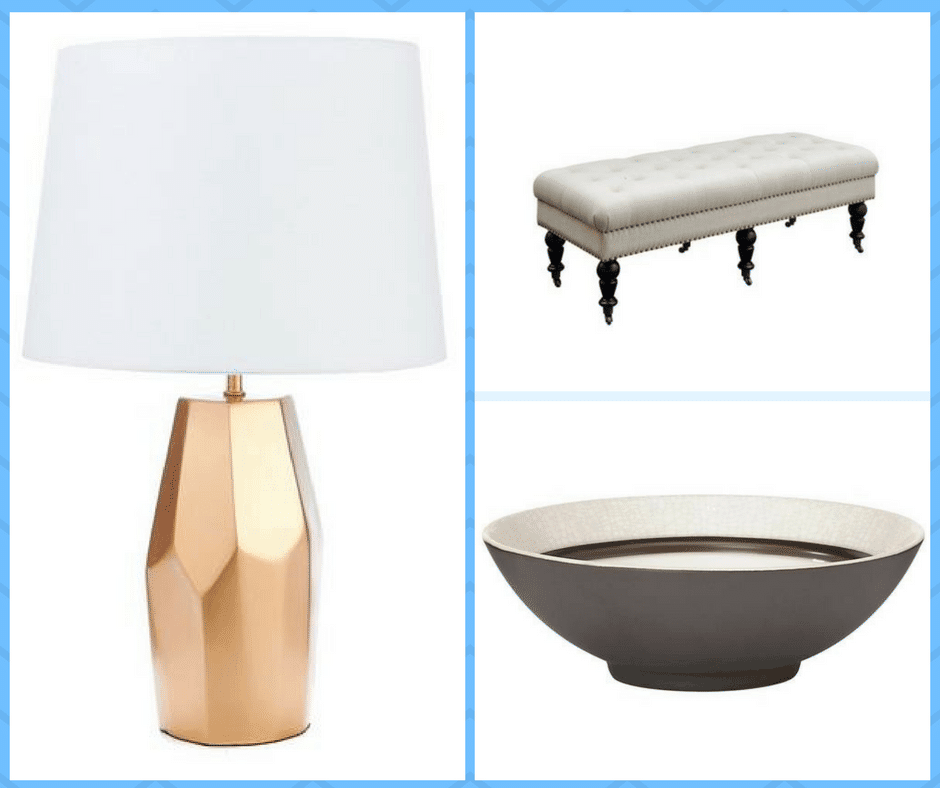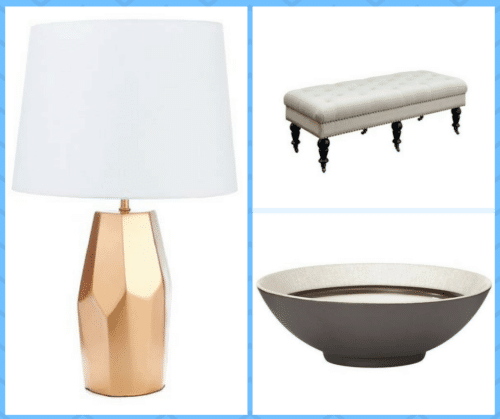 The Cut @ Sears has new items every week so it's worth checking both in store and online frequently if you're looking for that special something to complete your house. Since it's at Sears, they have lots of fashion offerings for the whole family, but here at The Bewitchin' Kitchen, you know I'm more about the house than the fashion. 
Between The Cut @ Sears and the new Sears-label brand, there are lots of new things happening at Sears, so stop into your local Sears store and check it out.
Disclosure: this conversation about my home decor finds has been sponsored by my friends at Ehm & Co. As always, all opinions are my own.