How to Use Pinterest to Drive Traffic to Your Blog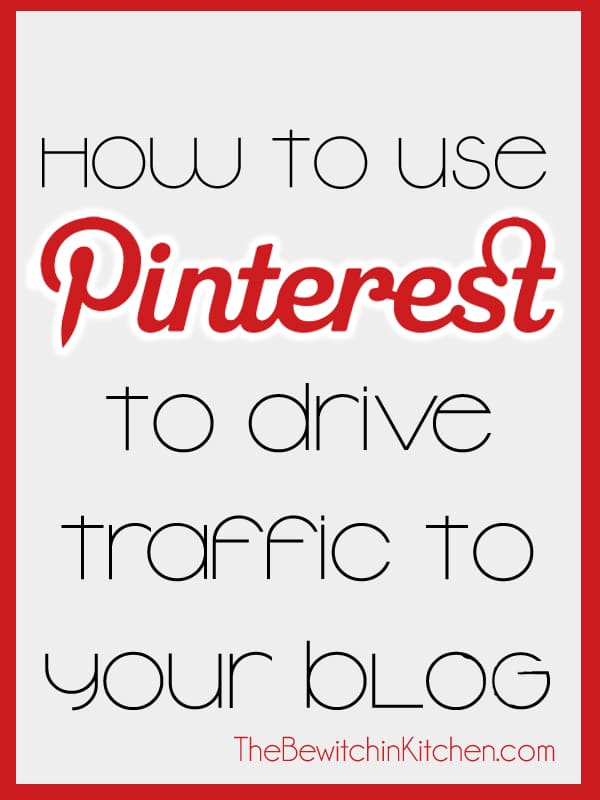 How to Use Pinterest to Drive Traffic to Your Blog
Pinterest has become a juggernaut in the social media landscape. It's one of the fastest-growing social-media sites, and it is responsible for generating an enormous amount of traffic every day.
If you aren't already on Pinterest, you should be. The site can help your site explode in traffic if you use it to its full potential. Not sure where to get started? Here are just a few ways that you can use Pinterest to drive traffic to your blog:
Create Pinnable Content
There are some types of blog posts that are more likely to be pinned than others. Tutorial posts are among the most popular — whether they be recipes or home decor projects or fun crafts you can do with your kids. This is good news for cooking blogs. Write posts with unique and interesting recipes, step-by-step tutorials for cooking techniques, or even DIY projects such as canning or pickling.
The more useful and unique the post, the more likely it is to be share on the site.
Post Pinnable Photos
Pinterest is a visual bookmarking site. The best photos get the most pins. You can increase your chances of having your posts pinned (and then re-pinned over and over again) by including compelling, visually stunning photos on each of your posts.
Take the time to stage your own photos and to produce the highest quality visuals that you can. Don't rely on stock photos or boring product shots. Be unique. Be creative.
Encourage Pinning
You can get more of your content shared on Pinterest by including a call to action on each of your blog posts asking your readers to pin them. Don't expect your readers to know what you need them to do: Make sure you end each post by asking readers to pin your content if they've liked it, and you'll be surprised at how much more you see being shared.
Make it easy for your readers to pin your content by including "pin it" buttons on your posts and a "follow me" button in your sidebar.
Amass a Large Following
The bigger following you have on Pinterest, the more likely your chances are to get your content in front of new people and to get more exposure for your brand and traffic to your site. You can get a bigger following by sharing a lot of Pin-worthy content — not just your own content — and by becoming an active participant on the site by liking, commenting on and re-pinning other content. The more you interact with others, the more they will interact with you and notice the content you have — and the more likely they will be to share it.
Hold Pinterest Contests
Contests are a great way to get a lot of traffic. Everyone likes to get something for free, and you can build a lot of buzz quickly. You can offer up your free item and ask people to pin your content or follow you on Pinterest in order to enter. The more entrants you have, the more exposure you will get for your content and for your brand. The better your prize, the more exposure and the more traffic you will get.
Pinterest offers businesses a lot of possibilities for building exposure and driving traffic. Use these tips to start getting noticed on the site and to start getting your blog the readers it deserves.
Are you using Pinterest to promote your business? Share your tips for success in the comments!
Bridget Sandorford is a freelance writer and researcher for Culinaryschools.org, where recently she's been researching culinary schools seattle. In her spare time, she enjoys biking, painting and working on her first cookbook.
products I used to make this happen Shop This Post
(may include affiliate links)