Hylands Baby Teething Tablets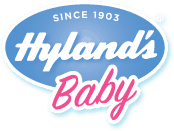 Carter was late on receiving his teeth, his pearly whites didn't show until he was about 10 1/2 months old. Even though they didn't pop out until then, it didn't mean he hasn't been feeling it. He's been teething since he was three months old. It was a lot of pain for him, and me. I had heard a lot about teething tablets but wasn't sure how they worked until I tried Hyland's Baby Teething Tablets.
I hate giving Carter acetaminophen or ibuprofen. It really bothers me that they're filled with chemicals, dyes and all sorts of junk that a baby does not need in their system. I try to avoid it at all costs, but when my little one is screaming because his teeth hurt so much – I can't say no. After all that, an hour will go by with little to no relief. It's absolutely frustrating. Then I received Hyland's Teething Tablets and began to educate myself. Hyland's is a homeopathic company. In short they're a company that offers alternative medicine to your typical kind you find at the drug store. It triggers the body's natural way of healing without the dyes, chemicals and unnecessary stuff with a highly diluted mix. They are still regulated by the FDA and they are no herbal products.

The teething tablets are safe to give to infants and can be used for any age. They reduce pain, inflammation, drooling, and fever. The tablets are small and are quick dissolving. You can either take 2-3 tablets dissolve in a teaspoon of water to give to your baby or, what I did which is to place the tablets directly under your child's tongue. There is no choking risk, as they are small and dissolve right away. After waiting about twenty minutes I noticed that my house was quiet. There was no more screaming, which was a huge relief and I was so used to it that it took me a bit to realize. The tablets worked like a charm. It was relief to see that they are free of parabens, dyes, flavors and benzocaine. Benzocaine is what is found in our teeth numbing gels and I have read an article that basically said that there have been baby's who go numb and choked. It's scary stuff.
I'm really happy with the teething tablets and never went with any other method with relieving my child's discomfort after it (why stop a good thing?) but every child is different and if you're child doesn't react well to the teething tablets I recommend Hyland's Baby Teething Gel.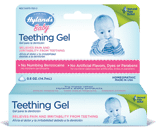 The idea is still the same: an all natural pain reliever for your child's teething issues. It's the first all natural teething gel on the market and it does not contain benzocaine (just like the tablets) and is also free of parabens, dyes and flavors.
Hyland's Baby is the only company who's products are natural and have actually worked (from what I have tried). They are available at health food stores and most pharmacies. They also natural alternatives to cough medicine, vitamin c tablets and colic tablets (which dissolve just like the teething tablets).
FREE Recipe Binder
Are you constantly wondering what's for dinner?
When I don't meal plan I feel behind, and we usually end up ordering take out. This recipe binder will keep you organized and make life a little bit easier.