I'm Traveling to Detroit Rock City For #FordNAIAS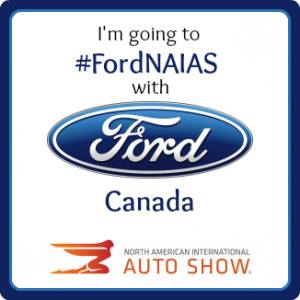 Just before Christmas I received an unexpected and incredible email: I was invited to attend The North American International Auto Show in Detroit, on behalf of Ford Canada for the #FordNAIAS experience.
How amazing is that?
It was a no brainer, I gleefully accepted the invitation.
I grew up knowing about NAIAS, mostly from my dad (who, by the way, is very jealous) and Tim Allen (I'm a big fan of Home Improvement), so the fact that this small town girl is heading to the big city to attend this international event is huge news for myself and The Bewitchin' Kitchen. When it comes to eastern travel, the furthest I have been is Botha, Alberta so Detroit seems like a whole world away!
I begin my 12 hour trip on Saturday with four flights, and my #FordNAIAS experience will begin on Sunday night with a dinner accompanied by my blogging and social media peers.
I'm not sure on what to expect but I do know that aside from the NAIAS experience I will also be finding out more about Ford and going "Behind The Blue Oval".
Aside from the main events and the obvious, I'm looking forward to meeting a few of my "blogging friends" in person and networking with some new faces.
So wish me luck as I begin my packing list (and take my flight-anxious self on several flights). I'll be sure to have my computer, camera and phone in tow so I can up-date everyone on the experience.

New Hair! I'm now ready for #FordNAIAS.
#FordNAIAS: Stay Updated:
To stay updated make sure you're following me on these social media channels:
The Bewitchin' Kitchen on Facebook
The Bewitchin' Kitchen on Twitter
The Bewitchin' Kitchen on Instagram
Or you can follow the whole experience by following the hashtag: #FordNAIAS.