Inniskillin Okanagan

I just moved back to my home province of British Columbia (from Alberta) last month. There are so many things I love about BC: the mountains, the lakes, the trees, and the Okanagan. I moved to the north (or coastal north, I'm still figuring it out) but I still have the Okanagan in my long term plan. It's my favorite place to be. For those of you who have never been the Okanagan provides amazing things: fruit orchards, the Ogopogo, beautiful weather (mostly all year round), and plenty of wine. My love affair with southern British Columbia also runs with a little bit of jealousy. My best friend lives in Osoyoos and she has access to some of the world's best wine just ten minutes away in Oliver. One of those wineries happens to be Inniskillin Okanagan.
Now, I'm going to be totally honest here: I don't know a thing about wine. Well, other then the fact that I like to drink it. Ask me about wine pairings, "notes", and the difference between a Merlot and a Cabernet and you will see nothing but a blank look on my face. It's all over my head. When it comes to wine, it's simple with me: I either love it or hate it. It's actually a difficult task for my husband to find a wine that I really like. I was hooked on a particular brand (a popular one) but after I heard a horror story about the winery letting a rat get squashed in with the whole lot of it: I haven't drank it since. So currently, I'm on the hunt for a new brand.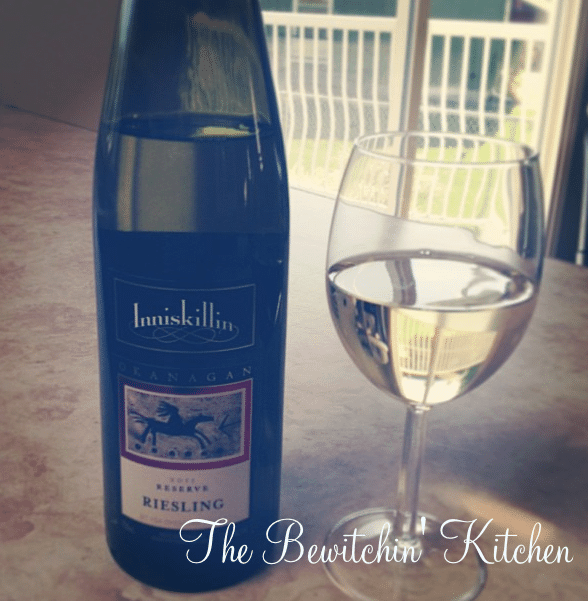 I was recently sent a bottle of Inniskillin Okanagan to review. The particular bottle I received is from their Okanagan Estate collection and is a Riesling. From my above disclaimer, I don't know what a "Riesling" is other then a white wine, so I did a quick Google search and found this:
Riesling is a white grape variety which originated in the Rhine region of Germany. Riesling is an aromatic grape variety displaying flowery, almost perfumed, aromas as well as high acidity. It is used to make dry, semi-sweet, sweet and sparkling white wines. Riesling wines are usually pure and are seldom oaked. As of 2004, Riesling was estimated to be the world's 20th most grown variety at 48,700 hectares (120,000 acres) (with an increasing trend), but in terms of importance for quality wines, it is usually included in the "top three" white wine varieties together with Chardonnay and Sauvignon blanc.In British Columbia, Riesling is commonly grown for use in Icewine, table wine, and sparkling wines, a notable example of which is Cipes Brut.
I'm really picky when it comes to white wines, there are not too many that I care for. I don't like them dry and I cannot handle Icewine. So, after I took my first sip of Inniskillin I was relieved: It's sweet, but not overly sweet and I didn't find it dry at all. It's definitely something that I would have again and in my opinion, it would be a great all purpose wine. I can see myself enjoying a glass with dinner or relaxing on the patio after a long day with this particular wine.
Mother's Day is coming up this Sunday and I couldn't think of a better way to finish a Mother's Day dinner then with Inniskillin Okanagan Okanagan Estate in hand. So take a moment to relax with this Riesling, you deserve it mamas!