Be In Control With Kidoodle TV (plus Giveaway) #KidoodleMom

TV time amongst toddlers is somewhat of a hot topic these days. Everyone seems to have an opinion on it, and it usually ends up with a feeling of guilt in the end. I don't want my son to sit for hours in front of the Television or iPad, and thankfully I have Kidoodle TV to back me up.
Yes, my son is two and yes, I let him watch TV and play on my iPhone or iPad.
He doesn't watch it for hours, he (like most kids his age) is very active and needs more then that. We take walks, play with his toys and dance (he loves to dance). Oh I forgot to mention that to dance, he turns on my iTunes or Songza first?

OUR LATEST VIDEOS
We can't escape it, it's the world we live in. It's time to embrace it, and not fight it. I'm actually proud that my son can work an iPad better then most adults, he's learning in a way I never could. The thought of all this technology does worry me a bit, and I don't want him to become a zombie that fights the idea of outdoor play. That's why I'm thankful for my new favorite app: Kidoodle.TV.
We use Kidoodle.TV on laptop, iPad and iPhone. It allows YOU (the parent) to be in control of what you child watches. It's really easy to use too.
First you set up your child's profile (up to five children). In each profile you choose what age range of shows you would like them to watch and you can pick and choose the shows individually. You also set up a pass code (so they can't override your time limits).

After choosing what child is using the app, you are prompted to your time limit menu. You can choose anywhere from 15 minutes to unlimited.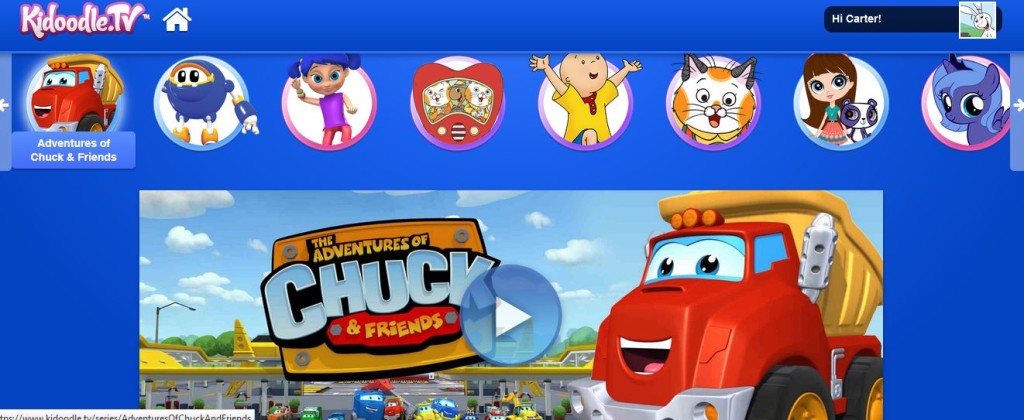 The next step is to chose the show, episode and that's it! You and your child are now set up for a little bit of quiet with no commercials.
I like to put on Kidoodle.TV for when I need a half hour of quiet (like now, while I write this post and get the giveaway ready) or when I need to tidy to kitchen in peace.
My favorite place to use Kidoodle.TV? In the truck. We often drive to my hometown, which is three hours away, and it's always that last hour that has my son miserable. This keeps him occupied and keeps the screams at bay. *Tip: If you're an Apple user, use guided access so your child cannot leave the app. Here's how: http://support.apple.com/kb/ht5509.
Kidoodle.TV is available for $4.99/month, visit http://www.kidoodle.tv to learn more.
Kidoodle.TV is offering The Bewitchin' Kitchen's readers a 25% off code for a year subscription to Kidoodle.TV. This coupon expires June 30, 2014. Just use code MCC25!
One of my readers will win a YEAR SUBSCRIPTION to Kidoodle.TV. To enter, just fill out the Rafflecopter form below. Also, don't forget to head to Kidoodle's Facebook page to enter to win one of 3 iPad Minis being given away in March and April.
Readers may enter across many blogs,but they may only win on a single blog. Entrants must be a resident of Canada, however those in Quebec are unfortunately unable to enter the giveaway. Winners will need to provide their email addresses to me to be provided to Kidoodle.TV.
I am part of the Kidoodle.TV blogger program with Mom Central Canada and I receive special perks as part of my affiliation with this group. The opinions on this blog are my own.
FREE Recipe Binder
Are you constantly wondering what's for dinner?
When I don't meal plan I feel behind, and we usually end up ordering take out. This recipe binder will keep you organized and make life a little bit easier.