Knocked up Fitness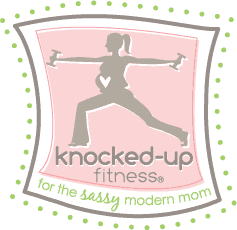 Something I regret about my pregnancy was how inactive I was. Before I was pregnant, I worked out daily and was in decent shape. I was incredibly tired while pregnant and didn't have the energy for fitness and I'm paying for that now as I try to lose all my baby weight.
Knocked-up fitness was created by Erica Ziel, who is the founder of Core Athletica inc. In Southern California, Eric is one of the most sought after trainers for Pilates. Being a mom of three, Eric has a lot of experience when it comes to pre and post natal fitness. Knocked up fitness was created for the sassy modern mom who want to stay fit and healthy throughout their life stages and exciting new journeys.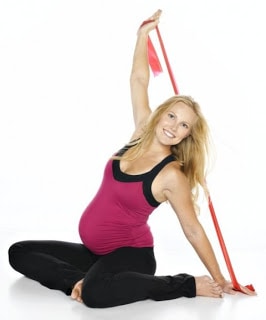 Staying active while pregnant has so many benefits. It can help with an easier (and quicker) labor, keep the pregnancy pains on the lower scale of things and prevents you from gaining too much weight. I omitted fitness while I was pregnant with Carter and I gained forty pounds, and he was over six weeks early! I couldn't imagine how much I would have gained if I went full term.
I was sent Knocked-up fitness combo pack right before I went into labor, so unfortunately I wasn't able to review these DVDs while pregnant. I'm three months post partum now and finally had the chance to review them this weekend.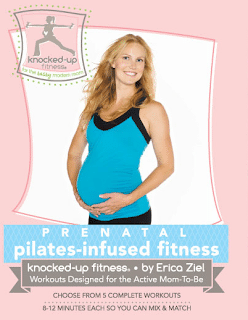 The first DVD that I reviewed was the Prenatal Pilates-Infused Fitness. In this disc you have five workouts to change from (or mix and match, depending on your fitness level).
Core Warm Up: A warm up and core strengthener.
Prenatal Fit Camp: This was my favorite, I really like boot camp style fitness but it wasn't near as intimidating as I thought it would be, perfect for the pregnant woman.
Pilates Arms: The workout I wish I had while pregnant. When I gained weight, I gained it everywhere. My arms gained two inches while pregnant and I couldn't have prevented it with this workout – easily.
Pilates Legs: Teaches you to tone your hips, legs and booty.

Total Body Pilates: This is a mat exercise DVD, which helps with posture and works your body with low impact exercises.
 Each workout is in between 8-12 minutes, so you may as well do them all. This fitness DVD is not difficult, but there are some parts that are challenging. Everyone has their weak spots and Knocked-up fitness helps with those.
With Knocked-up Fitness you need a resistance band (or Pilates band), an exercise ball, 1-3 lb dumbbells (or resistance bands),  and a chair. A mat is also helpful if you have hard floors. I don't have the first two, and I was able to modify the best I can. With the standing ball exercises, I just used weights and did my best. The floor exercises I just omitted the ball.
This is your workout, so if you need to modify or change it up to make it more comfortable for you, you can do it.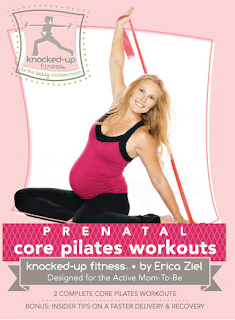 The second DVD I reviewed was the Core Pilates Workouts. This is such an important fitness regimen to do. Your core goes through so much stress throughout your pregnancy, it's a good idea to keep it strong and stable. This DVD only has two workouts that range from 12-20 minutes. There is a bonus option that is four minutes long that teaches you about these important muscles that are needed for labor and delivery.
Core Cardio: This workout increases your heart rate and challenges your core.
Pilates Yoga: This one is tough. This exercise claims to increase your energy and strength, using both yoga and Pilates style exercises. I'm not a fan of yoga, but I enjoyed this workout and felt charged and accomplished when it was done.
Being three months post partum, I'm proud of how much my core strength has improved since having my little guy I work my core four times a week and I still found these challenging (especially the Pilates Yoga). This is a fantastic DVD to have in your fitness collection for post baby. However, I feel that if I used these exercises while pregnant I wouldn't be so challenged now.
For more information on Knocked-up Fitness, visit knocked-upfitness.com.
FREE Recipe Binder
Are you constantly wondering what's for dinner?
When I don't meal plan I feel behind, and we usually end up ordering take out. This recipe binder will keep you organized and make life a little bit easier.