Libre Tea
With loose leaf tea being as popular as it is right now, it can be a little difficult to travel with it. You can't use your regular travel mugs unless you have those special strainers (or else you'll get a mouthful). I personally have never bought any of those special strainers (or infusers) because not only do I feel like they are a waste of money, but they are difficult to clean. Enter Libre tea.
 About Libre Tea (taken from their website)
Our company started in 1999 and began enjoying tea moments with Libre in 2008. We are proud to be a 100% wholly owned Canadian company and so appreciate this opportunity to share the convenient and beautiful Libre tea glasses with you and your customers.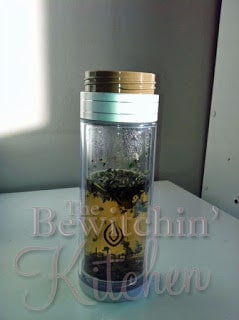 I was sent the Libre Glass' N Poly Original Tea Glass to review. I have purchased many travel mugs for my tea that have built in strainers, but none of them compare to my loose leaf tea glass from Libre.
My #1 favorite thing about the Original Tea Glass is that it is unbreakable. I used to have an expensive glass travel cup that I dropped one day (I'm very clumsy) and it shattered. I have dropped the Original Tea Glass a few times now and it's still as good as new. 
The Original Tea Glass has glass on the inside, to maintain heat and keep your tea tasting fresh but a poly carbonate exterior that keeps it resilient and long lasting. The tea filter is stainless steel and the surrounding polypropylene is BPA free (so is the lid interior) so you will not be experiencing any harmful chemicals or materials with Libre. 
I have tossed my new travel cup in the dishwasher many times and haven't had any issue and the filter comes clean, every time (a problem I have had in the past with previous glasses).  Libre does suggest all glasses be hand washed and not put in the dishwasher or microwave!
 How to use your Libre Tea glass:
Freebie:
If you sign up for Libre Tea's newsletter you will receive a free iced tea recipe booklet.
One of my readers will receive their own Original Tea Glass. Visit the Libre Tea Giveaway Page to enter.
Pin It
FREE Recipe Binder
Are you constantly wondering what's for dinner?
When I don't meal plan I feel behind, and we usually end up ordering take out. This recipe binder will keep you organized and make life a little bit easier.