Loose Button's Luxe Box

There is a service for us Canadians that provides full sized beauty samples and delivers them to our door. What makes this even better is that this service only costs $12 a month. It's a no brainier, right? You get luxury products for such a low cost with Loose Button's Luxe Box and I'm excited to share what I received in the January Box.
This isn't the first time the Luxe Box service has been featured on The Bewitchin' Kitchen. I reviewed a box in early December and haven't been able to stop talking about it since.
So a few of you may be wondering why I'm reviewing a January Edition box at the end of February. It's simple, it was lost in the mail. As disheartening as it was that I was unable to receive my box right away I'm happy this happened because it showed me how on top of things Loose Button is. Whenever Loose Button sends you a box, they will send you a tracking number (something I love, I cannot stand it when you paid for something and the company doesn't track it for you). I checked my tracking number everyday and saw that it never changed, but didn't think twice about it because sometimes the postal companies don't update it as often as I would like. A couple days later I received an email from Loose Button informing me of the possibility of my box being lost and that if I haven't received it in the next couple days to fill out a form. Of course, that day came and no package from Loose Button was in the mail. It was a simple process from then, I filled out the form Loose Button emailed me and I had my new package within two weeks. I love how on top of the problem Loose Button was and how prompt they were with making sure I was satisfied.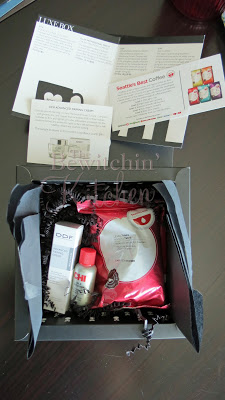 It was worth the wait. Here is what I recieved in the January Edition Luxe Box:
NYX Liquid Eye Liner (Full-Size) I was thrilled to receive this liquid liner (especially in the full size). I am obsessed with liquid eye liner because of how easy it is to apply and how long it lasts. This NYX liner dries really fast, which is a great feature. I would put this one up there with my MAC Liquid liner that I have used for years. If it wasn't for Luxe Box I would have never tried this liner that retails for only $5. This is going to save me so much money in the future.
Olay Professional Pro-X Eye Restoration Complex The Olay eye treatment is ultra hydrating and claims to help reduce the look of crows feet. It also states that it can help diminish dark circles and puffiness when massaged in. Only time will tell.
DDF Advanced Firming Cream I have never heard of DDF before I received it in my Luxe Box. It's an advanced formula that hydrates to firm and tighten your skin. It also provides antioxidant protection and promotes rapid cell turnover to help bring out healthy (not to mention young) looking skin. The deluxe sample I received in my Luxe Box is worth over $45 (not bad considering you only pay $12).
CHI Silk Fusion Most girls know the brand CHI and the great products the company provides. The Silk Fusion is a leave in treatment that helps rebuild your damaged hair. It also protects your hair from further thermal damage.
Seattle's Best Coffee Level 3 (Bonus) January's bonus gift was a deluxe sample of Seattle's Best Coffee. I haven't been able to try this particular one yet but I know Seattle's Best is a reputable brand.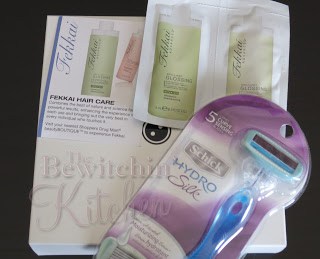 If that wasn't enough, I also received a bonus Bath and Body Luxe Box in which I received a Schick HYDRO Silk razor and samples of the Fekkai shampoo and conditioner. 
You get so much value for your dollar with Loose Button's Luxe Box service. It makes the perfect gift (as a soon to be new mom, I know this is something I would enjoy to receive as a gift) for a loved one, a friend or even a treat for yourself. 
For more information, please visit Loose Button's website.
FREE Recipe Binder
Are you constantly wondering what's for dinner?
When I don't meal plan I feel behind, and we usually end up ordering take out. This recipe binder will keep you organized and make life a little bit easier.