Lovable Labels Review

Lovable Labels
Don't Lose it – label it! 

It is said that necessity is the mother of invention and this proved all too true for Laura Porreca, Owner and President of Lovable Labels.

When Laura's first child entered daycare, she was told to label all his belongings. This meant labeling everything from his outdoor clothing, to his indoor shoes, lunches, sippy cups and backpack. Laura recognized a need in the market for personalized labels that were tough and durable and could stand the test of time and the everyday use that children put them through.

After researching and testing many different products and designs, Laura created a line of labels that include Regular and Slimline Stickers, Shoe Labels, Iron-ons and Bag Tags. They are not only bright, fun and colourful but also met the high standards that parents have come to expect. The Regular and Slimline labels are microwave and dishwasher safe, the Iron-on labels stay put in the washer and dryer, the Shoe Labels have an extra strength adhesive to ensure they won't come off and the Bag Tags are made of a durable and flexible plastic.

In 2003 Lovable Labels was born!

Today, the company continues to grow and offer exciting opportunities for its team of sales agents. Laura also feels strongly about giving back and has incorporated fundraising into the Lovable Labels company. Schools, daycares and camps use our labels to raise funds for extra-curricular activities while providing a practical and useful product for parents and children.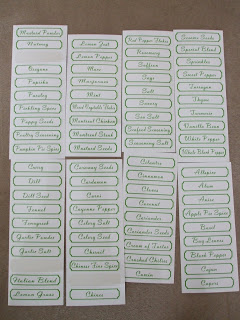 The labels I received
I like to be organized, and I love to label. The Spice It Up! labels are perfect for organizing your kitchen herbs and spices. They are microwavable and dishwasher safe. (I tested the dishwasher theory and the labels still look new.) Not only do you receive herb and spice labels but you also get some for baking as well! I was surprised to see the labels Lemon Zest, Vanilla Bean and Coconut.
The chili powder label on my IKEA jar. (I apologize for my terrible photography skills.)

It is easy to apply to labels just ensure the surface is dry and clean and peel off and stick! The sticker doesn't "slip" it has a very firm grip. So I would advise that you know where you want it before hand. 
Lovable Labels are not limited to spice labels they also have labels for your home office, pantry, craft room (I currently own the Crafty Mom set and LOVE it for scrapbooking), clothing, multipurpose and more!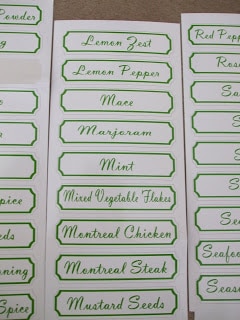 All in all I have to say I love, Love, LOVE Lovable Labels! I do wish that they had a couple blank labels for you to fill in what you want (I make a lot of homemade rubs and seasonings),  but other then that they are THE labels to have in your home.
This giveaway is now closed