Love Child Organics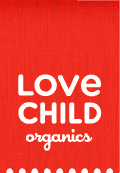 I'm very cautious on what I give Carter to eat. After all the reading I have been doing in the last few months about dyes, chemicals and GMOs the simple task of feeding has become scary and complicated. What ever happened to just good food? At home he eats what I eat: fruit, cheese, etc but it's when we leave the house where it sometimes gets tricky. Luckily for me I have found Love Child Organics and things have become a little simpler.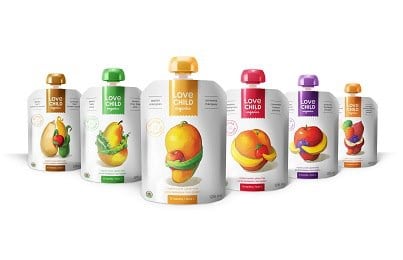 Love Child Organics is founded by John and Leah Garrad-Cole. Like me, they were concerned about the food available for their little ones. After many surprises and frustrations on the tastes and ingredients in snacks/meals for their children they took matters into their own hands. They wanted their children to grow up with the appreciation of healthy food and choices.
In terms of baby food, the supermarket shelves were filled with jars and more jars, mostly non-organic, uninspiring in variety and often quite tasteless. The food for toddlers, even many of the 'organic' snack products, contained fillers, sodium and sugars. Before becoming a mom, Leah spent many years teaching students with special educational needs and behavioral difficulties, and was very aware of the negative consequences of children eating foods containing such ingredients.
The first thing that stood out to me when I was reading the package of Love Child Organics was the fact that not only do they use healthy fruits/vegetables in a great combination but they also add quinoa! For those of you who don't know, quinoa is a great way to add protein to your diet. It's often confused as a grain – but it's not. It's a "superfood" and an ingredient that I cook with often. After reading the nutrition label I moved onto ingredints. Here's an example  from the apples and mangos variety:
Ingredients: organic apples, organic mangoes, organic acerola, organic quinoa, organic lemon juice concentrate.

I had never heard of acerola before and after a quick Google I found that it's a tropical tree that produces fruit (much like a cherry).
Carter loves Love Child Organics, after his first taste it was non stop eating for him. The pouch is easy to feed him with and I prefer it, especially when we're out and about – it's so convenient. I was sent Apples Bananas and Blueberries, Apples Sweet Potatoes Carrots and Blueberries and Apples and Mangoes. I tasted the Apples, Bananas and Blueberries and it was delicious. There was actual flavor and not pureed mush.
Thanks to Love Child Organics I have switched my baby food brand. I'm happy to say that you can find it at Walmart and it retails for 1 for $1.48 or 3 for $4.00 (which is about the same as the non organic brand offered there – it's a no brainier).
Love Child Organics comes in the following varieties:
Strawberries, peaches and bananas
Mangoes and apples
Blueberries, apples and bananas
Butternut squash, corn and apples
Kale, peas and pears
Sweet potatoes, carrots, apples and blueberries

You can like Love Child Organics on Facebook.