My Forever Child Review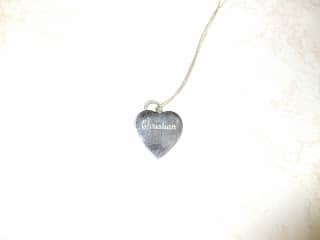 "My Forever Child creates personalized jewelry from the heart, rich with symbolism and meaning. Specializing in tangible reminders to honor and acknowledge our loved ones, while celebrating their life and the love they have bestowed to us. We believe that jewelry should tell a story and be meaningful for the wearer. Our personalized keepsakes are handcrafted upon order in our studio and customized to your specifications. Treasured memories will always be in your heart forever. Most pieces are handcrafted by Susan Mosquera, GIA Graduate Gemologist and jewelry artisan since 1999. Mother of 4 young children and 1 stillborn baby boy. Her journey of grief, healing, and hope was the inspiration for My Forever Child. Susan's passion is to be able to help other's through their life's journeys with jewelry pieces meaningful for them."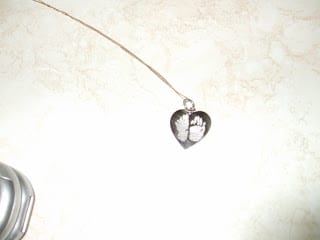 I think what Susan does is amazing, and I am also grateful that a portion of every sale is donated to children's advocacy organizations. 
I was sent a custom engraved hand print-footprint heart pendant. I scanned and emailed My Forever Child Christian's hand-prints and footprints and she engraved them into my pendant. When I received my pendant, I cried. I was so happy to finally have a beautiful reminder of him. My pendant is gorgeous and I have worn it everyday since I received it. The engravings turned out perfect. They were identical to what I have scanned in. I cannot begin to describe how important and how much this pendant means to me. I also appreciate that My Forever Child has reasonable costs. My pendant retails at $80.00, when I first started looking for customized engraved pendants the first website I found wanted over $1800 for the necklace and I couldn't help but cry at the fact that some company was trying to rip off parents because they were grieving, I also cried at the fact that I could never afford it. Not only is My Forever Child amazing for remembering a loved one but it is an awesome way to recognize the children that you have in your life.
FREE Recipe Binder
Are you constantly wondering what's for dinner?
When I don't meal plan I feel behind, and we usually end up ordering take out. This recipe binder will keep you organized and make life a little bit easier.