Nielsen – Massey Vanilla Extract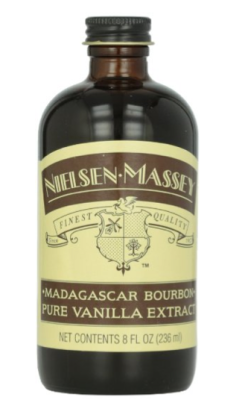 I love to bake. It's as simple as that and I have learned that you need quality ingredients to produce a quality product. In the past I have used low quality vanilla extracts (and even imitation varieties), sure my baking still tasted alright but it was never phenomenal but I never realized that quality of my vanilla affected the outcome so much.
was sent a bottle of the Madagascar Bourbon Pure Vanilla to sample. Here is some information that I found from the Nielsen Massey website.
The world's finest and most consistent vanilla comes from Madagascar. Madagascar Bourbon Pure Vanilla from Nielsen-Massey has a creamy, sweet, velvety flavor that is perfectly suited for a range of products from baked goods to ice creams, salad dressings to barbeque sauces. Madagascar Bourbon vanilla does not have anything to do with the American whiskey of the same name, but is rather named for the Bourbon Islands off the coast of Africa. Madagascar supplies more than 60% of the world's vanilla.

Vanilla in dressings? Barbeque sauce? I have never thought of incorporating vanilla in my cooking before. It's something that I have made mental note of and plan on trying in the future. Maybe in my recipe for crockpot ribs?
What I did use the Madagascar vanilla for was meringues. In my third trimester, I have had a constant craving for migraine cookies and when I last made them I added the bourbon vanilla. What a difference! My cookies were "bright" and flavored with a rich vanilla creaminess.For more information on Neilsen Massey and the difference varieties of vanilla, visit the Vanilla Specialists' website.
One of my favorite recipes to use the Madagascar Bourbon Vanilla is this White Chocolate Buttercream (yum).
Nielsen Massey Madagascar Vanilla is available at Amazon.com
and Amazon.ca
.
Pin It