One Stop Shop With CardSwap.ca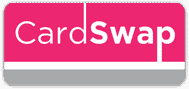 Do you want to know what my #1 asked for gift is this holiday season? Gift cards. I've told my mom, husband and whoever else would be buying for me to get me a gift card this Christmas. I love gift cards, especially since that means I HAVE to buy something for myself. If I get money, it will just go towards groceries or bills but if I get a gift card I'm forced to go buy myself a new pair of jeans or some of my makeup. Gift cards are my favorite to give and receive and my favorite place to buy gift cards is CardSwap.ca.
I've used CardSwap in the past and you can read my previous review and learn how CardSwap works there. If you're looking to sell your gift cards and receive points or cash, you can found how in this post on selling your gift cards with CardSwap. This time around I want to focus on the buying aspect of it.
This year for Christmas my husband and I are focusing on it being Carter's first Christmas and only buying stocking stuffers for each other. What a great idea that was (insert sarcastic tone here). My husband is the worst person to buy stocking stuffers for. I don't want to buy junk that will just end up in the garbage, he's not the biggest sweets fan so I'm kind of stuck with a lot of ideas.

My husband likes gift cards too, so I knew CardSwap would be the perfect place to find a stocking stuffer for him. I was really impressed with the inventory of cards available. CardSwap has really grown since the last time I have worked with them. There was a huge selection and although I was tempted with a gift card to Coach (drool) I knew this was a great opportunity to knock something off of my husbands Christmas list. Hubby loves Canadian Tire, he could spend hours there just wondering the halls and reading things so that was my first choice but I wanted something that was JUST for him. Second choice was a gift card to The Keg, but again that's for the both of us. I settled on a gift card to his favorite place ever, a place where most Canadian's call their second home – Tim Hortons.
So selecting the card was easy and checkout was easier. Add to cart and checkout. There is an option for PayPal as well, for all the PayPal fans out there.
As a bonus I also received SwapPoints! Most cards have a different value in SwapPoints and I received 125. It's almost like cash back. You build up and save on SwapPoints and you an cash out on a gift card of your choice. So if you're still finishing up some Christmas gift card shopping, don't buy them at the grocery store, you get nothing back. Go to CardSwap.ca and buy there. After an hour of shopping for friends and family, you'll probably build up enough SwapPoints for a little treat for yourself.
Shipping is fast. I received my gift card in a little over a week.
For more information on CardSwap, or to view their extensive selection of gift cards visit CardSwap.ca.
FREE Recipe Binder
Are you constantly wondering what's for dinner?
When I don't meal plan I feel behind, and we usually end up ordering take out. This recipe binder will keep you organized and make life a little bit easier.