Organic Slammers Superfood Snacks + Giveaway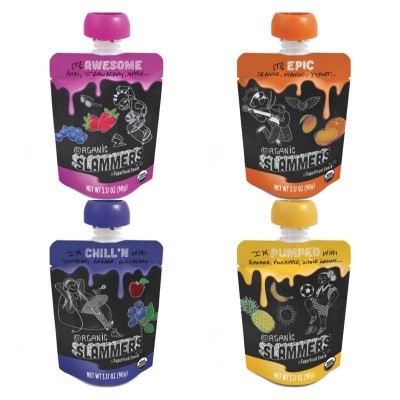 As a mom to a picky eater, I'm constantly worried about my son's nutritional needs. We have been testing out Organic Slammers Superfood Snacks and it's giving me peace of mind (and my son a yummy snack).
I usually don't have a problem when it comes to feeding my toddler fruit (usually, but he does have his moments where he really tests my patience). He has a natural sweet tooth. It's his lack of vegetables and dairy that worry me.

Organic Slammers Superfood Snacks
What is it?
Slammers Superfood Snacks are a new line of portable snacks that are perfect for picky eaters. With the organic and healthy ingredients included in the packaging, Slammers Superfood Snacks serve as a great way to provide your child with the fuel they need to be a kid.
Slammers Superfood Snacks come in the following flavours: :
EPIC (magoes, bananas, oranges, carrots, Greek yogurt and real vanilla).
AWESOME (bananas, blueberries, strawberries, beets, acai, amaranth).
CHILL'N (bananas, blueberries, butternut squash, Greek yogurt & yumberry*)
PUMPED (bananas, pineapple, mangoes, ancient grains, butternut squash, cinnamon)
What is a yumberry?!?! Looks a little bit like a raspberry with a sweet-sour flavor and is filled with vitamins, minerals and powerful antioxidants.
Let's be honest, the majority of us have given our children a variety of these pouch snacks and while we are continuing this honesty train – we can all admit that we have tried it. A lot of the competitors don't taste too bad, a lot I could handle and say tasted "good". Nothing actually had me wanting to eat a whole pouch to myself, until now.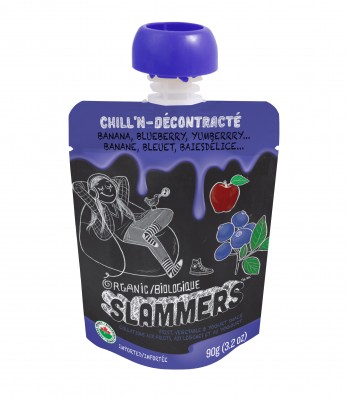 Seriously, I'm an adult and I have to admit I have found myself talking myself out of eating my son's Slammers Superfood Snacks. They taste that amazing! No bland taste, just bright flavours that are fresh and delicious.

My personal favourite flavour is Pumped. I'm not a huge fan of squash so I was worried about what this would taste like. I assumed I wouldn't like it and it ended up being my favourite! It tastes just like banana bread.
Honestly, I tried them all and was wowed with every single flavour and I'm also impressed with the quality of the ingredients included in every single pouch. As for my son? His favourite is AWESOME and has one at least once a day. They're so easy on the go, I usually have a few in my purse for "emergencies" (like today on our spur of the moment trip to our hometown).
This will be something I continue to buy, not just for the convenience but for the nutritional factors as well.
Organic Slammers Superfood Snacks are available at Well.ca and Loblaws stores.