P90X3 Is Now Available Get Free Gifts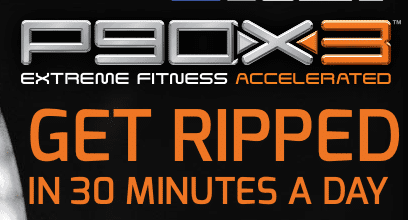 P90X3 has officially been released – today! For months Team Beachbody's CEO, Carl Daikeler, has been teasing us about how awesome this program is via social media with progress photos and other teasers.
When I first heard that Tony Horton was shooting another P90X, I thought it was great but not for me. I did the original P90X for about a month. As much as I enjoyed the workouts (and I did start seeing results after two weeks), the workouts were too long. 55 mins plus 15 minutes for Ab Ripper X. Now I know most of you are thinking that in reality that's not a long time to workout but I get bored easily and I like my workouts to be 40-45 minutes. T25 showed me that the shorter the workouts, the more inclined I am to do them because I know I have that amount of time in my day.
So when I found out that P90X3 is only 30 minutes a day, I started to get excited. I began Googling the project and wanted to see the before/afters, clips of the workout, ANYTHING that will give me more information. Yes, I'm a coach but I still heavily research before I buy anything. I'm sold, but I'm starting Turbo Fire next week so I will have to wait to pick up P90X3.
F.A.Q's About P90X3
Is there a vegan meal plan option available for P90X3?
There will be vegan options included in the new P90X3 Nutrition Guide that will be available on December 10, 2013.
How long does it take to complete P90X3?
P90X3 is a 90 day program, split into 3 Blocks. Blocks 1 & 2 each consist of 4 weeks, while Block 3 lasts 5 weeks.
Additionally, the Elite Block calendar, which is an optional block to be completed AFTER the initial 90 days, lasts 4 weeks.
The Elite Block includes 3 workouts not included within the P90X3 Base Kit. These workouts and calendar can be found within the P90X3 Deluxe and Ultimate Kits. In addition, they can also be purchased separately.
What is included in P90X3?
P90X3 Base Kit Includes:
16 unique and brand new workouts on 8 DVDs
Plus, 5 Free Gifts
Fitness Guide
Nutrition Guide
90 Day Workout Calendar
How to Accelerate Intro DVD
24/7 Online Support
Network Exclusive P90X One on One: On One Leg DVD
Network Exclusive Premium P90X3 Hat ($24.95 value) – December Only!
Base Kit Pricing
Retail           $119.85
Club             $107.87
Coach          $89.89
P90X3 Deluxe Kit
Includes everything in the Base Kit PLUS:
3 Elite Extreme workouts on 1 DVD
Includes free Elite Block Calendar
1-Month E&E Tub
3 B-Lines Resistance Bands
Deluxe Kit Pricing
Retail           $239.70
Club             $215.73
Coach          $179.78
P90X3 Ultimate Kit
Includes everything in the Base & Deluxe Kits PLUS:
1-Month R&R Tub
Gym-Quality P90X® Chin-Up Bar
P90X® Chin-Up Max
Premium Beachbody Jump Mat
Ultimate Kit Pricing
Retail           $329.55
Club             $296.60
Coach          $247.16
P90X3 Challenge Pack
Retail Price: $205 (December Promotional Price: $180)
P90X3 Base Kit
30-Day Supply of Shakeology HD
30-Day VIP Team Beachbody Club Membership
FREE GIFTS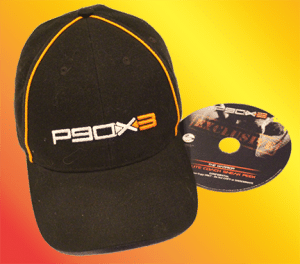 If you order through my Team Beachbody shop you get the following free gifts:
FREE bonus workout DVD "On One Leg" (a $19.95 value).
P90X3 hat (a $24.95 value) .
If you do order through my shop, drop me an email and I will invite you to my monthly Facebook accountability group. It's a group where we push each other and keep each other motivated