Peekaboo Beans – Playwear For Kids On The Grow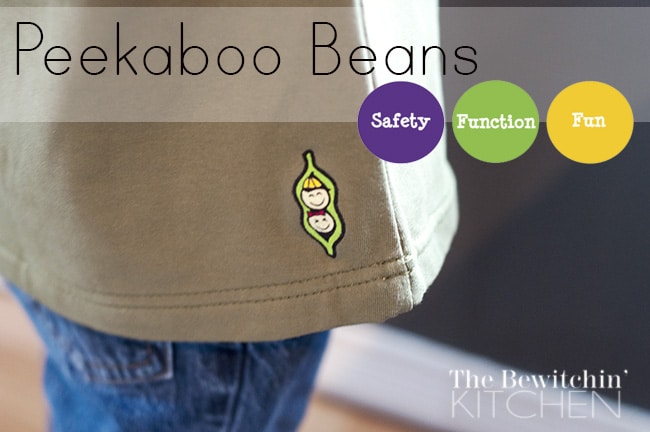 Finding quality clothes from a Canadian company isn't always the easiest find. Thankfully, Peekaboo Beans has made it easy (and fun) to find trendy, comfortable and age appropriate clothes for newborns to tweens.
We all have that friend who always finds the best styles, and when they have kids – they seem to be the young little trendsetters as well. That friend, for me, is Megan. Megan and I have known each other since we were little girls growing up in Northern BC. Now we're both raising our families but more than 12 hours apart. Megan has always been on top of the trend scene so when she told me she was considering becoming a Peekaboo Beans Stylist, I knew she was going to rock it. She has been buying Peekaboo Beans for her girls for years, and has told me many times how much she loves it – it was about time she made a career out of it to spread the word about a brand she supports whole-heartedly.
Here is Megan explaining a little bit more about Peekaboo Beans:
Dyed with no harmful chemicals, thick and quality fabrics, mix and match = less pieces and more wear.
What Does Peekaboo Beans Mean To Me? –  A message from Peekaboo Beans founder, Traci Costa.
It means a voice for children. It is a passion for play. It is style without sacrificing comfort. It is empowering children to be independent. It is about fun, giggling, and silliness. It is about being a mom but still being me…
It is about providing the ingredients for a playful life, leaving a legacy of happy little Human-Beans.
So…I hope, if not for many moments, but at least one…Peekaboo Beans makes your life a little easier, your load a little lighter and your children smile a little bigger…Come and join me on this playful journey.
Something I love about Peekaboo Beans is they're behind the Play Revolution. They know that unstructured play is incredibly important in our children's lives, so they have been apart of Pop Up Play Dates, Play It Forward Campaigns and Seasonal Play Challenges. They have also partnered with Playground Builders, a Canadian Charity whose mission is to build playgrounds in war-torn countries. Every month Peekaboo Stylists (like Megan) contribute a portion of their monthly commissions to Playground Builders, and Peekaboo Beans matches these donations 1-1. You can take the Play Pledge too!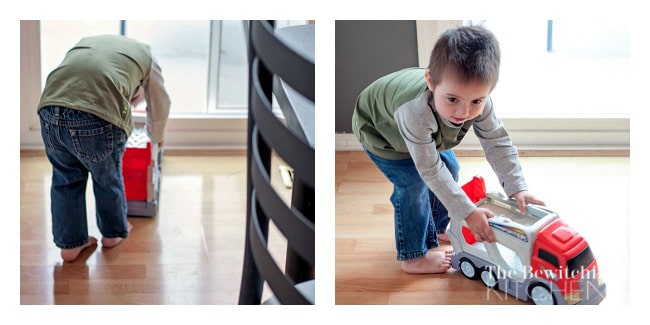 Peekaboo Beans knows that with play our children learn about friendships, how to negotiate in social situations and that play is the beginning of knowledge! The fact they are promoting fresh air and movement makes me very happy. They designed their clothes to coincide with play. Check out the graphic above for the details (like removable labels, no buttons or snaps, zipper chin guard). It's simple: just wear and play!
The Grow With Me Pieces are really beneficial to us parents as well. How many times have you bought your child something only to have them grow out of it a month later? Many Peekaboo Beans styles are designed to grow with your child.
I was sent the Stag You're It tshirt from the 2014 Fall Collection (you can view the online catalog here). There are so many amazing looks for fall, perfect for back to school shopping!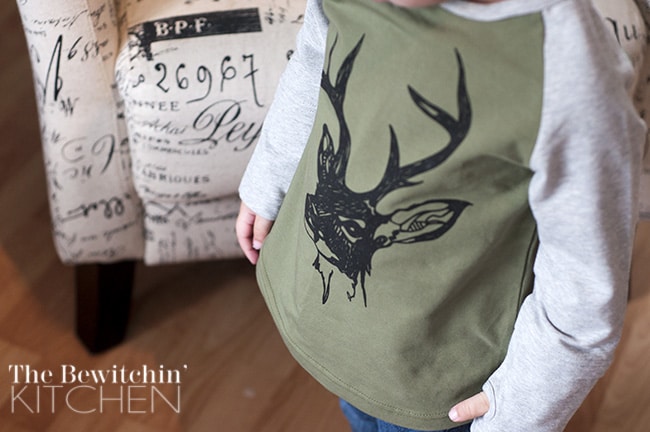 I am head over heels with the Stag You're It shirt from Peekaboo Beans. It's made from a jersey cotton (95%) and spandex (5%) and it's oh-so-soft. It's the perfect shirt for the upcoming fall season: it's breathable, has long sleeves, and has the cutest little buck as a print.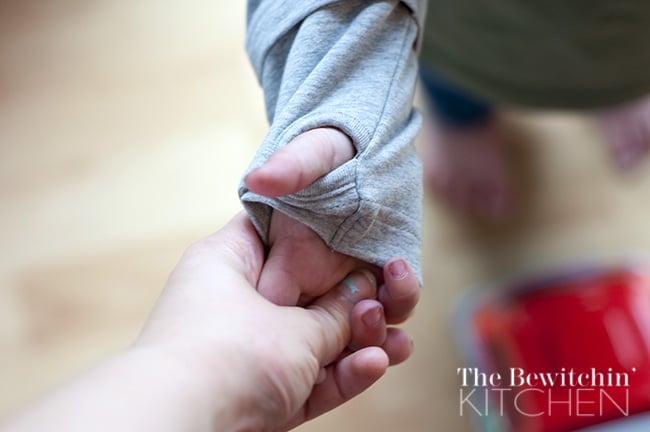 There are optional thumb holes that encourage independent dressing, my son loved these (I was really surprised). He was really proud when he showed me his thumbs in this photo, and I like how this means I can layer with ease – no bunchy sleeves!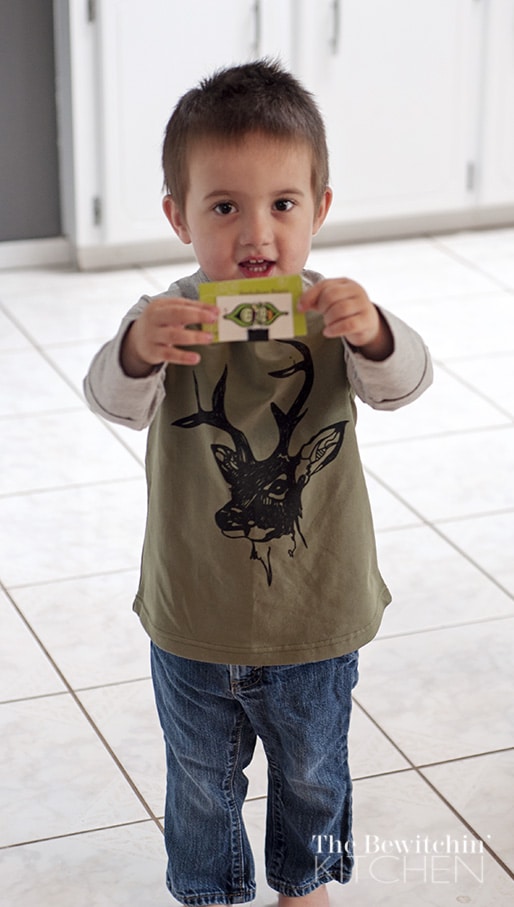 Peekaboo Beans comes in the following sizing options: Baby 0-12 months, Peekaboo Beans Boy & Girl sz1-8 and Tween Girl (CiCi Bean) sz 8-14.

I love the above styles for little girls and tweens – so cute (and age appropriate)! You can check out many of the back to school and fall looks on the 2014 Fall Catalog.
Join My Peekaboo Beans Soiree
I'm hosting a party, and you're all invited!
I'm inviting you all to shop with me, and support play! Whether your little "bean" needs a new fall wardrobe or a back to school outfit, you're all invited to join my party.
You have two options:
Shop online here.
Join the Facebook Soiree (Facebook group where Megan will be showcasing and showing us all what Peekaboo Beans is all about).
Interested In Hosting Your Own Soiree?
Kamloops parents: Would you like to have a fun play date or a relaxing wine night all while earning free "beans" for clothes? Host your own soiree with Megan! Contact Megan at meganl.pbstylist@gmail.com or send her a message through her Peekaboo Beans Facebook Page.
The Giveaway
One of my readers (and party goers) will win a VIB (very important bean) experience with Megan! (Applicable to customers of the US and Canada.)
VIB (Very Important Bean) Personal Shopping Spree
Megan will help you choose styles and sizes to start your Beans wardrobe for your Bean(s)
Your Beans will be playing in comfort and style in no time!
You will receive $25 in FREE BEANS on your order of $100 before taxes & shipping