Pure Romance | Save My Skin

 For those of you who are a little shy and don't care to purchase intimacy aides, Pure Romance offers a lot more then your typical "romance" store. From foreplay items to beauty and bath, Pure Romance has something to everyone to make them feel great about themselves
About Pure Romance
In 1983, Patty Brisben was inspired by a segment on the Phil Donahue Show, which featured women working as in-home direct sales Consultants selling intimacy aides and empowering others, both in and out of the bedroom. Right then, this single mother of four made a promise to get involved in order to make more time for her children, and to improve the overall quality of their lives. Her immediate success was so apparent that after just one year, she quit her job as a medical assistant to pursue her newfound passion as a full-time consultant.
It's no secret on this blog that I'm pregnant, and with that obvious fact out in the open I want to share one of my biggest fears about this pregnancy:
I am deathly terrified of getting more stretch marks then what I already have.
Yes, it's shallow of me but I think it's a rational fear. With my last pregnancy, it looked like Freddy Kruger attacked my sides and it is something that makes me feel incredibly self conscious. So when I received the Save My Skin oil from Pure Romance, I was hoping this could be the answer to my prayers.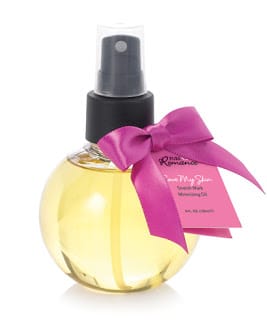 The Save My Skin oil that is offered from Pure Romance helps aid in the reduction on stretch mark appearance. I love how dense this nutrient rich oil is. I don't need much, but it absorbs well. Pure Romance recommends that you apply this product morning and night, but I have severe baby brain and I'm lucky if I get it on every night before bed.
So have I had results? I wouldn't say my previous stretch marks have disappeared any but being that I'm 32 weeks and haven't had any new ones re appear (knock on wood) is saying something. Prevention is key, especially when you're prone to stretch marks like I am. I love how moisturizing this oil is and the fact that it has a spray pump (rather then spilling it everywhere) is a much appreciated added bonus.
For more information on Pure Romance, or to see what other products they carry visit PureRomance.com. Also, don't forget to follow them on Twitter and Like Pure Romance on Facebook.
Pin It