Sleeping Beauty Diamond Edition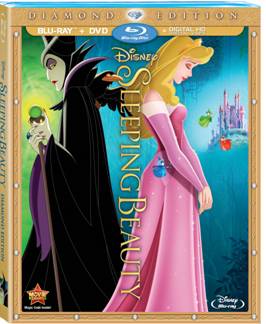 I absolutely love it when Disney releases some of my favourite classic Disney stories. Sleeping Beauty is no exception.
I remember being a little girl and watching Sleeping Beauty, I was obsessed with the name Aurora for a long time – I even had a couple dolls and Barbies named Aurora and Briar Rose for after watching the movie. I'm sure this is something that a few of you can relate to as well.
 "Sleeping Beauty" tells the wondrous tale of a princess cursed by an evil fairy, protected by three loving fairies and, ultimately, saved by "true love's kiss." Featuring the voice talents of renowned opera singer Mary Costa as Sleeping Beauty and Disney stalwart Eleanor Audley as the evil fairy, Maleficent, the film's vibrant visuals were created by a team that included Milt Kahl and Ollie Johnston, two of Disney's legendary Nine Old Men and an Academy Award®-nominated score, 1959, adapted from the incandescent music of Peter Tchaikovsky. "Sleeping Beauty" is the sixteenth animated feature in the Disney animated features canon and was the last animated feature produced by Walt Disney to be based upon a fairy tale. It is the tenth film released as part of Disney's prestigious Blu-ray Diamond Collection.
Sleeping Beauty Diamond Edition
The Sleeping Beauty Diamond Edition, Blu ray + DVD + Digital Copy Superset Combo pack will be available October 7!
The diamond edition has been digitally remastered and restored picture and sound for a home theatre experience. Plus experience these exciting bonus features:
Once Upon A Parade: Modern Family star Sarah Hyland tells us the tale of Walt Disney World's new Festival Of Fantasy Parade
Art of Evil: Generations Of Disney Villains: a legacy piece spotlighting Disney's favorite villain animator and Maleficent creator Marc Davis,
DisneyAnimation: Artists in Motion: Walt Disney Animation Visual Development artist Brittney Lee goes through the process of creating a three dimensional sculpture of Maleficent, completely out of paper.
Never-before-seen deleted scenes "The Fair" (with Deleted Character The Vulture), "The Curse is Fulfilled" and "Arrival Of Maleficent".
The Beauty-Oke sing-along to "Once Upon A Dream."
The Blu-ray Superset also includes classic DVD bonus features and more!
I can't wait to sit down and watch Sleeping Beauty with my family and introduce my son to this Disney Classic.
I have one question: Pink or Blue?
FREE Recipe Binder
Are you constantly wondering what's for dinner?
When I don't meal plan I feel behind, and we usually end up ordering take out. This recipe binder will keep you organized and make life a little bit easier.