Slow Cooker Beef Stew with Cabernet Merlot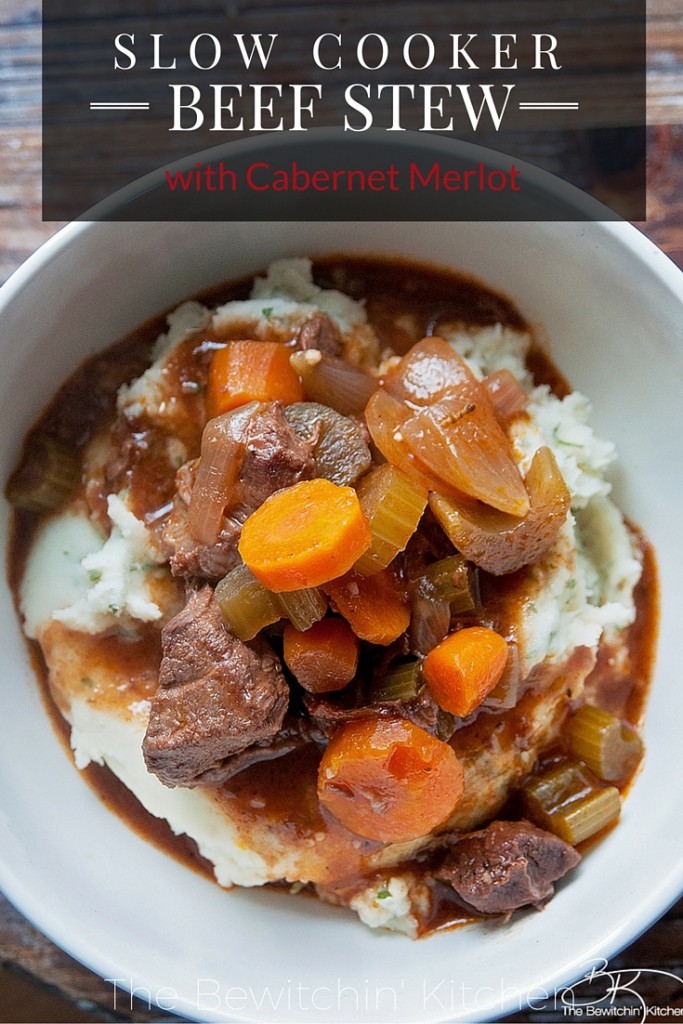 I have such a hard time coming up with titles for the recipes on my blog. When I asked my husband what I should name this Red Wine Slow Cooker Beef Stew his response was, "Yummy yummy in my tummy." I think that means that the recipe was a success.
Yesterday, when I made this, it was a bit of a busy day. My sister is down for a visit before she has to go back to school and we were making Chocolate Peanut Butter Cupcakes [1] (AKA The PMS Buster) and since I knew it was going to take a good portion of the day plus visiting, I wanted to pop a few things in the slow cooker and hope for the best.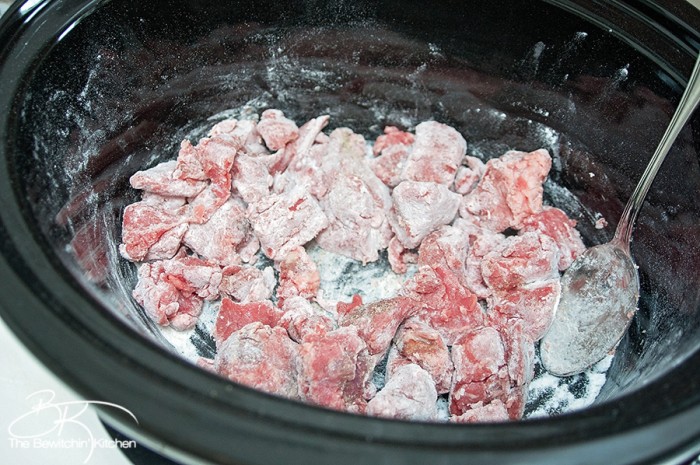 Before this, I have only had slow cooker beef stew one day, my mom's way. So I basically did the same thing here but swapped the soy sauce for red wine. If you're curious, here is my Classic Slow Cooker Beef Stew recipe [2]. It's the recipe I grew up on and warning: this was one of my first recipes on the blog and I still don't have an image for it.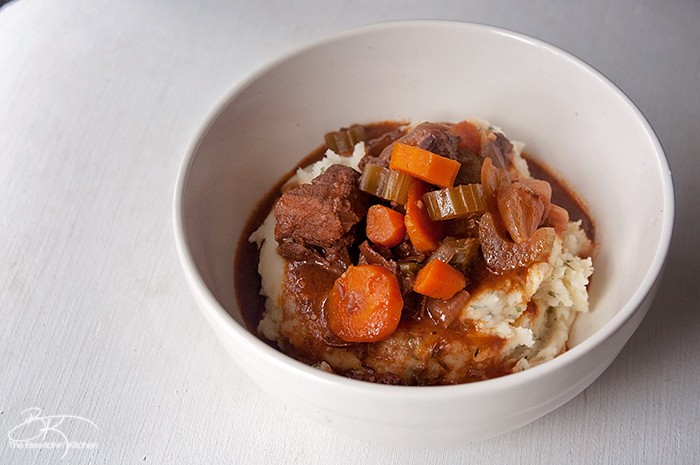 Slow Cooker Beef Stew: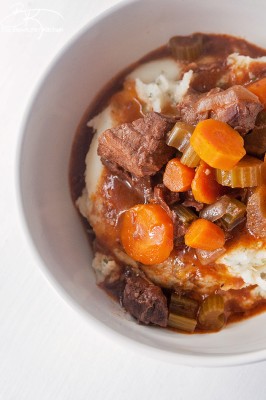 I usually add potatoes to the stew itself but I've been seeing a lot of stews served over mashed potatoes and I wanted to try it out.
I whipped my potatoes in my mixer with the rest of the cream I had (maybe 1/4 cup, if that) dumped some pre-minced garlic in (a lot) and dumped some parmesan cheese flakes in with it as well, along with parsley. They were probably the best potatoes I have made (and I don't care for potatoes) and naturally, I didn't write or measure out anything. That's usually how it works, I will create something phenomenal and have no idea what I did.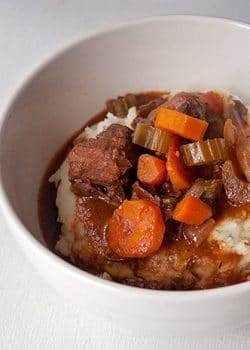 Slow Cooker Beef Stew with Cabernet Merlot
Ingredients:
1 lb stew meat
2 tbsps AP flour (or tapioca flour for gluten free)
Sprinkle of sea salt and pepper
1/2 bottle of cabernet merlot (or whatever red wine you have on hand)
4 carrots, peels and sliced
2 celery, diced
1 large onion, diced
1 cup beef broth
1 large bay leaf
2-3 tsps rosemary & thyme (each)
1 6oz can of tomato paste
Optional: cooked garlic mashed potatoes
Directions:
In a slow cooker at your meat, salt and pepper and flour. Stir to ensure meat is coated.
Add the rest of the ingredients, cover and cook on low for 8-10 hours.
Optional:
When it's done, serve over garlic mashed potatoes.
All images and text ©
.
What's your favorite fall comfort food?
FREE Recipe Binder
Are you constantly wondering what's for dinner?
When I don't meal plan I feel behind, and we usually end up ordering take out. This recipe binder will keep you organized and make life a little bit easier.