Stuck On You Personalized PJ's
As a kid I always wanted what I couldn't have, personalized products. Everyone was always able to get those key chains or pens with their names on them. Everyone but me. Randa isn't a name you hear everyday, so it's always been hard for me to find those kind of things.
 That's why I love Stuck On You. You can find unique and personalized product to make your child feel special and let them know that the gift they receive is truly theirs. Even if your child's name is unique and different you personalize the product yourself, there is something for everyone.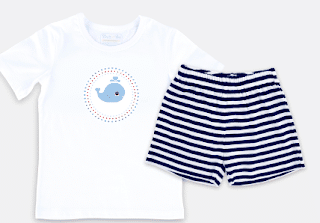 I received short pajamas to review, or should I say, for Carter to review. They're much too big for him now but I cannot wait until he can fit them. I opted for the navy whale design, the graphic was too cute to pass up.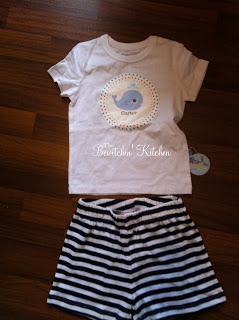 The design is clean and crisp on the t-shirt and although I only washed in once, it washed well (no cracking or peeling on the decal). The t-shirt is made from 100% cotton and the shorts are 100% cotton jersey. The difference between the two cotton is a woven fabric, it does not stretch. Cotton jersey is a knit and does stretch.
Ordering the P.J's is hassle free and quick. Simply choose the design you would like, enter the name you want featured (no more then ten characters), select your size and add to cart. Stuck On You does everything after that.
Stuck On You is more then personalized pajamas. They offer personalized everything. It started out with labels but they offer personalization on products from invitations and stationary to lunchboxes and cups.
A favorite product of mine that Stuck On You provides are the Luxury bath Towels. The towels are 100% cotton and would make a beautiful addition to any bath routine.
For more information on Stuck On You and vast array of products they carry visit stuckonyou.ca.
Don't forget to Like Stuck On You On Facebook.
FREE Recipe Binder
Are you constantly wondering what's for dinner?
When I don't meal plan I feel behind, and we usually end up ordering take out. This recipe binder will keep you organized and make life a little bit easier.