Sweet N Salty By Design Review
Sweet N Salty By Design makes chocolate covered pretzels, but not just ANY chocolate covered pretzels; GOURMET chocolate covered pretzels.
About Sweet N Salty By Design
Who made these Gourmet Chocolate Covered pretzels?' was what the founder of Sweet N Salty by Design, Bianca Naclerio, heard every time she brought her delicious creations to various functions or to her office.
From an early age, Bianca was surrounded by very creative women. Her mother and grandmother were always making the holiday season festive with artfully designed plates of food. The idea that food should be eaten with the eyes first was an important lesson in the founder's life.
When she was old enough, Bianca started combining this lesson with her love of the unmistakable team of sweet and salty. When most people are bringing fruitcake or potato salad to a party, our founder delivered wistfully created chocolate covered pretzels. As the years went on and more people looked forward to her arrival every year, more and more of these sweet and salty converts asked how they could feed their passion all throughout the year.

Fast forward to Christmas, Bianca received a gift that planted the seed for her new endeavor. The gift giver bought her the sweetnsaltybydesign.com website, knowing that this gift would kick start a process that had begun many years prior. The drive and passion that makes Bianca the woman she is would handle the rest. Five days later, Sweet N Salty by Design was an official LLC. However, not everything would happen this quickly. Over the next year, unemployment and other disappointments would stall the journey from idea to reality. The breakthrough came when Bianca offered to provide the wedding favors for a family members wedding. She needed to quickly get the production line up and running and the event became a stunning success in the favors themselves and making Sweet N Salty by Design a living company. This overwhelming desire to succeed has seen Bianca destroy all barriers in her way, in order to bring her love of chocolate and her artist's eye to you, the chocoholic.
We hope that you enjoy this sweet and salty treat as much as we do. The pretzels are hand decorated with a wide array of candy, nuts, sprinkles, and colorful drizzle. You will be dazzled by the beauty and sophistication of the sparkling sugars, edible pearls, and seasonal shapes. As we like to say around here, Every bite is a piece of perfection. Now Bianca's vision and her drive to bring chocolate to everyone is fulfilled in Sweet N Salty by Design.
You know the chocolate covered pretzels you can buy from Costco? Sweet N Salty By Design puts those to shame not only in taste, but in appearance as well. You can really see the time and effort that Bianca Naclerio puts into each and every pretzel. It almost made me feel guilty devouring them all in a matter of minutes (again, ALMOST whenever I felt somewhat guilty I just concentrated on the taste).
When I received my pretzels from the UPS man I dove in to find a beautifully wrapped box.
It really says something about Sweet N Salty By Design (or any company) who showcases their products beautifully. I personally think that it shows that they have extreme pride in their products and they want every part of it to look good. The gift box is elegant, and I just wanted to mention that.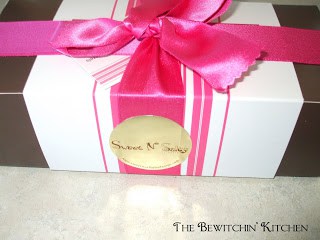 *I also want to mention that I did not throw this box away, I re used it for one of my bridesmaid gifts.
I received half a dozen pretzels to try.
Don't they look delicious
Look how eye appealing! I received: chocolate dipped with white chocolate drizzle, butterscotch chips with white chocolate drizzle, white chocolate dipped with rainbow sprinkles, I'm not exactly sure what the bottom left one is but it was good!, chocolate dipped covered in M&Ms, and chocolate dipped with Reeses Pieces and peanut butter drizzle. 
My favorite would have to be the chocolate dipped drizzled in white chocolate. It was a great blend of sweet and salty, just enough of each, but the Reeses Pieces was a close second (they were Eric's favorite).
I also contacting Bianca personally because I am very interested in having Sweet N Salty By Design as part of my Sweets Buffet at my wedding. She sent me the following photo and I wanted to share it with you as well: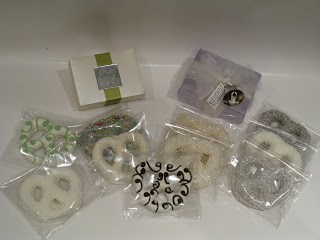 Stunning. I would recommend Sweet N Salty By Design for any party whether it is for a wedding, company part, etc. These pretzels would be perfect for my wedding.

BUY IT
Bianca is offering my readers a 10% discount on their orders! Just use the code BEWITCH at Sweet N Salty By Design. Thank you Bianca!
This giveaway is now closed